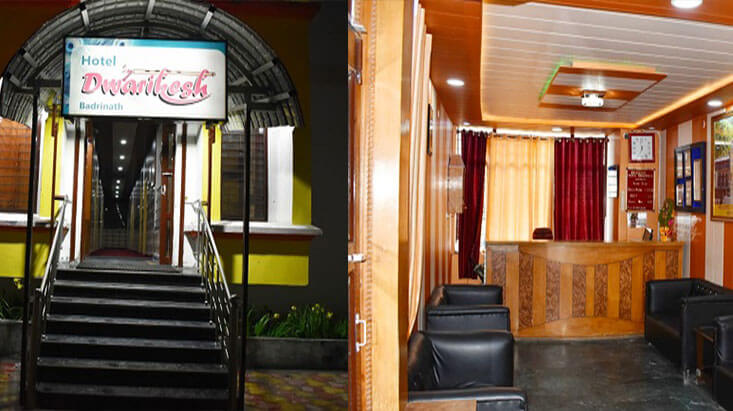 admin
Updated on: March 2, 2020
Hotel Dwarikesh in Badrinath: Best Hotel Where Comfort Meets Convenience
Devotees planning to attain blessing during Badrinath Yatra need not have to worry about the accommodation. The pilgrimage town in Uttarakhand boasts of a number of hotels categorised under budget, standard, deluxe and luxury. If you are looking for a deluxe category hotel in Badrinath, then we recommend that you book your comfortable stay at Hotel Dwarikesh. Considered to be one of the best accommodations in Badrinath, the hotel promises amazing services and facilities, ensuring you a pleasant stay. The rooms at Hotel Dwarikesh offers a homely feel with all the amenities required during a stay. Not only this, but every room offers a panoramic view of Nilkantha Peak. So, take a quick look at some of the key features of this amazing hotel in Badrinath.
Dining at Hotel Dwarikesh Badrinath
The well-trained service staff makes sure to satisfy the appetite of the guests. The in-house restaurant of Hotel Dwarikesh servers' delicious dishes prepared from fresh ingredients under the supervision of excellent chefs.
Modern Amenities/Facilities at Hotel Dwarikesh
Coming to the amenities and facilities at Hotel Dwarikesh, they are all modern. By this we mean, you don't have to worry about the basic things needed during the stay. Some of them includes:
24 hours room service
Premium TV channels
Cable/satellite TV
24 hours hot and cold water
Heater on demand
24 hours power backup
Doctor on call
Parking for all types of vehicle
How Far is Hotel Dwarikesh From Badrinath Temple?
Hotel Dwarikesh is located near the bus stand (approx 100m) which is at close proximity to Badrinath Temple. So, for devotees looking for the best deluxe place to stay in Badrinath, Hotel Dwarikesh is highly recommended.
How to Book a Stay Online at Hotel Dwarikesh?
Excited for a stay experience at Hotel Dwarikesh but wondering how to book a room? Don't worry, we will help you with it. You can contact us at the number +91-8744012051.
Our travel experts will get back to you with the required information on room reservation as per your requirement.
Published:

16 Jan, 2020