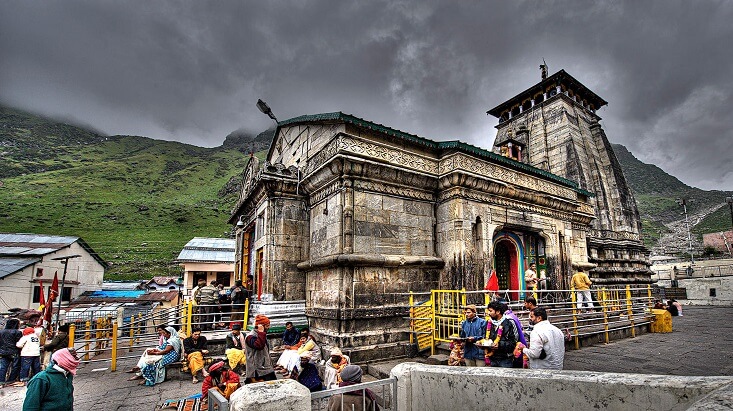 admin
Updated on: February 22, 2020
Kedarnath Temple Opens for Devotees on 29th April in 2020
The opening date for Kedarnath Temple in 2020 was announced after the performance of the rituals during Mahashivratri at Omkareshwar temple Ukhimath, in the presence of Badri-Kedar Mandir Samiti and the priests of Kedarnath Temple. As per the Hindu Panchang calendar, it was decided that the Kedarnath Mandir will be opened on 29th April for upcoming Chardham Yatra 2020. The date for the opening of Badrinath temple has already been declared, and it will be opened on 30th April. The other two shrines of Chardham temples, Gangotri & Yamunotri Dham, will open on the auspicious day of Akshay Tritiya on 26th April 2020.
The Proceeding and Rituals for the Dates
The idol of Lord Kedar was offered with holy offerings after which in presence of Rawal Bhimashankar, the priests at the temple proceeded with suggesting the Panchang dates for Kedarnath Temple. The dates for transferring the holy idol of Lord Kedar to Kedarnath Temple was also decided. On the holy occasion of Mahashivratri, priests and disciples sang holy songs, offering prayers to deities.
Kedarnath Temple Significance
Situated on the banks of Mandakini river in Garhwal Himalayas in Uttarakhand, Kedarnath is one of four temples consisting Chota Char Dham. Legends say that the temple was built by Pandavas and is considered to be one of 12 Jyotirlingas, holiest Hindu shrines dedicated to Lord Shiva.
Due to its location in mountains, the temples remain closed during the winter season, opening in May and closing by November every year. During the winter season, the deities from the temples are moved to Ukhimath and later carried back to the temple before it's open to devotees.
How to Reach Kedarnath?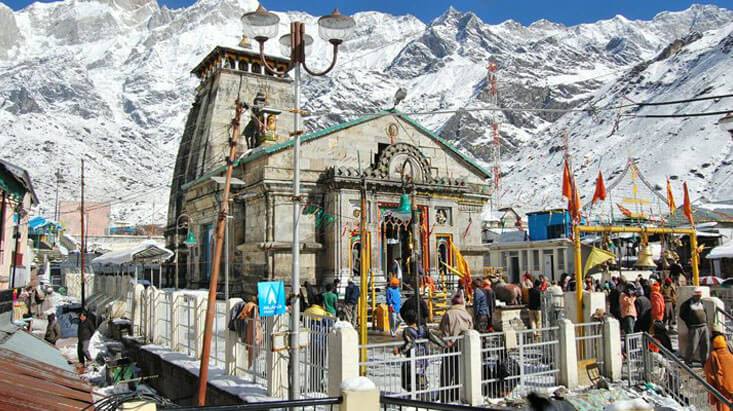 Located in Garhwal Himalayas, the temple can be easily accessed from all parts of the country. The base camp is in Gaurikund.
By Air: The nearest airport to Gaurikund is in Dehradun, which is roughly 255 km away. From the airport, you can take a taxi to reach here.
By Train: The nearest railway station to Gaurikund is in Haridwar, which is 205 km away. You can take a taxi from railway station to reach here.
By Road: You can easily reach Kedarnath by roads. Gaurikund can be easily accessible via public and private transport.
Permits for Kedarnath Yatra
Earlier there were no permits for visiting Kedarnath Temple but now the government has limited the number of pilgrims visiting each year. You would need a permit to visit Kedarnath Yatra. You can obtain permit online or through various registration counters. The counters are available at railway station; bus stops near Kedarnath. There is one counter at Rishikesh railway station, one at Haridwar and others at bus terminals. You would need to specify the dates of your visit and you will be issued a card which you would need to show at various checkpoints. You would also need to obtain a fitness certificate from medical centres at Guptkashi and Sonprayag. They would check your blood pressure and symptoms for other past diseases. If you are fit to go, you will be issued a medical certificate, which is mandatory for visiting temple shrine.
Route for Kedarnath Yatra
Although, the base camp for the holy shrine lies at Gaurikund, you can begin your trek from Sonprayag. The trek from Sonprayag is 19 km while from Gaurikund it is 14 km.
Travel tips for Spiritual Trip in the Himalayas
Reaching Kedarnath Temple takes a little bit of physical strength. You need to be physically fit to reach the temple top of foot. The 19 km trek from Sonpyarag or 14 km from Gaurikund to Kedarnath Temple, would require you to be fully fit.
You can also take a helicopter service for Kedarnath Darshan Yatra by Helicopter. Pawan Hans provides Helicopter service that can be availed from Agastyamuni, Phata and Dehradun.
Since the temple is situated at a high-altitude, have the altitude sickness medicine handy at all the times.
The best time to visit Kedarnath temple is from May to June and September-October because of pleasant weather.
For pilgrims visiting Kedarnath, you can pre-book your accommodation in Gaurikund and Kedarnath.
There are also several tourist attractions near Kedarnath like Ukhimath, Kalimath, Chopta, Devriatal, Tungnath that you must visit.
For those who can't trek, you can also opt for horse rides that will take you to the top of temple.
In case you wish to trek either from Sonprayag or from Gaurikund, you would need a good pair of trekking shoes, that have a good grip.
The temperature in Kedarnath is cold even during peak summer season, hence it is advisable to carry warm clothes and thermals.
Carry a pair of raincoats and umbrella as weather is unpredictable in mountains. It's better to be safe than sorry.
It is also advisable that you carry extra battery for your gadgets and power bank to keep your phone charged during your trek.
Published:

04 Mar, 2019