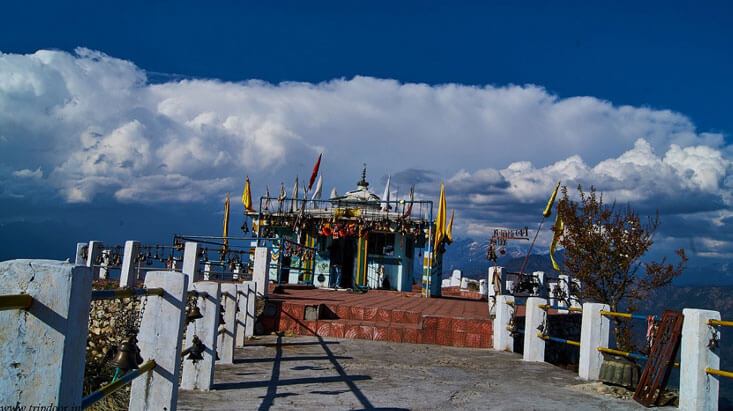 admin
Published:

12 Jul, 2018
Kartik Swami Temple: The Only Lord Murugan Temple in North India
"It is better to see something once than to hear about it a thousand times"
Well, I don't know who wrote this quote, but I believe it suits best to Kartik Swami Temple in Uttarakhand. Wondering why? Don't worry, you'll get to know shortly but for that, you need to be with me for the next few minutes. So, here we go!
The sedating ambiance and the uninterrupted scenic views of Garhwal Himalayas brag why Kartikeya Temple, locally referred as Kartik Swami Danda, is one of the most beautiful temples to visit in the Himalayas of North India. Comfortably seated on the top of Kronch Parvat at an altitude of 3050 m near the Kanak Chauri Village on Rudraprayag-Pokhari route, Kartik Swami is the only Lord Murugan Temple in Uttarakhand as well as the Indian Himalayas. Lord Kartikeya who is believed to be the eldest son of Lord Shiva, is also known by the names of Murugan, Subramanya, and Skanda in the Southern region of India. According to devotees, God of War, Lord Kartikeya and his father Lord Shiva reside here in a naturally carved marble-like rock. Unlike the famous Lord Murugan Temple in Palani Hills in South India, this one is an untouched and lesser-explored temple. This temple of its kind boasts surreal beauty which one shouldn't miss out on. An interesting fact related to Lord Kartikeya temple in Uttarakhand is that it is revered by more than 360 villages in the region, and hence, a darshan to the temple is considered highly auspicious by the locals. It is also said that a visit to this temple fulfills the wish of every devotee. Couples who wish to have a child also perform prayers and seek the blessings from Lord Murugan. The dulcet sound of hundred of bells hung in the temple can be heard even from a distance of 800 m.
An easy to moderate 3-4 km trek that commences from the village of Kanakchauri leads to the base point from where a flight of 80 stairs begin for the final ascent to this temple.
A Glimpse of its History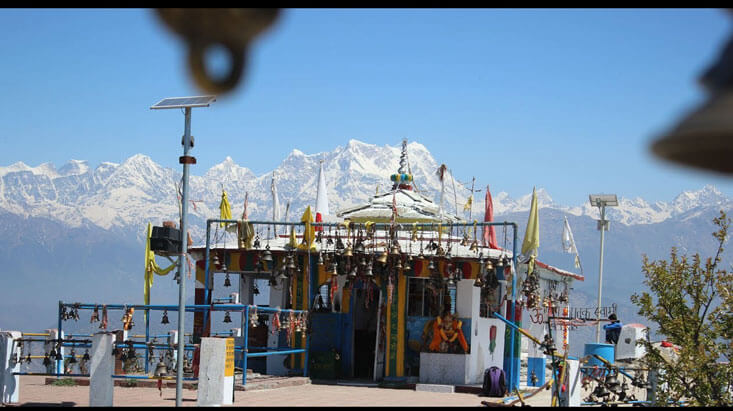 Like other pilgrimages in the Himalayas, this temple of Lord Murugan also has a legend attached to it – Once Lord Shiva asked his sons Lord Ganesha and Kartikeya to take seven rounds of the universe. He further said that whosoever will do it first, he'd be rewarded with an opportunity to get worshipped first. By hearing this, Lord Kartikeya on his vahana (vehicle, which is a peacock) headed off to take the rounds whereas, Lord Ganesha started taking rounds around Lord Shiva and Goddess Parvati. Lord Shiva got impressed by this act of Lord Ganesha and blessed him with what he had promised. On arrival, Kartikeya in anger sacrificed his flesh for his mother and bones for the father. In the temple the bones of Lord Murugan are shown in the idol.
Why Visit Kartik Swami Temple?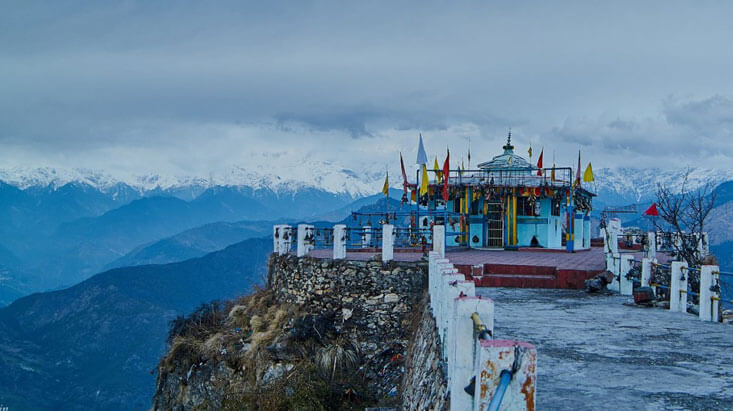 As you cross the last leg of the trek, which is the climbing of 80 stairs, the view from this ancient Hindu temple itself reveals why you must visit the Kartik Swami Temple. While standing atop the hill, you'll be able to quench your desire of gazing upon the distant, yet surreal vistas of the mighty Himalayas and luxuriant forest that almost seem like a thick carpet. However, the most gorgeous sight you can ever get to savour here are views of the sunrise. So, it is advisable to visit this nature retreat in the Himalayas in the morning so you can relish the best of it.
For Performing Pilgrimage and Getting One's Wishes Fulfilled
As far as pilgrimage is concerned, this Kartikeya Temple is one of the popular pilgrimage tourist attractions in Rudraprayag district of state Uttarakhand. Moreover, it has some unique and fascinating rituals that devotees follow with much devotion and ardour. One such ritual is if you carry a bell to the temple and make a wish, it will eventually come true. As an outcome of this, you can see the temple complex full of bells in different shapes and sizes, which is quite engrossing.
For that Amazing Trekking Opportunity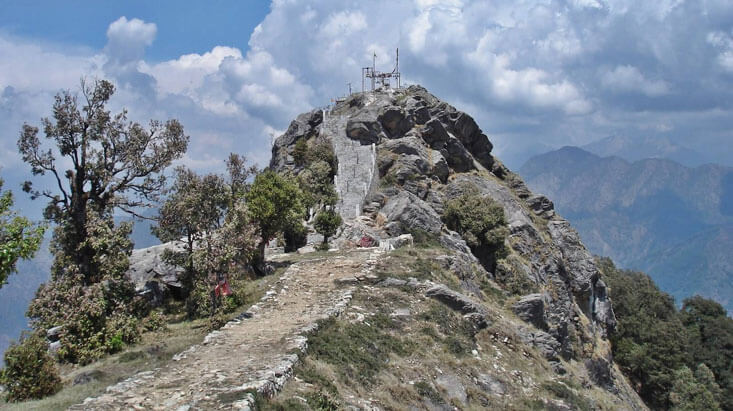 Apart from the pilgrims, the temple is also often visited by oodles of nature lovers and adventure buffs. The 3-4 km trekking trail that passes through a thick rhododendron forest not only allows pro-trekkers but amateur ones as well to visit the temple, which also makes it a prominent destination for adventure seekers. From Kanakchauri, there is a 3 km trek to the temple which is an easy one, and hence, one doesn't have to worry much about it. The best of this enthralling trek is that the most of the trail passes through the forest of Rhododendron and sight of the route will be as exquisite as you are imagining. On the way, the sights of waving mountains, stretching to the horizon, will surely blow your mind away.
The Route to Reach
Haridwar – Rishikesh – Devprayag – Srinagar Garhwal – Rudraprayag – Saterakhal – Durga Dhar – Chopta – Ghimtoli – Kanak Chauri
By Air:
Those who're coming by the airways, Jolly Grant Airport in Bhaniawala Dehradun is the nearest airport to Rudraprayag, which is some 192 from the temple. You can hire a taxi/cab from the airport to reach Kanakchauri from where the trek to the temple begins.
By Rail:
If you're travelling by rail, you have to board a train to Haridwar which is located at a distance of 162 km from the temple.
I suggest you to take a train to Haridwar as it has a good connectivity with all the major cities and states. Till Haridwar, one can easily reach by rail. From Haridwar, buses to Rudraprayag/Pokhari ply on regular intervals, from where another vehicle is needed to reach Kanakchauri. To avoid the hassle of changing buses, you can also hire a cab directly to Kanakchauri from Haridwar.
Tips for Backpackers or Solo Travellers
For all those travelling to Uttarakhand solo, it would be wise to board a bus from Rudraprayag to Kanakchauri as it is the most economical way to reach there as compared to taxi/cab. This whole journey from Rudraprayag to Kanakchauri will take around 2 hours. The moment you leave from Rudraprayag, the pristine and mesmerizing beauty of the region will make you fall in love with it. The road is well-paved and starts gaining height after Rudraprayag. On your expedition, you can see the villages and houses that almost look-like matchboxes.
Note: After 2 pm buses do not run from Rudraprayag, and hence, make sure to reach here early in the morning, in case you have reached late here, you can either choose to stay in Rudraprayag at night or hire a cab instead.
When is the Best Time to Visit?
One of the great things about this high-altitude temple in Uttarakhand is that it remains open throughout the year, and hence, one can visit it any season. Despite this, winter and summer are considered as the ideal season to visit Kartik Swami Temple. However, the monsoon season with significant rainfall which disrupts the trekking trail and also damages the road should be avoided, keeping in view the safety. The summer season here marks its onset in the month of April and lasts till June. Whereas, the months of July and October are the beginning of monsoon and winter season in Rudraprayag respectively, which continues till September (monsoon) and March (winter).
Where to Stay?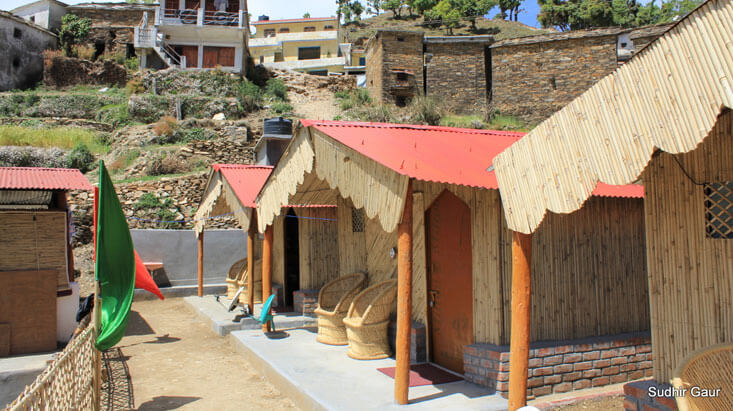 Photo Credit: Sudhir Gaur
In the accommodation department, one need not to worry as you can easily get hotels and homestays in Rudraprayag and Kanak Chauri. However, in Kanak Chauri, there are fewer accommodation options as compared to Rudraprayag town. It only has few homestays, managed and owned by locals. Moreover, there is also a Dharamshala near the temple. In order to stay here, one needs to seek the permission. If you choosing to stay at Dharamshala you'll have to arrange for your own mattress and blanket. The place also does not have good electricity and water facilities. Besides, if you want a comfortable stay, Rudraprayag is the best option for that. Budget, deluxe, and standard hotels and cottages are available for tourists in Rudraprayag. Since it is a secluded destination, it would be wise to carry some packaged food as there are just a few food stalls available.
Main Attractions in Kartik Swami Temple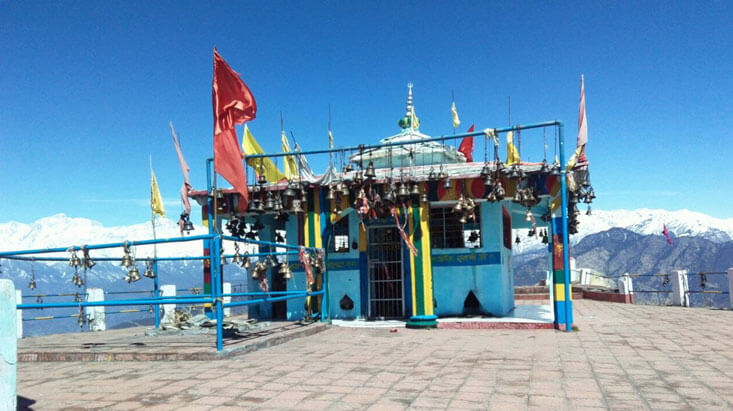 This one of its kind in North India, Kartik Swami Temple is visited by a large number of devotees round the year. But, the number of devotees relatively increases during the festivals and fairs celebrated here which in fact also make this temple one of the must-visit places in Rudraprayag. Let's look out now some of these popular festivals.
Kartik Purnima: One of the holy Hindu festivals in India, Kartik Purnima is celebrated on the day of Purnima (full moon) or the fifteenth lunar day of Kartik month ( November-December) of Hindu calendar. The day is considered as highly auspicious as it is the birthday of Lord Kartikeya. To commemorate Kartikeya, a fair is also held at the temple. On this day, the temple receives a heavy footfall of devotees from all over the country.
Kartik Swami Fair: Also esteemed as Kalash Yatra, Kartik Swami Fair is an 11-day festival where devotees from round the country congregate at the Kartik Swami Temple to pay homage and seek blessings from the Lord. Celebrated in the month of June, this beautiful festival includes various rituals and ceremonies like Mahayagya, Shiv Mahapuran Katha, and Kalash Yatra that take place in the temple complex to pay reverence to Lord Kartikeya.
Other Nearby Places to Visit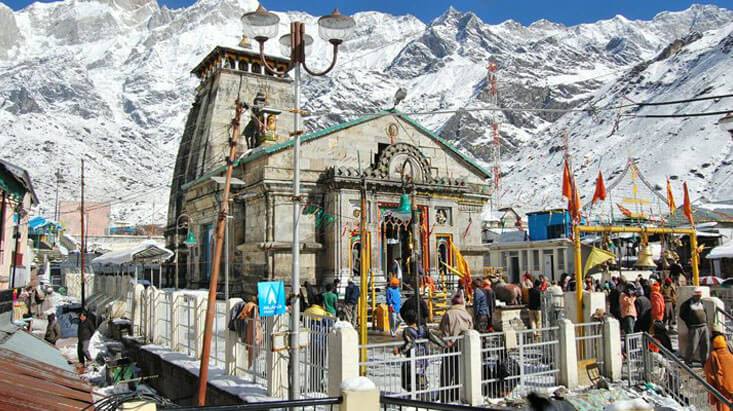 There are various other pilgrimages as well in close proximity to Kartik Swami Temple, and hence, one can pay a visit to these temples.
Kedarnath: One of the pristine abodes of Lord Shiva, Kedarnath is a prominent part of Chota Char Dham circuit which makes it one of the must-visit Hindu Pilgrimage in India. The temple of Kedarnath can be easily visited from Kartik Swami Temple. The distance between the two is around 79 km excluding the 14 km trek from Gaurikund. In the winter season, one cannot visit the temple as it closes its door because of unfavourable weather. However, you can visit Omkareshwar Temple in Ukhimath (50 km) where the idol of Lord Shiva is shifted from Kedarnath Temple during the winter season.
Umra Narayan Mandir: Devoted to Lord Vishnu, Umra Narayan Temple lies just 5-7 km away from the downtown of Rudraprayag. Built by Adi Shankaracharya, Umra Narayan Temple can be visited while coming back from Kartik Swami Temple.
Ukhimath: Another famous tourist destination in Rudraprayag district is the hallowed town of Ukhimath. Home to exquisite natural beauty, the town is located just 50 km from the village of Kanakchauri. You can also choose to spend a day in Ukhimath to witness the beauty of the town.
Tungnath Temple: From Kanakchauri Village, Tungnath is located just 76 kmaway. However, one also has to undergo a 3 km trek which starts from Chopta to the temple. Dedicated to Lord Shiva, Tungnath in Rudraprayag district is the highest temple of the 'Panch Kedar'. For tourists, the temple remains open throughout the year.
Koteshwar Temple: Another Lord Shiva temple in Rudraprayag district is Koteshwar Temple. Located at a distance of 6 km from the town of Rudraprayag, Koteshwar temple is believed to be the place where Lord Shiva stopped for meditation on his way to Kedarnath. Therefore, it is one of the popular attractions of the region.
Dhari Devi Temple: Situated on the banks of River Alaknanda, enroute Srinagar (Garhwal) and Rudraprayag, Dhari Devi Temple is dedicated to Goddess Dhari. This lesser-known temple is a prominent part of 108 Shakthi Sthals in the country. One can either prefer to visit it while heading towards the temple or can also choose to explore it while returning.
Although you can visit Kartikeya Swami Temple any time of the year. But my personal favourite is the time when the grand Kartik Swami Fair is celebrated in the month of June. During this time the place remains lively with devotees visiting it from all parts of the country. Moreover, during the winter, the place remains at the peak of its beauty and also receives snowfall which makes this season also the best time to visit this Lord Murugan Temple for all those who loves to trek in the snow.