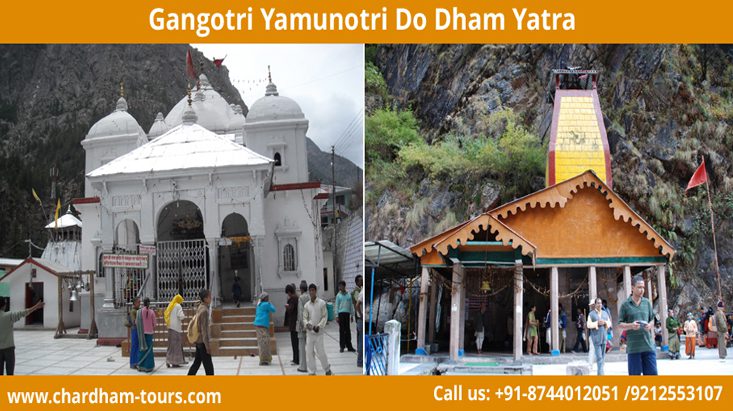 admin
Updated on: January 30, 2020
Gangortri Yamunotri Do Dham Yatra – Most Revered Way to Attain Salvation
India is an incredible country that grants a travel experience like nowhere. Its colorful festivals, beautiful culture, majestic offering, pious destinations make the travelers feel welcoming, warm and fortunate to have taken birth to scout country like India.
One of the highly explored, much visited, adventure and rejuvenating excursions of India is Char Dham Yatra. Offering vast array of natural beauty along with an ample of fulfillment; Chardham includes four Dhams – Badrinath, Kedarnath, Gangotri and Yamunotri. All of these sacred places gratify one's desire of seeking harmony and adventure.
Taking an insight into the history of "Chardham Yatra"
It is one of the most propitious journeys one could never overlook in his/her life. Char means "four" and Dham indicates "abodes" or seats of Hindu deities. According to Hindu mythology, Char Dham of Uttarakhand was delineated by a great scholar Adi Shankaracharya comprises of one Shaiva site, one Vaishnava site and two Shakta sites. The importance of little Char Dham has grown over the time and millions of devotees have been found thronging to these destinations from different parts of the geography.
However, due to dearth of time, pilgrims opt for Do Dham Yatra – Yamunotri and Gangotri, having much importance and nature's magnificent grandeur. These are renowned for Yamuna and Ganga River respectively, allowing one to relish the environs of Himalaya along with some bewildering details of landscape. While Ganga, flows by the name of Bhagirathi, is believed to have come down on earth to free the 60,000 sons of a King from their curse, Yamuna, the daughter of Surya dev, supposedly protects folks from dying a hurtful death in her pure water.
Gangotri
Located on the banks of the river Bhagirathi in Uttarkashi District of Uttarakhand at an elevation of 3100 m, Gangotri is the abode of goddess Ganga and destination to connect with beautiful nature. According to Hindu legends, Ganga was the daughter of paradise who changed herself into a river to release king Bhagirathi's antecedents from their sins, having done forfeit for quite a lot of centuries. The sacred temple overlooks the booming river Bhagirathi which is nestled among the wild jungle and craggy mountains. Moreover, it is hailed by the name of Bhagirathi, having attained its name from the primeval King Bhagirathi.
The temple is said to have been erected by Adi Shankaracharya, was constructed in the 18th century by Amar Singh Thapa, a Gorkha chief. White stone and gilded roof has been used to enhance the appearance of the temple; Goddess Ganga is the core deity here who is worshipped by masses of devotees traveling to this destination from different corners of the globe. In 1935, the temple was again refurbished by Madhosingh, Maharaja of Jaipur, showcasing the stunning Rajasthani architectural beauty.
It is indeed the wonderful place to inhale in tranquil and dutiful ambience. After coming here, travelers feel as if stepped into the land of god where existence of snow covered mountains and purity of sparkling water is amazing and breathtaking. It is also visited by Hindus for carrying out shraadh(a ritual done after cremating deads) of their relatives on the sides of Bhagirathi.
Visiting time: The temple shall open on 26th April 2020 and may close around 16 Nov 2020 on the day of Bhai Duj.
Timings for summer: 6.30 am to 2 pm in the afternoon and 3 to 9.30 in the dusk.
Yamunotri
Standing high with an altitude 10,804 ft in the Garhwal Division of Uttarakhand, Yamunotri is the first stoppage in the Char Dham Yatra. It is the destination where the river Yamuna emerges the mounts in the form of a stream. The temple is devoted to goddess Yamuna, who is symbolized by a black marble deity. The main attraction of the temple is Divya Shila, the source of the Yamuna. Here devotees offer Aarti before stepping into the temple. Another attraction is Janki chatty, revered thermal springs situated 3 miles from the temple.
The real origin, Champasar Glacier, is nestled at an elevation of 4421 m in the Kalind Mountain, about 0.5 miles above the temple. It is not easy to get to; as a result devotees proffer prayers in the main temple. Built by Maharaja Pratap Shah in the high altitude, it is surrounded by the snooty mountains on all sides.
According to mythology, Surya Dev tied the knot with the daughter of Vishwakarma, Sandhya. Gave birth to twins-Yamuna and Yama. Due to brutal heat of the sun, Sandhya decided to make her replica- Chhaya. She got ready to keep the furtive but articulated that if ever Surya Dev punished her, then she would divulge the truth. One day, Sandya's son Yama knocked Chhaya with his leg and this made her fuming and cursing that his leg would putrefy. When Surya Dev got to know about this, couldn't believe that how a mother could do such a thing with her kid. He got exasperated and pulled her hair for hurting her son. Subsequently, Chhaya disclosed that she was just a stepmother to Yamuna and Yama. Continuing it, Yamuna descended on earth and did hard penance to release her brother from the curse. When she got successful in her efforts, Yama tendered her benefit for restoring his leg. Thus, she solicited to save her devotees from inopportune death in the consecrated waters of Yamunotri.
Yamunotri has beautiful allures for those who carry a great stamina and endurance to make it to this holy place. Lush meadows, pristine surroundings, dazzling lakes and a lot more attractions are forming the appearance of paradise and it's a once in a lifetime opportunity that one should not give a miss.
Visiting time: The temple shall open on 26th April 2020 on the day of Akshay Tritya and may close around 14th Nov 2020 near Diwali Festival
Timings for summer: 6 am to 8 pm in the evenings.
Published:

27 Mar, 2018