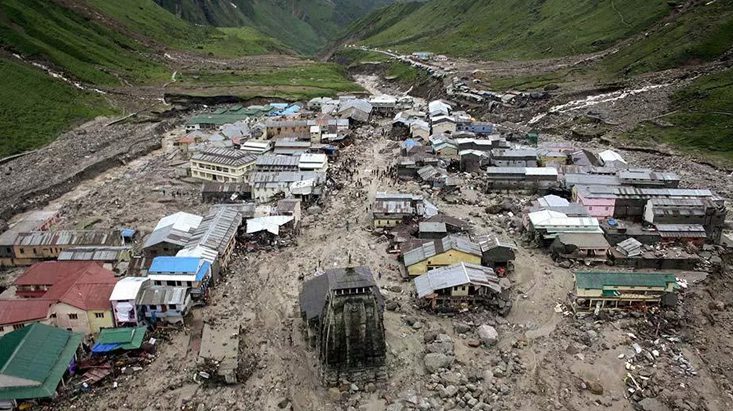 admin
Updated on: December 11, 2018
Incessant Downpour Brings Mayhem to Uttarakhand
"It took no time to turn a beautiful state of Uttarakhand into a place full of wreckage and debris". A confluence of floods, intense shower and landslips has destroyed many parts of Uttarakhand, leading to loss of lives of countless Chardham pilgrims thronging from all across the globe in search of peace and harmony. Not only this, extremely heavy rainfall has washed away villages, irrigation canals, buildings, hotels and paths perched in the way.
Let's have a look at the updates from 16 June -25 June:
16 & 17 June – "The land of gods" -Uttarakhand was hit by the rain vehemence on the night of 16 June. And as a result, many roads and viaducts got washed on the route to Chardham in Uttarakhand. The main town which has badly affected is Kedarnath, a famous Hindu spot, which is highly visited by thousands of devotees from wide and far to take blessings of Lord Shiva in the form of hump. The trekking route (Gaurikund to Kedarnath), shops, lodges, everything had gone through the force of nature's anger leaving the main temple intact. According to the reports more than 30 folks have been slain, 60-70 are missing and 25000 are stranded in the gorge due to landslides. Teams of NDRF (national Disaster Rescue Force) have been making a great effort in saving the people stuck in the worst-affected parts like Uttarkashi and Chamoli districts. The state government is carrying out all possible things to protect the residents and pilgrims marooned in the flood-ravaged hills looking out for help.

18 June – The death toll has increased to 60 in the devastated areas of Uttarakhand. Choppers have been arranged to rescue the people stranded in the hills. The floods have caused profound damage to roads, bridges and abandoned scores of locals from their homes. More than 60,000 devotees have been stuck in the most famous pilgrimage center in Kedar valley. The picture of nature's ferocity is so atrocious that one can't even think of it in his/her bad dreams.
The pictures of crumbled properties and tons of people marooned in the mountains have a revolting story to divulge. More heavy rains have been predicted in the coming days. Still there are places where water levels have ascended and hundreds of children, men and women are in necessity of medical attention and refreshments. Fortunately, people from different parts of the globe are doing their bit to save the stranded ones.
19 June – More than 140 people have been feared dead and 65000 others are left isolated in recent down pouring in northern India. The report says that scores of houses had been washed away because of cloudbursts and heavy rainfall on Wednesday. However, few have come up for the help like chief minister of Haryana and the government of Maharashtra proclaiming 10 crore rupees assistance to disaster battered Uttarakhand. A dedicated team boasts of deputy collectors has also been relocated from Mumbai to get back all the people stuck in the hills.
The Kedarnath temple is covered in dirt and sludge. It is said by the officials that the Badrinath and Kedarnath yatra can't be restarted for next 2 to 3 years atleast. On 18 June 260 people were evacuated by the air force helicopters and until now 6000 evacuated by the army. Moreover, 50 relief camps have been set up to render food and shelter to locals and travelers.
Army had also helped the people in contacting their dear ones through communication services.

20 June – Loads and loads of bodies of tourists have been found lying in the affected towns of Uttarakhand, said the experts. The state government has started helpline centers to keep a record of individuals who are missing from June 16. Because of it, numerous families have gasped a sigh of relief but there are still innumerable who are anticipating any news of their closest ones.
21 June – National Disaster Rescue Force has set up a team of 1000 folks to perform rescue operations in order to save people who are stranded and missing since 16 June. More than 50000 have been evacuated by choppers and army from the affected parts said the reports. On Friday Air India announces economical fares for flood-hit victims taking off from jolly grant airport- Dehradun, while government of Gujarat has organized for special aircrafts for all those affected by heavy rainfall and cloudbursts in Uttarakhand.
22 June – Atleast 350 people are marooned in the hills amid Guarikund and Rambara in Kedarnath. The evacuation operations in the affected areas are a daring challenge for the soldiers because the terrain is enormously uncongenial and inhospitable. Almost 27000 tourists have been rescued from the worst affected parts in the state and that is Kedarnath.
There are signs of rains revisiting to the state on Sunday according to the experts. So far, the death toll has mounted to 557.
23 June – 22,000 still stuck across different areas of the state said the officials on Sunday. Number of dead anticipated on this day was around 1000. However, 30000 tourists have been shifted to safe places. Rope bridges are being established and new paths opened up to get going the huge rescue work. The pilgrims who were stranded in the Kedar valley have now been completely rescued whilst a great number of people who were trapped in areas like Jungle chatti and Badrinath sent to safer sites by the army. Moreover, trains have been organized for free to transfer marooned travelers said by an official.
24 June – The death toll has reached to 5000 and a return of bad climate is hampering the rescue operations. On night of Sunday, rainfall and landslides obstructed the paths that had been using to rescue people by foot said the officials. It has been estimated that around 19000 people are still stuck in the hard terrains of the state. Due to bad weather conditions, helicopter service is also stopped. Rahul Gandhi, vice-president of congress arrived at the state of Uttarakhand to have a check on evacuation efforts. In the meantime; local authorities are preparing themselves for a mass cremation of tourists and pilgrims died in the floods at Kedarnath town.

25 June – A helicopter carrying around 20 people gone down on the evening of Tuesday said Air Chief Marshal Nak Browne. Rajnath singh, BJP national president is rendering relief materials like medicines, blankets, fare and food for the flood victims in Uttarakhand, Whilst Sanjay Pathak, congress minister helped 43 people in boarding his own helicopter in the Badrinath region. There is news that more than 800 folks from Karnataka have been transported safely.
Celebrities, actors, people from different caste and religions have been found offering prayer for all those victims who breathed their last breath in the devastating floods. Those who haven't uttered their prayers and help for the victims just take a moment out of your life and pray for all those who have lost their lives and are marooned in the hills of Uttarakhand.
Published:

26 Mar, 2018