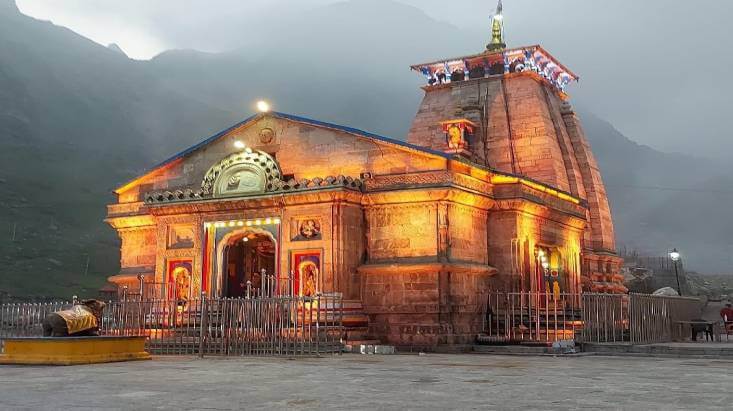 admin
Updated on: March 23, 2023
Are You Planning to Go for Chardham Yatra in Uttarakhand? Must-Read Travel Guide
Spirituality propels one to embark on a divine journey to attain peace and tranquility. One such journey is of the sacred Chardham Yatra located in the mighty Garhwal Himalayan range. The Char Dham Yatra is a great opportunity to explore the world's oldest Hindu cultures.
Chardham Yatra is one of the most important pilgrimages. It is believed to remove all your sins that you have done and gives you moksha from the cycle of birth and rebirth.
Char Dham Yatra is known for its deep spirituality and alluring beauty that gives you some peaceful moment with yourself in the charming beauty of the Himalayas covered with snow. The journey is very challenging but the reward is the most blissful sight of divinity which makes it worth a tour to undertake once in a lifetime.
In this blog we will be your 4 Dham Yatra Travel Guide to help you perfectly plan this divine journey to cherish it for lifetime.
Char Dham Yatra
How to Prepare for CharDham Yatra?
What is the best Season for Undertaking CharDham Yatra?
Explore and do amazing things during Char Dham Yatra
How to choose the best 4 Dham Yatra Travel Package?
Why is booking an accommodation in advance important?
Why Physical Fitness matter?
What Problems You Might Face in the Mountains or Higher Altitudes?
How to reach Char Dham?
Where to Eat?
What is the Best Route to Follow During the Yatra?
Update on Weather Status
Chardham Yatra Helicopter Ride
Travel with Kids and old people
Char Dham Travel for Medically Unfit People
Tips for Char Dham Pilgrimage Tour
Popular Chardham Yatra 2023 Tour Packages
The Ethereal, magnificent and delight inducing Pilgrimage Tour of Char Dham is a journey of self- introspection. It's a one step forward to embrace the mystical and seraphic, to leave all the worldly vows. This is a journey of self – transformation.  Your journey for Himalayan Pilgrimage Tour will arouse wonder at so unexpected a transformation of picturesque sceneries, lofty Himalayan Peak and the nature and weather has a healing touch to it, the divine aura of which will purify your soul of all the karmic backlogs. Char Dham Yatra is simply a pious journey not only to meet almighty but to meet the pure self which had been kept hidden under the layers of your worldly personality. One must visit the sacred Char Dham temples at least once in a lifetime.
How to Prepare Yourself for the Divine Char Dham Yatra?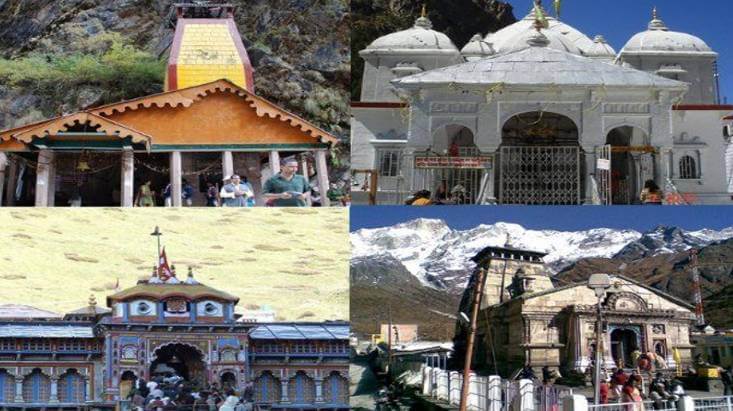 Devotees from all over the world take this religious Yatra to seek the blessings of the almighty and get captivated by the natural tourist attractions of Uttarakhand. However, the real challenges of visiting the four Dhams lie in completing the Yatra without any inconvenience. Gone are the days, when the pilgrims had to bear many hardships to embark on the journey successfully. With time and development, the world-class facilities have opened gates for the devotees to reach the abode of Gods with ease.
People making travel plans to go on a Chardham Himalayan pilgrimage must prepare themselves to conquer many challenges like bumpy mountain roads, crossing rivers, walking in high altitudes, rugged terrains, drastic changes in temperature and many other things. Hence, before you pack your bags and head off for this holy journey, there are a few important things that must be considered to make your Yatra a memorable experience.
What is the Best Season for Undertaking Chardham Yatra?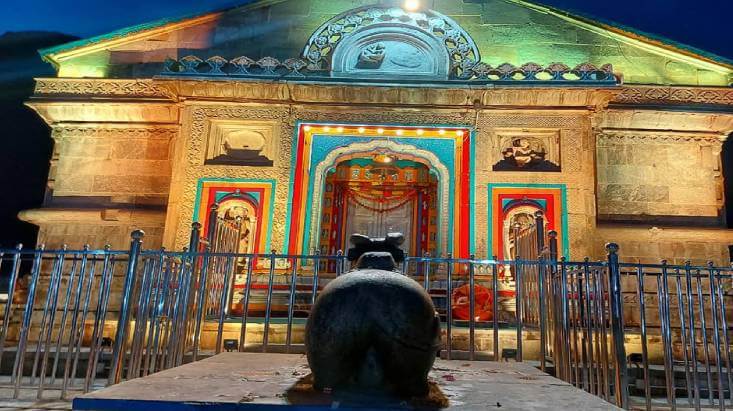 The sacred Yatra starts up from April – May and is open till Diwali (October-November) each year. The Yatra remains closed during the winter season as the area remains covered with snow. The peak time for the Yatra is from May – June and September-October.
Travelling in July and August must be avoided, as the Garhwal region witnesses' heavy rainfall that can often lead to landslides and heavy rainfall large during these months.
The month of September is considered to be an ideal time to plan the trip because, after the rains, the beauty amplifies with the picturesque views and verdant landscapes.
Explore and Do Amazing Things During Chardham Yatra Tour 2023
Nestled in the Garhwal Himalayan range, the Char Dham Yatra consists of four prominent holy destinations – Yamunotri, Gangotri, Kedarnath and Badrinath.
Yamunotri Dham Temple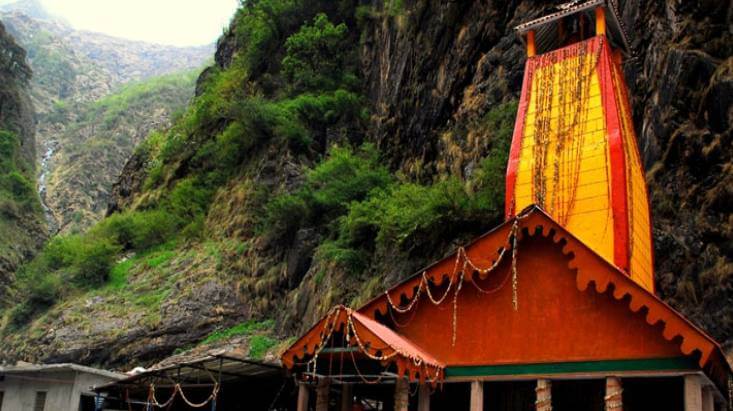 The sacred Dham of Yamunotri is a divine abode of one of the most sacred rivers of India- River Yamuna.  It originates from Yamunotri. Amidst the lofty Himalayan Peaks of Bandarpoonch Parvat and Kalind Parvat and natural wonders, the Yamunotri Temple is the most divine sight to behold. Devotees from across the globe come to seek goddess Yamuna's blessings. Goddess Yamuna is the sister of the God of Death Yama. It is said that praying to goddess Yamuna in Yamunotri temple will protect you against untimely death.
Opening Date – 22 April 2023
Altitude – 3219 m
Location District – Foot of Kalind Parvat, Garhwal Himalayas
Worshipping Deity – Goddess Yamuna
Gangotri Dham Temple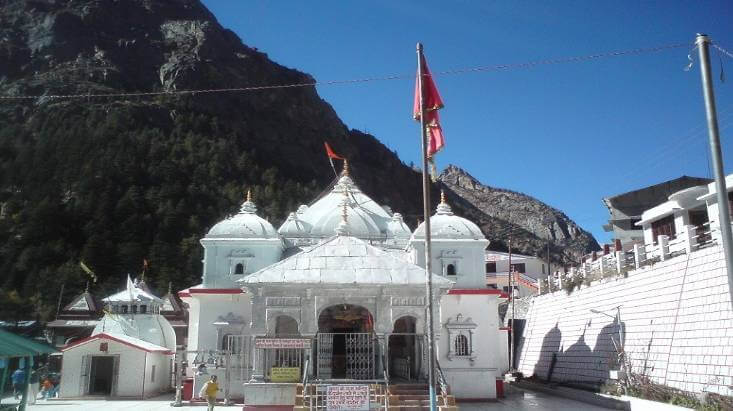 Gangotri Temple is one of the most popular temples and Char Dhams in North India. It is dedicated to goddess Ganga. Nestled among the lofty Himalayan Peaks of Garhwal, amidst the glaciers and verdant forests, the soul pleasing vistas of Gangotri will mesmerize your mind. It is a place where Lord Shiva released the sacred river Ganga from his locks. The actual origin of Ganga is from Gangotri glacier which is just 19 km away from Gangotri.
Opening Date – 22 April 2023
Altitude – 3415 m
Location District – Uttarkashi
Worshipping Deity – Goddess Ganga
Kedarnath Dham Temple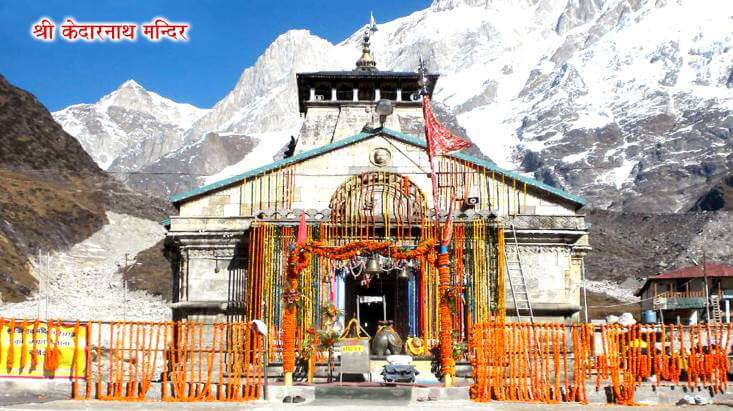 It is in the Kedarnath Dham where the quest for attaining salvation ends. Lord Kedarnath Temple is dedicated to Lord Shiva. It houses one of the 12 divine jyotirlingas of Lord Shiva. It is the most sacred and powerful Shiva temple in the world. A moment's glimpse of this divine temple will give you eternal peace and spiritual bliss. The conical rock structure of Lord Shiva here is worshipped as a Sadashiva form of Lord Shiva.
Opening Date – 25 April 2023
Altitude – 3580 m
Location District – Near GauriKund Garhwal Himalayas
Worshipping Deity – Lord Shiva
Shri Badrinath DhamTemple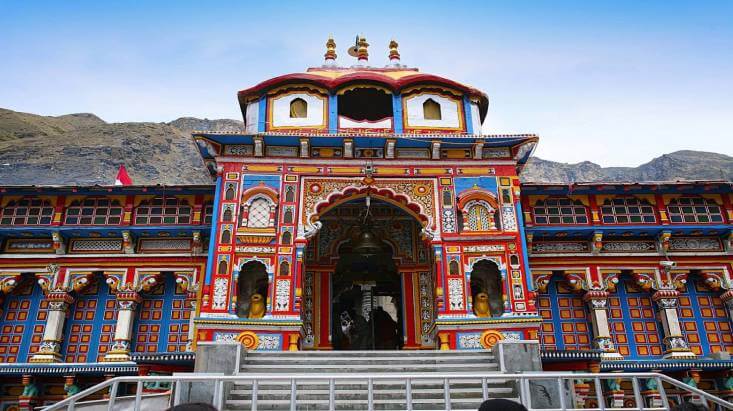 The holy Dham of Badrinath is dedicated to Lord Vishnu. Natural and surreal landscapes and soothing hot springs and kunds will definitely blow your mind away. On the banks of serene Alaknanda River, dotted between Nar and Narayan Mountain ranges, Badrinath Temple has been luring devotees with spiritual wisdom for ages. It was constructed by Sage Adi Shankar Acharya in the 8th century. It is one of the most integral parts of the Char Dham Yatra Tour in the Himalayas.
Opening Date – 27 April 2023
Altitude – 3100 m
Location District –, Garhwal Himalayas
Worshipping Deity – Lord Vishnu
Along with these four, one can cover many other destinations which are nearby areas of the Char Dham.
Top Things to Explore and Do in Char Dham Himalayan Yatra Tour 2023
Hot Water Springs
Visit Waterfalls
Witness the holy Ganga Arti
Indulge in Local Cuisine
Explore the Temples Around the Area
Visit Hidden Jewel Harshi
Explore Glaciers
Wildlife Sightseeing
Enjoy River Rafting & Other Adventure in Rishikesh
Trip to the Valley of Flower
Get a Closer Look at Hindu's Mythology
Hot Water Springs
There are many old hot water springs that tourists will encounter on their Charm Dham Yatra. Surya Kund is one of the most famous hot water springs, located at the Yamunotri Temple. It is named after Surya (Sun God), father of Goddess Yamuna. Badrinath is the birthplace of both the Tapt and Narad Kund which are ancient, natural hot water springs. It is believed that the waters of these hot springs encompass medicinal and healing properties. Hence tourists must visit the hot waters to get rid of their suffering. These are some of the best places to explore for a great Chardham Yatra Darshan.
Visit Waterfalls
The Char Dham Yatra is a paradise for trekkers and nature lovers. The journey will offer tourists the opportunity to visit some of the most beautiful views of waterfalls across the Char Dhams. Vasundhara Falls is located on the banks of the Alaknanda River, close to Badrinath, falling from a height of 122 meters. Kempty Falls comes on the way to Yamunotri, creating an enchanting setting. Surya Kund Falls is located approximately half a km ahead of the famous Gangotri temple, making for a truly picturesque setup.
Witness the Holy Ganga Arti
Ganga Aarti is a religious prayer performed at the bank of the sacred river Ganga at the Har Ki Pauri Ghat in Haridwar post-sunset. Vedic songs and prayers create a magical and peaceful experience. Tourist's float "diyas" (small candles) and flowers, surrounded by the chanting of the mantras and the reflection of the lights off the surface of the flowing river, which is said to be blessed by the Goddess Ganga.
The Ganga River is filled with tens of thousands of lighted Diyas, creating a sight to behold and spiritual moment, which is a best thing to do during the Chardham Yatra in 2023.
Indulge in Local Cuisine
The food of Uttarakhand is dominated by Garhwali cuisine and Kumaoni cuisine. The dishes are simple and locally grown, made without ample spices. The secret ingredient of the world's most famous dishes of Uttarakhand is that they are cooked over a slow fire and consist of lentils. Indulge yourself in the goodness of authentic local cuisines such as Thenchwani, Chaunce, Phaana, Kode ki Roti and famous Bhang ki Chutney.
Explore the Temples Around the Area
Cocooned in the Garhwal Himalayan range, the Char Dham Yatra includes four crucial holy destinations – Yamunotri, Gangotri, Kedarnath and Badrinath. Along with these four, one can cover many other destinations which are nearby areas of the Char Dham. Kalimath Temple, Triyuginarayan Temple, Ukhimath Temple, Shankaracharya Math, Vridha Badri, Chopta, Vishwanath Temple- Guptkashi, Uttarkashi and many more. These are some of the best places to visit during Chardham Yatra.
Visit Hidden Jewel Harshil
Uttarakhand has many hidden jewels which can be explored during the Chardham Yatra of 2023. One such untouched place is Harsil, Harsil offers multiple tourist spots for sightseeing, from the Gushing River Bhagirathi to the healthy and quiet atmosphere and chirping of birds being the major draw. The route continues towards the Gangotri Shrine, where visitors can enjoy stunning views of the Submerged Shivling, Gomukh Glacier and Bhagirath Shila.
Glaciers
There are many glaciers which you will encounter during your pilgrimage Tour in the Himalayas. But the most important one among all is the Gurmukh glaciers, which is the origin place of the river Ganga. This glacier is the birthplace of the holy river Ganges, resembling the face of a cow, it is therefore known as Gomukh. It is believed that the trip to Gangotri is incomplete without bathing at this glacier. The views from this glacier are beautiful and crowds of curious tourists tend to return to this spot on the Char Dham Yatra.
Wildlife Sightseeing
Gangotri national park is one of the most popular high-altitude wildlife sanctuaries in India. Located in the Uttarkashi district of Uttarakhand, Gangotri National Park is the third-largest wildlife sanctuary. This national park is a habitat of alpine meadows, glaciers, and coniferous forests. This national park is home to a huge collection of flora and fauna. Apart from that you can also visit Raja Ji National Park to see the enchanting Western Gangetic Moist and Northern dry Deciduous and Khair-Sissoo forests and Cheetal, Barking deer, Sambar deer, Wild Boar, antelopes such as the Nilgai, Goral, Asian Wild Elephants and many more wild creatures.
Trip to the Valley of Flower
Valley of Flowers is located near Badrinath temple and is also one of the UNESCO World Heritage Sites. This Valley of Flowers is a must viewing destination to explore if you have any time on your journey to Chardham Yatra. Valley of the Flower is visited during the monsoon time from July to mid-September, and some people also visit Hemkund Sahib from here. Valley of the flower is one of the beautiful places to visit on Chardham Yatra.
Get a Closer Look at Hindu's Mythology
Uttarakhand is known as the 'land of Gods" and also developed as one of the religious tourist destinations. If you are planning to do the Chardham Yatra of Uttarakhand then you will not only get to see the holy shrine but also can cover many other places. In this way, you will learn more about Hindu's mythology.
Jalmagna Shivling and Bheem Pul are two such religious tourist destinations.
It is believed that Jalmagna Shivling is the exact place where lord Shiva had held river Ganga in his hair locks before flowing. This shivling or idol of lord Shiva has half-submerged inside the clear water during the summer when the sea level rises too much.
Bheem Pul is built over the Saraswati River and situated in the mana village, which is the last village of India named after one of the Pandava brothers, Bheem. Bheem made this bridge for his wife Draupadi, who was unable to cross the river, so they decided to fill the gap, and then he made this Pul with the help of mountain rock near it.
How to Choose the Best Chardham Yatra Travel Package?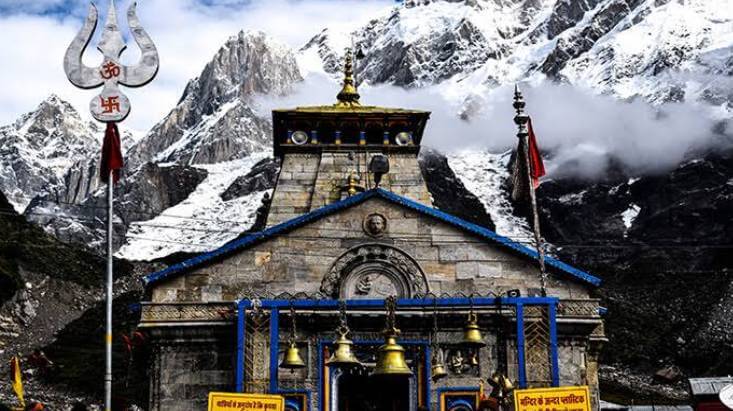 Undoubtedly, Chardham is the most popular pilgrimage circuit for Hindu devotees. One can find a plethora of tour operators in the market happy to offer you an affordable package.  However, you must carry out in-depth research before you decide to purchase a package. If you are a first-time visitor, then you can consult your friends or relatives who have used the services of a tour operator before. You must make sure that the package you take must include various things like accommodation, food, transportation and other facilities. Utilizing the services of a reliable operator will help you get rid of all the stress of the tour.
Why Booking an Accommodation in Advance is Important?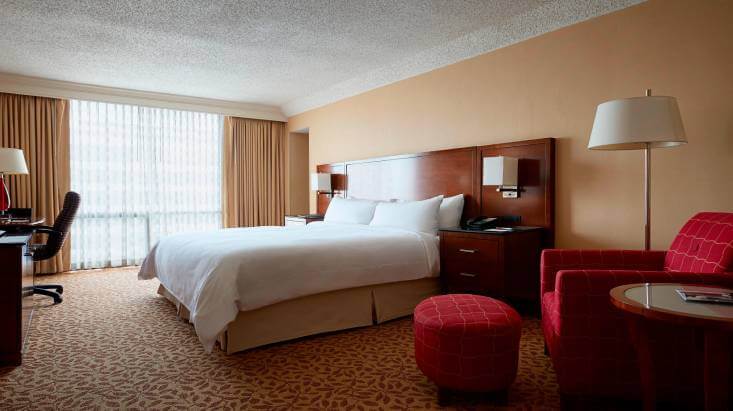 It is significant to select a comfortable accommodation in advance to complete the Yatra successfully.  The devotees can stay in hotels enroute to Chardham according to their needs and budget. The hotels leave no stone unturned to provide excellent services and amenities to their guests. All the desired facilities like an attached bathroom, television, spacious rooms, telephone, etc. are provided by the hotels which make the tour pleasurable and memorable for the pilgrims.
Why Does Physical Fitness Matters?
As mentioned before, the journey is very challenging and demands lots of physical fitness and stamina. People suffering from acrophobia (fear of heights), high blood pressure, asthma, heart disease and other diseases must refrain from taking this arduous journey. It is recommended that a pilgrim must get a proper medical checkup and a certificate of fitness before starting Chardham Yatra.
What Problems You Might Face in the Mountains or Higher Altitudes?
As most of the temples are located in the high-altitude mountain regions, there are some problems that the devotees can encounter.
The Yatra involves walking and can pose many problems, particularly for the older members of the family who are not used to long walks. In such a situation, one must take regular breaks to give your feet some rest and feel refreshed.
People suffer from altitude sickness (fear of height) and may also find it difficult to acclimatize to the weather conditions properly. Hence, people must consult doctors before embarking on the journey. It is also important to carry a first aid box with items including a thermometer, balm for muscles/joints, adhesive rolls, band-aids, cold cream, bandages, antiseptic ointment and medicines prescribed by the doctor.
How to Reach Chardham?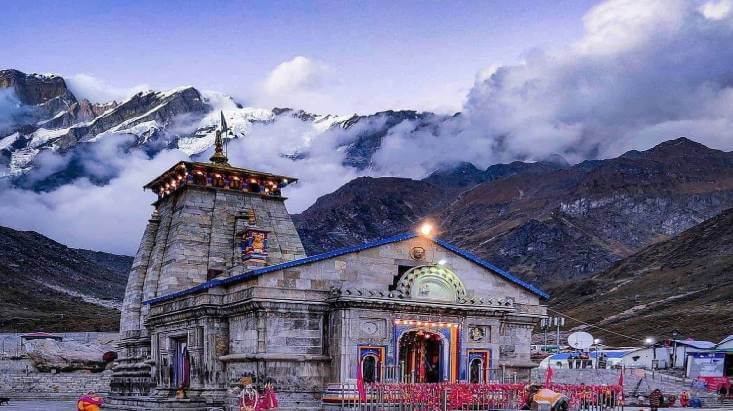 It is quite easy to reach the holy place of Chardham where one offers prayers to God and finds inner peace through various means:
By Air: Jolly Grant Airport, popularly known as Dehradun Airport is the nearest airport to Chardham. Helicopters and small private planes are also allowed to make a landing at the airport.
By Train: The closest railheads from Chardham are Haridwar, Rishikesh, Dehradun and Kotdwar. Buses, taxis and private cabs are easily available outside the station.
By Road: The well laid out network of roads makes it possible to reach Chardham in a hassle-free manner. Inter-city transportation services and taxis are available frequently. Buses can be boarded from Rishikesh, Haridwar, Dehradun, Gangotri and Uttarkashi.
Where to Eat?
Now, the main question is where will pilgrims eat who couldn't get accommodation due to late bookings, heavy rush or various other reasons.
Don't worry!
There are many good eateries, restaurants and dhabas that are located in and around the Chardham region. The devotees can enjoy lip-smacking hygienic food like Parathas, Maggie noodles, North and South India cuisines at nominal prices. An important point to note here is that non-vegetarian food and alcohol are strictly not allowed or served in hotels and restaurants.
What is the Best Route to Follow During the Yatra?
Generally, the Chardham Yatra is carried out by the devotees from the west to the east. That means, the journey commences at Yamunotri, and passes through Gangotri, and then Kedarnath before ending at Badrinath Dham.
The best routes that the devotees can follow during the Yatra are:
Delhi – Haridwar – Barkot – Yamunotri – Uttarkashi – Gangotri – Guptakashi – Kedarnath – Badrinath – Rishikesh – Delhi (Back)
Get an Update about Weather Status Regularly
Most of the shrines are located on higher altitudes, with extreme weather conditions like heavy rains, snowfall, cloud bursts and landslides. The temperature of the region tends to change drastically and in such a situation, you must stay updated with the weather conditions of Chardham regularly. This can be done by getting the weather update about Garhwal online or the best thing you can do is to seek the assistance of a local guide because they are quite familiar with the prevailing weather conditions of the region.
Chardham Yatra by Helicopter – A Joyful and Memorable Ride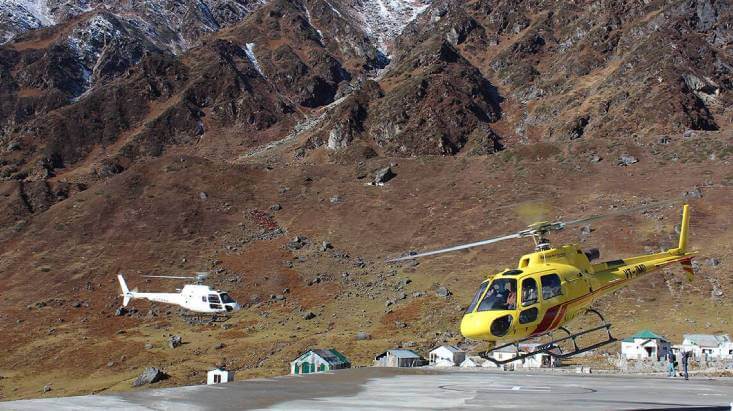 If you are too preoccupied with your work, which is very common in our tedious lifestyle, then can you plan a Chardham Yatra by helicopter. By availing of the helicopter services, you will not only save time but also witness the breathtaking views of the mighty Himalayas. The helicopter service starts from Delhi, Dehradun and covers various important religious places of Haridwar and Chardham. The helicopter services are provided by the Pawan Hans Helicopter services and Prabhakar Aviation Private Limited.
Travel with Kids and Old People
The weather conditions of sacred Char Dhams are extremely harsh. So, it is very essential to take precautions when you are doing this pilgrimage tour with kids and old people. High- altitudes might cause breathing difficulties which is the reason why this tour is recommended for people between 7 to 65 years of age. For old people Palkis and helicopter services will be available if there is a difficulty to continue the journey on foot. Proper care must be taken when you are with kids. Take warm clothes with you. The trek journey will be difficult and long. To avoid physical exhaustion, helicopter services or pony rides will be comfortable for Char Dham Himalayan pilgrimage tour.
Char Dham Yatra for Medically Unfit People
The Char Dham Yatra is not an easy one. It will face the challenges of breathlessness in High-altitude Peaks, challenging terrains, steep climbs and difficult weather especially in Kedarnath Yatra. So, it is highly advisable to do proper medical checkup and biometric registration before the commencement of this Yatra. Things might not be in your favor and you may not get medical facilities in some places. It is recommended to not take part in Char Dham Yatra if you are medically unfit but if you still want to take divine blessings from the almighty then you can do it. A strong will and determination is the key to do it. However, Heli ambulance services are also available and adequate supply of medicines will ensure the safety of the pilgrims.
Other Tips to Follow During the Journey
While visiting the shrines, you must remove your shoes and cover the head with a clean cloth.
Carry warm clothes nonetheless what the weather is.
Don't forget to carry a blanket, raincoat, torch, muffler, sweater and canvas shoes.
Pack chocolates, dry fruits and glucose for the journey as they can provide you instant energy when you feel tired.
Do not carry any precious items such as jewelry.
Photography is prohibited inside the temple premises. It is pivotal that you do not hurt the sentiments of any person.
Drink only packaged or boiled water.
Always travel in groups because if you face any difficulty, then your friends or relatives can provide your assistance.
Women must avoid wearing sarees as they would find it very difficult to walk. Instead of a saree, they can go for the salwar kameez.
Final Words
In addition to the above-mentioned information, carrying out the necessary research and carrying a route map along will help you to get rid of any problems that you may encounter during the journey. These are some of the important information of the Chardham Yatra travel guide that will help you a lot to complete the religious journey.
We hope you have a great time in the beautiful Himalayas and come back with memories to cherish.
Frequently Asked Questions About 4 Dham Yatra
How to plan hassle free Chardham Yatra of Uttarakhand?
For an amazing hassle-free Char Dham Yatra Tour you have to call us at +91- 8744012051 or fill online enquiry form we will get back to you as soon as possible.
How many days are required to complete the Char Dham Yatra?
If you want to enjoy the best of Char Dham Pilgrimage tourism, you will need around 11 to 12 days to cover all the places. Apart from the four Dhams there are other places like Gaumukh, Tapovan, Along Valley, Bhairavnath Temple, Vasuki Tal, Chopta, Haridwar, Auli, Hemkund Sahib and Rishikesh etc. which definitely need time to explore.
How many days are required for only the Kedarnath Yatra?
You need 4 days to cover only for the Kedarnath Temple tour if you want to explore it at a slow pace without any physical tiredness.
What is the best time to plan the Char Dham Himalaya Pilgrimage Tour?
April, May and the first half of June is the best time to plan the Char Dham Himalaya pilgrimage tour.
Which Dham Should I visit first?
If you want to visit Char Dham sequentially, you should first visit Yamunotri and then Gangotri Temple, after that you should visit Kedarnath and in the end Badrinath Temple.
How many days are required for Do Dham Yatra of Badrinath-Kedarnath and Gangotri & Yamunotri?
Days required for Badrinath – Kedarnath Tour- 5 to 6 days
Days required for Gangotri- Yamunotri Tour – 4 to 5 days
What are the opening dates for Himalayas Chardham Yatra of Uttarakhand 2023?
Opening dates for Himalayan Char Dham Yatra 2023:
Yamunotri Temple- 22 April 2023
Gangotri Temple- 22 April 2023
Kedarnath Temple – 25 April 2023
Badrinath Temple- 27 April 2023
How is the weather of Chardham temples of Uttarakhand?
Char Dhams of divinity are nestled in the Himalayas where the weather is extremely harsh. During winters the darshan is not possible as the entire landscape is covered in snow, monsoons bring heavy downpour which leads to landslides and floods. So, the safest option to get the divine blessings is to plan your tour during the summer season (April- May).
Published:

19 Jan, 2022