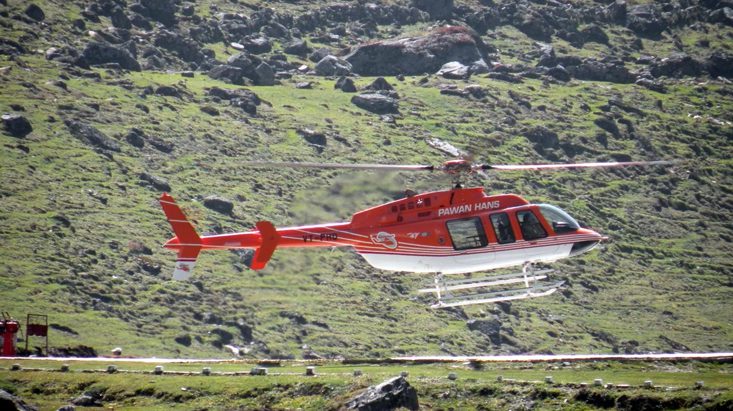 admin
Published:

12 Oct, 2021
Kedarnath Yatra by Helicopter
One of the most important religious heritage sites – Kedarnath Dham is situated at an elevation of 3533m above the sea level and it is considered the most important journey for pilgrims who want to fulfil their transcendent quest. It is one of the 12 Jyotirlingas and Char Dhams visited by devotees from across the world. The most convenient way to reach Kedarnath is by motorable roads which stretch till Gauri Kund. It is quite easy for the young ones to reach here by indulging in a 18km long trek from Gauri Kund but not all are fit to take this thrilling route.
The aged ones are unable to travel to Kedarnath Dham by trekking so they prefer Helicopter Services. This mode of travel has recently become popular among tourists as some people prefer Helicopter Services due to lack of stamina and old age or if you only have a day in your plan then the Helicopter service is for you. But it has one advantage; it offers beautiful aerial views of snow-capped mountains, Mandakini river, the divine Kedarnath Temple, lush meadows and the soul pleasing beauty of Garhwal region.
Also Check Out: Kedarnath Yatra Package
Kedarnath Helicopter Service
Kedarnath Helicopter Service operates from Guptkashi, Phata, Sersi and Sitapur. These places are very popular for its Helipad services. Kedarnath has around 9 to 10 active Helicopter service providers. Depending on the weather condition, Kedarnath Service providers operate helicopter service for the pilgrims. Many charter companies have already resumed their services for the Kedarnath Dham temple visit for session 2021-2022.
Companies offering Helicopter Services are –
Prabhatam Aviation – It is one of the most popular Helicopter service providers for Kedarnath Dham Darshan. It has many helicopters which can carry passengers up to 6 and it has a range of 418 kms.
Pawan Hans– From Phata and Augustmuni by 6-seater Bell 407/ Ecureuil B3 helicopter Pawan Hans provides daily helicopter services to Kedarnath Dham.
Himalayan Heli Services – Himalayan Heli is India's leading Helicopter company which provides Helicopter services for pilgrimages.
Aryan Aviation Pvt Ltd – It provides daily chopper services to Kedarnath. It has one 5-seater Eurocopter AS350B3 and one 5-seater bell 407 helicopter from Narayankoti near Guptkashi.
Thumby Aviation Pvt Ltd – It is led by Captain KNG Nair an Indian air force veteran with a very good experience in aviation.
Distance of Helipads enroute Kedarnath for Helicopter Services
Sirsi Helipad for Kedarnath – It is the nearest helipad for Kedarnath Helicopter service which is situated at an elevation of 6500ft above the sea level. It will take 11 minutes to reach Kedarnath via Chopper. It is located en- route to Kedarnath Yatra.
Phata Helipad for Kedarnath – It would take only 9-10 minutes to reach Kedarnath Dham from Phata. It is one of the most popular places for helipad services for Kedarnath. En- route to Kedarnath it is situated in Rudraprayag district.
Guptkashi Helipad for Kedarnath- From Guptkashi, Kedarnath journey will take 15 minutes via helicopter. Due to the abundance of medical and hotel facilities, it is the most preferred place for helipad services. It houses two most important pilgrimage sites- Ardhnareshwar Temple and Vishwanath Temple.
Sitapur Helipad for Kedarnath- Sitapur Helipad ride will take 5 to 7 minutes to reach the pious Kedarnath Temple. It is 26 km ahead of Guptkashi.
Augustmuni Helipad for Kedarnath – From Augustmuni it would take 15-20 minutes to reach Kedarnath Dham. Rishi Augustya temple is the major religious landmark of Augustmini.
Dehradun to Kedarnath Helipad Service – It is located 266 km from Kedarnath Dham; hence the cost would be much higher due to the long distance.
How to Book Helicopter Service for Kedarnath Dham?
You can book your Helicopter service for the pious Kedarnath Dham offline as well as online from the official portal of aviation companies. Kedarnath Helicopter services have already started from 1st October 2021. Pilgrims and tourists can check the availability of seats from the government portal of Heli services. If you want more details on Helicopter Service booking for Kedarnath Dham, you can contact TourMyIndia for a hassle-free spiritual tour. We also offer great deals and discounts on Helicopter Service booking for Kedarnath Yatra.
Highlights of Helicopter Services for Kedarnath Dham
Aerial view of snow-clad peaks and picturesque valleys of Garhwal region.
You will be able to do the Darshan of Kedarnath Shrine and can come back on the same day.
If you pay extra, you will be the early bird to get the privilege of Darshan of Kedarnath Shrine.
The journey is very comfortable for physically weak and old people and kids.
Also Read