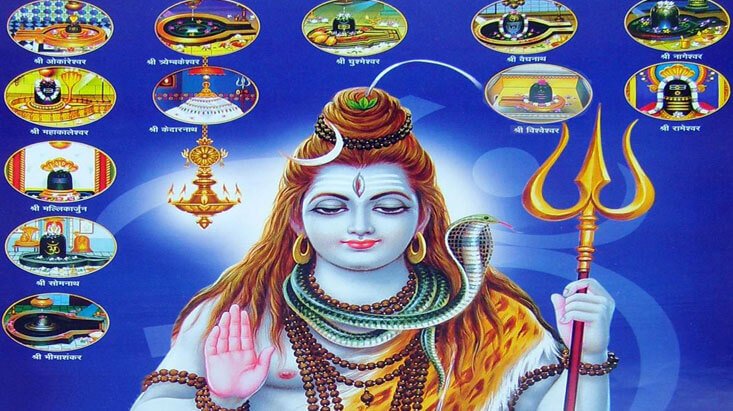 admin
Updated on: December 11, 2018
12 Jyotirlingas in India: What You Should Know Before Going There?
The land of numerous gods and goddesses – India is undoubtedly one of the revered pilgrimage destinations in the world. The country is home to a countless religious places having different mythological importance. Amongst the abundance, one is the famous 12 Jyotirlingas circuit. The mythological importance of these twelve sacred sites is connected with Lord Shiva, and thus, they are also esteemed as 12 Jyotirlingas of Shiva. These are the famous temples of Lord Shiva where he is manifested as lingas. Somnath in Saurashtra, Mallikarjuna in Srisailam, Mahakaleshwar in Ujjain, Omkareshwar on Mandata Island, Kedarnath in Rudraprayag District, Bhimashankar in Pune, Kashi Vishwanath in Varanasi, Trimbakeshwar on banks of Godavari River, Baidyanath at Deoghar, Nageshwar in Dwarka, Ramanathaswamy in Rameswaram, Grishneshwar at Ellora are the twelve sacred sites worth performing a Hindu pilgrimage.
Somnath, Gujarat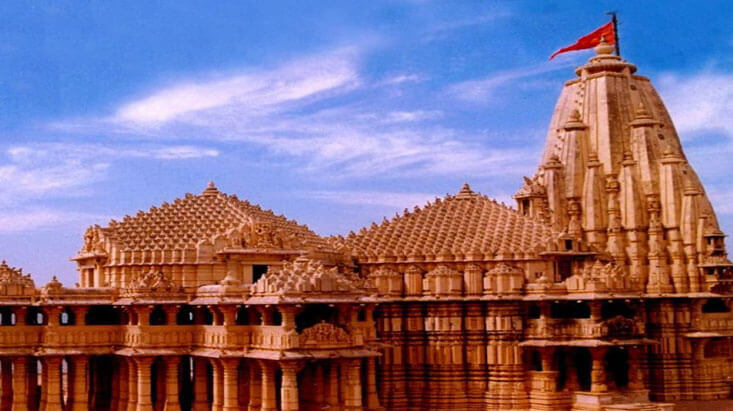 On shores of Arabian Sea in Somnath, Gujarat is the first of twelve Jyotirlingas in India – Somnath Temple. Brimming with rich history and soaked in spirituality, the temple is a sacred destination for Hindu pilgrims visiting Gujarat. The mythology behind this temple goes like this – Daksha married all his twenty-seven daughters with Chandra (Moon). But Chandra only loved Rohini and used to give all the importance to her. The other twenty-six wives were envious. This also made Daksha very upset as he wanted Chandra to give the same importance to other wives too and spend time with them as well. Despite, Daksha's involvement, Chandra never paid any heed to this and went on spending time with Rohini. As a result of this, the angry Daksha cursed him that he will lose all his light. With that curse, Chandra immediately became lightless and whole world went into the darkness.
All the gods requested Daksha to forgive Chandra and, on their request, he said that in order to reverse the effect of the curse, Chandra will have to start worshipping Lord Shiva to get his light back. For that, Chandra along with Rohini came down to Prabhasa where he worshipped Sparsa Linga of Somnath. Seeing his penance, Lord Shiva blessed him to shine in the bright half. It is believed that even today, on a moonless night Chandra comes and dips in the holy water of the sea to shine again.
Mallikarjuna, Andhra Pradesh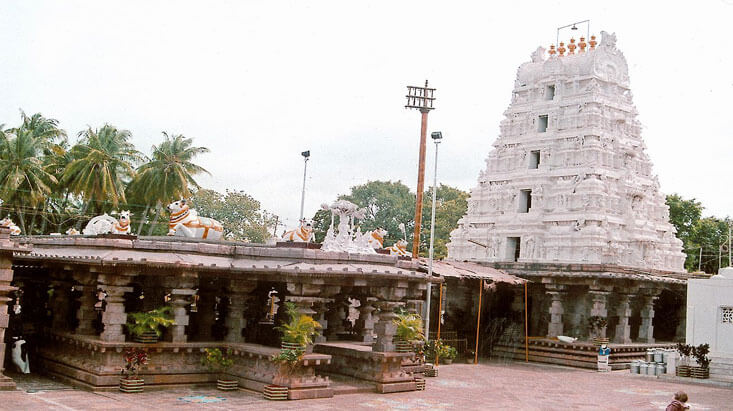 Renowned for its Dravidian style of Architecture, Mallikarjuna Temple is one of the oldest and most popular Hindu temples in India. The carvings on the wall and sculptures at the temple depict scenes from the epics of Ramayana and Mahabharata. Not just this, the name of the temple has been mentioned in the Mahabharata, Shiva Purana, and Padma Puran. As per the legends, once Lord Shiva and his beloved wife Goddess Parvati decided to get their sons married. But an argument arose between their sons regarding who amongst the two will marry first. Lord Shiva suggested whoever goes round the world and returns first will have the privilege to get married first. Lord Kartikeya took his vahana (peacock) and headed for the trip. On the other hand, Lord Ganesha took seven round of his parents, quoting that they are his world. Lord Shiva and Goddess Parvati were pleased by Lord Ganesha, and married him to Riddhi and Siddhi. Lord Kartikeya on his return was enraged and went to Mount Krauncha to stay alone. When Shiva and Parvati got to know about this, they decided to visit their son. On seeing their parents coming over to pacify him, Lord Kartikeya moved to another place. It is believed that, Lord Shiva visits Lord Kartikeya on Amavasya and Goddess Parvati on Poornima. Srisailam is the place where Lord Shiva and Goddess Parvati stayed while trying to pacify their son. Today, it is one of the 12 Jyotirlingas and is referred as Mallikarjuna.
Another legend related to Mallikarjuna Jyotirlinga says that once there was a princess named Chandravati who decided to spend her life in the woods doing penance. She chose Kadali Vana for this purpose. One day she was meditating when she saw Kapila cow standing under the tree and the milk was flowing from her four udders. The cow kept doing this every day. Perplexed and curious Chandravati dug up that area and was astounded by seeing the self-manifested Swayambhu Shivling at this place. Chandravati offered prayer to the Shivling and built a huge Shiva temple at the particular spot.
Mahakaleshwar, Madhya Pradesh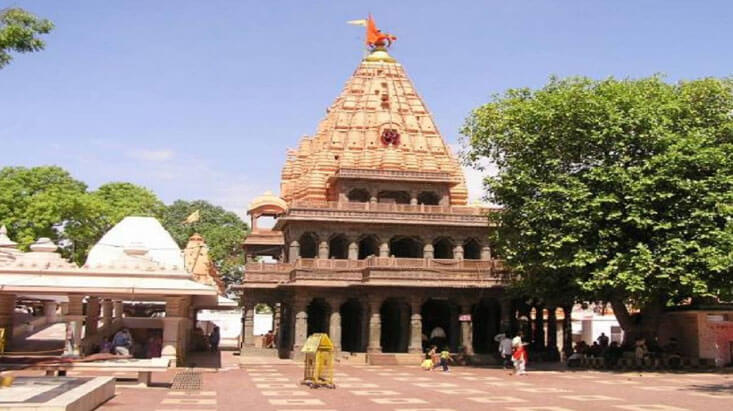 The third Jyotirlinga temple is the famous Mahakaleshwar. Located on the bank of Kshipra River in the historical city of Ujjain in Madhya Pradesh, Mahakaleshwar is also one of the tantric sect temples in India. There are various tales associated with the temple. One says that once there was a king named Chandrasen who was the ruler of the Ujjain city. The king was a devotee of Lord Shiva. One day when he was busy in penance, a 5-year old boy named Shrikar saw him who was passing by. The penancing fascinated him in such a way that he wanted to do it himself. While returning home, he picked up a stone and established it as a Shivlinga. He paid homage to that stone with all devotion and got so involved in his prayers that he was not even listening to his mother. Thus, in frustration, his mother shouted at him and threw that stone away and forcefully tried to bring him home. The boy then started chanting 'sambhuko;' seeing the boy's stubbornness, the mother then left him there and went home and he continued to chant sambhuko and as a result of this he fainted after some time. When he woke up, he got amazed by seeing a huge temple in front of him where a resplendent Jyotirlinga was ensconced, which is today known as Mahakaleshwar.
Another tale tells that Lord Shiva appeared in Ujjain from the ground to trounce the demon, Dushana. Dushana was against Lord Shiva and Vedic worship, and hence, he killed all the Brahmins and other devotees who worshipped Lord Shiva. It is said that, after killing the demon, Lord Shiva took the form of Jyotirlinga at this place.
Omkareshwar in Madhya Pradesh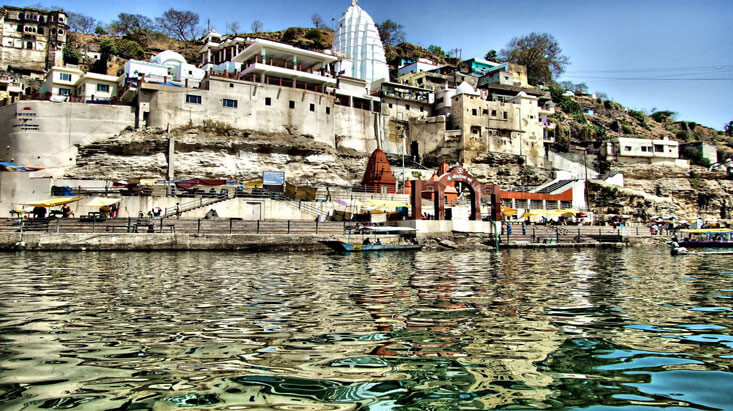 Comfortably seated on the bank of River Narmada, Omkareshwar Temple is situated on an island known as Mandhata Island or Shivpuri. The architecture of the temple is in North Indian style with towering spires making it one of the highly sacred Hindu religious places in India. The temple has its own history and numerous stories. Out of these, three are the most prominent ones.
According to the first story, Vindhya Parvat decided to worship ParthivaLinga to please Lord Shiva in order to become greater than Mount Meru. For nearly six months, Vindhya performed penance and as a result of this Lord Shiva got pleased and blessed him with his desired wish. On request of gods and sages, Lord Shiva made two parts of the linga, one is Omkareshwar and the other one is Mamaleshwar or Amareshwar.
The second legend goes, King Mandhata along with his two sons performed penance. As a result of this, Lord Shiva got pleased, and hence, manifested himself here as a Jyotirlinga.
As per the third tale from the Hindu epic, once there was a war between Devas and Asuras in which Asuras won. Devas then prayed to Lord Shiva, as a result of which Lord Shiva appeared in the form of Omkareshwar Jyotirlinga to defeat Asuras.
Kedarnath, Uttarakhand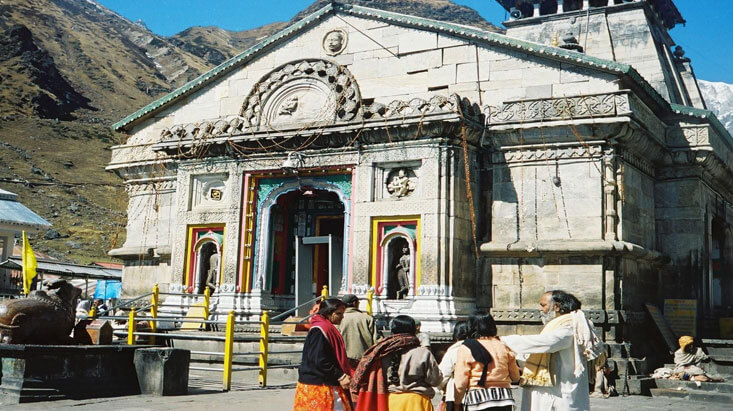 Kedarnath is the only high Jyotirlingas amongst the twelve which is located at an altitude of more than 3500 m. As a result of high altitude, the holy portals of temple open for a limited time (Late April/Early May to October). Kedarnath temple is also a prominent part of Chota Char Dham pilgrimage circuit. The legend behind this holy place of worship goes like, once Pandavas performed a penance here to purge their sins. However, they were told that in order to get free from their sins they have to get the blessings of Lord Shiva. After a long hunt, Pandavas finally saw Lord Shiva at the spot where the Jyotirlinga in Kedarnath is located today. After the darshan of Lord Shiva, Pandavas got free from their sins and were told by him that he will stay at this place in the form of triangular shaped Jyotirlinga. For the fact, Kedarnath is one of the most revered and highly prestigious Shiva temples in the Himalayas.
Bhimashankar Temple, Maharashtra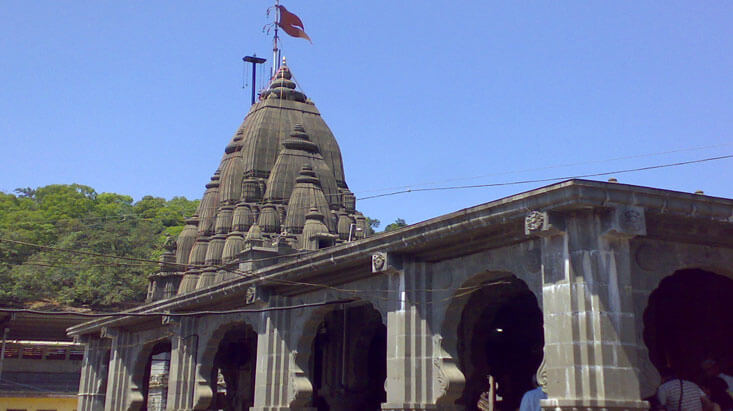 Bhimashankar Temple is located amidst Sahyadri Hills near Pune. The temple has an interesting story with two different ends. The first one goes like this, Lord Shiva, after killing the demon Tripura, sat down to take some rest at this place. That was the time when the Bhima River was formed by his sweat. Seeing this, all the gods requested Lord Shiva to permanently stay here, and thus, he manifested himself as Bhimashankar Jyotirlinga.
However, the other end of the same story says after thwarting the demon Tripura, Lord Shiva sat down here to take some rest. That time a king named Bhima was penancing there. Pleased with Bhima's penance, Lord Shiva blessed him and this is why the place is recognized as Bhimashankar Jyotirlinga.
Kashi Vishwanath Temple, Uttar Pradesh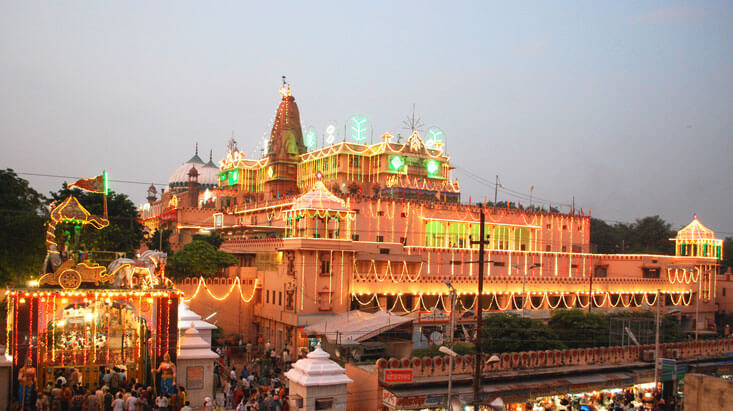 Another famous Jyotirlinga in India is Kashi Vishwanath. In Uttar Pradesh, Kashi Vishwanath is a Lord Shiva Temple that stands on the bank of Ganga River in the spiritual city of Varanasi. The city of Varanasi is home to more than 2000 temple and amongst those, the most revered and highly sacred is Kashi Vishwanath Temple. The history of the temple dates back to 11th century and has an interesting legend. The Shiva Purana says that during the battle between Lord Vishnu and Lord Brahma over the supremacy, Lord Shiva perforated the three worlds as a massive pillar of light. In order to find the end of the light, both Brahma and Vishnu went upward and downward respectively. However, Lord Brahma lied that he found the terminating point of the pillar. With that, Lord Shiva, in anger, appeared as second pillar of the light and cursed Brahma that he will not be worshipped in any occasion or ceremonies while Lord Vishnu will be considered supreme. It is also said that a part of that pillar remained at Kashi and is known as Kashi Vishwanath.
Trimbakeshwar Temple, Maharashtra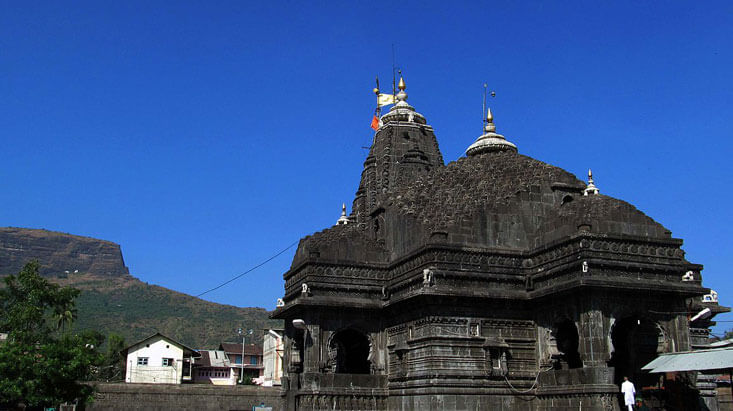 On the 8th place comes the sacred shrine of Nashik – Trimbakeshwar Temple. This 18th-century temple is situated in a small town of Trimbak in the state of Maharashtra. The legend has it, once Gautam Rishi inadvertently let his cow die in a bottomless pit, which was given by Lord Vishnu as a blessing. Upset with this, Gautam Rishi performed penance to Lord Shiva and prayed to him to let Ganges flow in this region so that he could wash off his sins. Pleased with Gautam Rishi's prayer, Lord Shiva blessed him with his wish and decided to stay here in the form of Trimbakeshwar. However, other legends also state that, Lord Shiva repose here in the form of three gods; Brahma, Vishnu, and Mahesh, and hence the name Trimbakeshwar.
Baidyanath, Jharkhand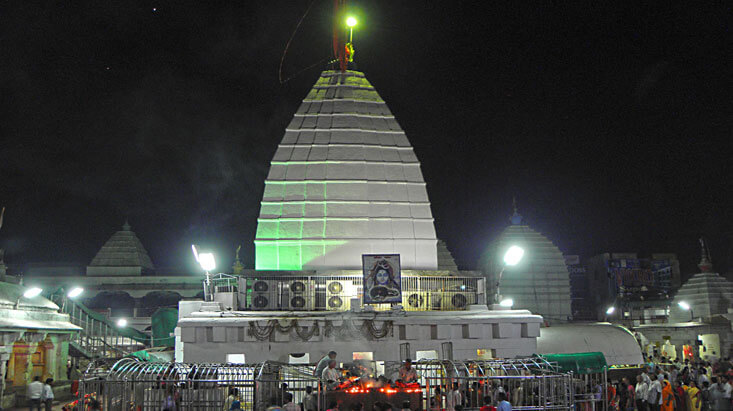 Baidyanath is located in Deoghar, state of Jharkhand. Also renowned as Baba Baidyanath Dham, the temple is one of the prominent abode of Lord Shiva. The place has a huge mythological importance. As per the legends, here at Baidyanath, Ravana sacrificed his nine heads in order to please Lord Shiva since he wanted to make Sri Lanka invincible by installing Lord Shiva's Jyotirlinga there. But as he was about to cut his tenth head, Lord Shiva appeared and blessed him with his wish. Lord Shiva gave Ravana a lingam and warned him that if the lingam got in touch with any part of the earth before reaching Lanka then it will get fixed to that land and nobody will be able to lift it. Ravana started his journey back from Kailash but in the evening, he was supposed to do his evening prayer, which he could do not do with the lingam in his hand. He asked a shepherd boy to hold the lingam who was Lord Ganesha, in real. However, Ravana was told by Lord Ganesha that he will leave the Shivlinga on the land in case there is a delay in his return. On his return, when Ravana saw the Shivlinga placed on the land, he got upset and tried to lift lingam but could not do it. And in this way, one of the 12 Jyotirlingas established in Jharkhand in the form of Baidyanath.
Nageshwar Temple, Gujarat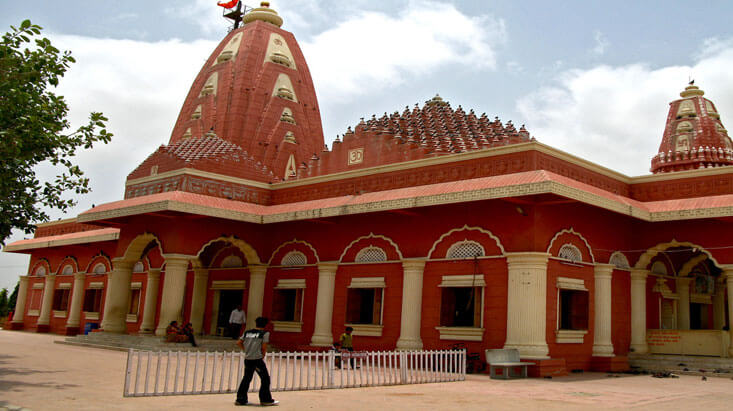 Nageshwar Temple is the tenth Jyotirlinga located near the sacred city of Dwarka in the state of Gujarat. Nageshwar Temple is also a part of Char Dham, and hence, is probably one of the sacred-most temples of India. The temple has its mention in Shiva Purana which stated that once a Lord Shiva's follower named Supriya was attacked by a demon, called Daruka, who was blessed by Goddess Parvati (wife of Lord Shiva). Daruka intimidated local people along with Supriya and imprisoned them at the same place. Supriya asked everyone to chant Shiva Mantra in order to get saved from the demon. Due to their persistent prayers, Lord Shiva appeared and protected them all and manifested himself here as jyotirlinga.
Ramanathaswamy Temple, Rameswaram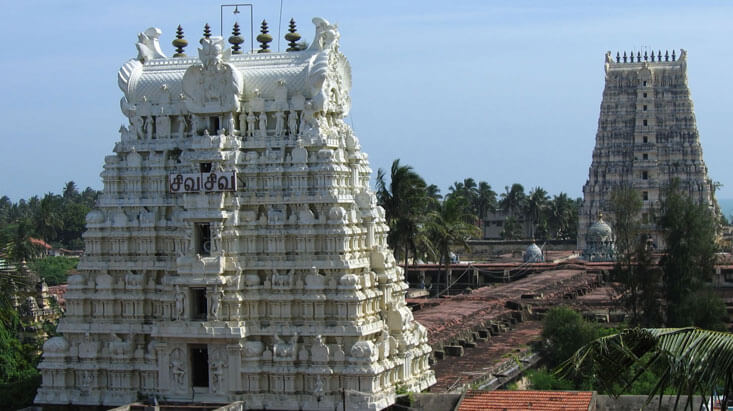 Evidently, one of the most pristine holy place of South India, Ramanathaswamy Temple is located in the holy town of Rameswaram, Tamil Nadu. The temple is also a prominent part of 'Char Dham', and hence, has a high spiritual significance in the hearts of devotees. There are two lingams; one is said to have been brought by Lord Hanuman and the other one is reckoned to have been made by Goddess Sita. As per mythology, this is the place where Lord Rama worshipped Lord Shiva after defeating Ravana. In order to worship Shiva, Lord Rama directed Hanuman to bring the biggest lingam from the Himalayas. However, Lord Hanuman took so much time to return, and thus, Goddess Sita built a Shivalinga from sand, which is believed to be the lingam in the sanctum.
Another tale says that Lord Rama himself installed the lingam here. On their way to defeat Ravana, Lord Rama reached Rameswaram and started drinking water at the shore of the sea. As he was drinking water, a loud proclamation came – "You are drinking water without worshipping me". Thereafter, Lord Rama built a sand lingam to worship Lord Shiva. In his prayer, Lord Rama asked Lord Shiva's blessing to defeat Ravana.
Grishneshwar Temple, Maharashtra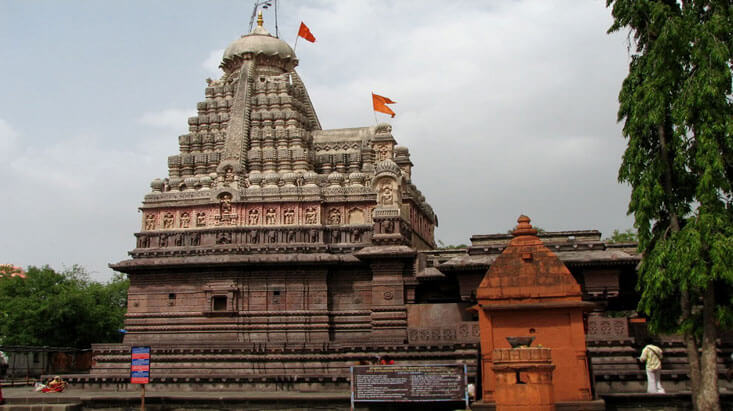 The last Jyotirlinga is Grishneshwar Temple which is situated in Ellora near Aurangabad in Maharashtra. The temple also has its mention in holy Shiva Purana and is considered as one of the highly revered shrines in India. As per the mythology, once there was a woman named Ghushma who was a devotee of Lord Shiva. Ghushma used to make lingas, worship them and immerse them in the nearby lake. One day her son was killed by another wife of her husband. Upon knowing this Ghushma did not break down in tears rather she said who has given me this child shall protect him. Later, when she went to immerse Shivalinga in the lake she saw her son coming. That was the time, when Lord Shiva, pleased with her devotion, appeared and blessed her. It was Ghushma who asked Lord Shiva to reside here eternally in the name of Grishneshwar Jyotirlinga.
In these ways, the twelve must-visit pilgrimage sites in India, i.e., the Jyotirlingas came into existence which all now serve as highly-sacred sites in Hindu religion. Through his sacred shrines in the various parts of the country, the saints and sages of those days created a coalesced nation.
Published:

22 Jun, 2018