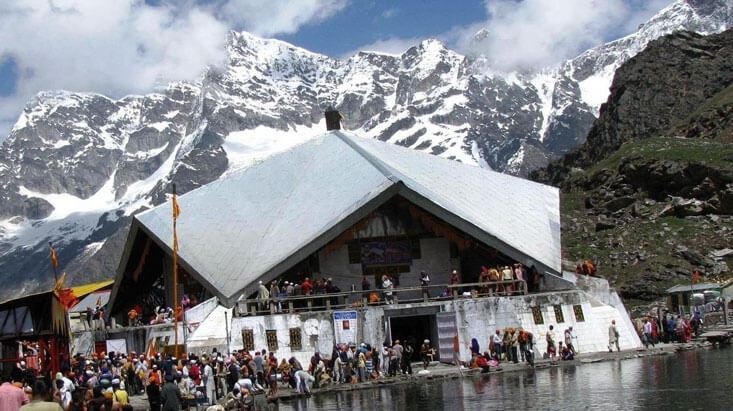 admin
Updated on: November 29, 2019
Hemkund Sahib: A Quick and Easy Travel Guide
Be ready to ignite your curiosity, shake your senses, and warm your soul as the sacred portals of Hemkund Sahib are unbolted for pilgrims for 2020. After the wait of around 6 months, devotees will perform pilgrimage to the high-altitude Sikh religious destination. The opening date 2020 for Hemkund Sahib is around 25th May and the sacred shrine will open for pilgrims till October.
Wedged between the high Himalayas and the steamy plains, Hemkund Sahib in Chamoli District of the State Uttarakhand is an eminent Sikh pilgrimage site. Perched at an elevation of 4632 m, Hemkund Sahib is the highest gurudwara of Sikh community. This popular Sikh shrine in Uttarakhand is around 6 km from away Gangharia and is located on the shores of the pristine Hemkund. According to Hindu mythology, the shrine was esteemed as Lokpal, a lake that was also the meditation place of Lord Rama's younger brother Lakshman.
The serene, scenic, and sublime setting make the place a perfect getaway for that rejuvenating and relaxing vacation in Uttarakhand. Hemkund Sahib is comfortably seated amidst the seven lofty mountains along with majestic snowy glaciers. Pilgrims, on tour to Hemkund Sahib, also love to adore the sedating beauty of Hemkund Lake, which is located near to gurudwara. The glacier of the prodigious peaks of Hathi Parvat and Saptarishi Peaks fed the water to Hemkund Lake. In order to reach the lake, one has to undergo a challenging yet fascinating trek that commences from Ghangaria.
Moreover, if you wish to have a long pilgrimage vacation in the Himalayas, you can also prefer to go Badrinath after Hemkund Sahib. This gives you once in a lifetime opportunity to undergo two of the most sacred yatra of Himalayas, one is the Sikh Pilgrimage – Hemkund Sahib and other is the famous Char Dham Yatra.
History and Origin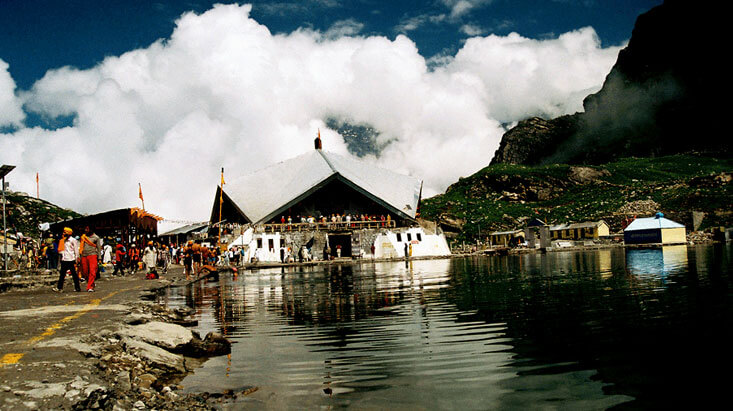 Photo: https://bit.ly/2GVzpxG
For the fact, there is a mention of Hemkund Sahib in the autobiography of Guru Gobind Singh long before its origin. This sacred site in Uttarakhand remains in oblivion for almost two centuries even after providing its information and location by Guru Gobind Singh himself. Long before its existence amongst the entire world, the local inhabitants were taking a great care of this place with all respect and reverence. In the 19th century, it was the Sikh historian poet who used his imagination to aware people with the story of Dusht Daman, which means vanquisher of the evil – the name given by them to Guru Gobind Singh. Moreover, in his pieces, he also gave a description of the place where the Guru Gobind Singh used to meditate.
Moreover, in the late 19th century, Pandit Tara Singh Narotam – a Nirmala Scholar, prepared a concoct synopsis of various Sikh pilgrimage sites which also included the place where Hemkund Sahib is situated. On the basis of information and indication provided in the Mahabharata, Narotam trekked up to the spot and was able to discover Hemkund Sahib.
Another well-known historian poet, Bhai Vir Singh – examined Narotam's evidence about this place which he mentioned in his Synopsis. As a result of the examination, the evidence and description of this Sikh sacred site found out be true and Vir Singh gave further information about the site. However, an army retired granti named Sant Sohan Singh was the first person who discovered the actual place of meditation. He was inspired by the description of the place given by Bhai Vir Singh in his work. Also, he trekked up the holy a number of times. In 1934, he visited the sacred site along with his fellow mate Baba Kartar Singh Bedi and returned back with a wish to establish a gurdwara there. Being only one of its kind, and hence, Hemkund Sahib is the must-visit popular Sikh tourism site in Himalayas.
Mythology and Worship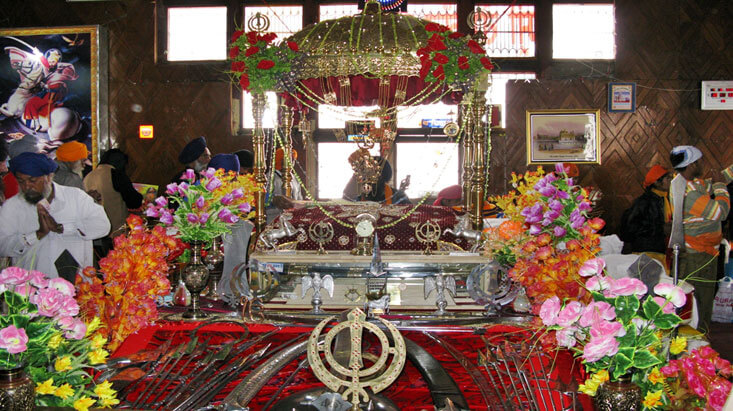 Photo: https://bit.ly/2IUwHu7
As stated in the Hindu Mythology, Hemkund Sahib was earlier esteemed as Lokpal – a lake which used to be the meditation ground of Lord Rama's younger brother, Lakshman. Moreover, there is also a Lakshman Temple on the shore of Hemkund Lake which is also a prominent pilgrimage site in the region. The place has a huge sacred value amongst devotees from round the world. Not just the Sikhs or Hindus, the place gives a warm welcome to people from any religion and from any corner of the globe, and thus, is considered as one of the auspicious places in Uttarakhand. For devotees, it remains accessible from the month of June to October.
Surrounding, Climate, and Architecture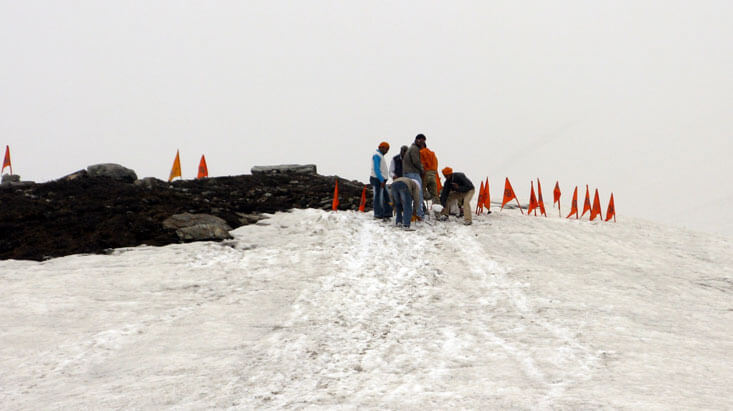 Photo: https://bit.ly/2IRH3Ps
There is a challenging trekking route which one has to cover in order to reach Hemkund Sahib. This whole trail is full of escapade and natural beauty. The scenic beauty of snow-clad mountains and green verdant valleys make a perfect environ for that amazing experience in Hemkund Sahib. Along with that, one can also relish the mesmerizing views of Valleys of Flowers, which located in a near distance to the gurdwara.
Since Hemkund Sahib is located at a high elevation, more than 4000 m above the sea level, this makes a cool and chilly climate condition throughout the year. Moreover, due to high altitude conditions, the winter at Hemkund Sahib receives a heavy snowfall which force shut the shrine during the season.
As far as Hemkund Sahib's architecture is concerned, the place boasts a distinct architectural construction of white marbles and concrete – the design which also prevails in the country's other Gurdwaras.
Best Time to Visit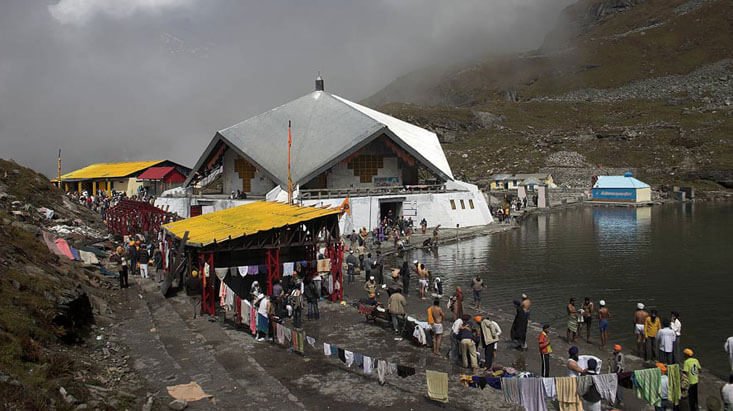 Photo: https://bit.ly/2GWxcSC
For pilgrims, Hemkund Sahib remains open for just 5-6 months, i.e., either from the late May or Start of June till the month of October. The reason behind this is the climate condition of the place. Because of high altitude, the remaining months remains prone to heavy snowfall and cold temperature. But during the months from May to October, the weather remains in favourable of sightseeing, and thus, is the best time to visit Hemkund Sahib.
How to Reach?
In spite of located at a high altitude, reaching Hemkund is still a not so difficult task. Uttarakhand government holds a well-maintained road transport services till Govindghat – the base point of Hemkund Sahib Trek. In total, it is a 19 km trek. The trekking trail till Ghangaria (13 km) is steep and challenging but the remaining 6 km trail is the steepest and toughest.
If you're planning to visit Hemkund Sahib by air then you have to board a flight from your destination to Jolly Grant Airport. The difference between the airport and Govindghat is approx 285 km. From the airport, you'll have to hire a taxi or board a local bus in order to reach the base point of the Hemkund Sahib Trek. However, one can also use their private choppers to reach Hemkund. This gives an option to many tourists to cover the Yatra by Helicopter.
For those, who prefer to travel by railway, Haridwar (291 km) and Rishikesh (267 approx) serves as nearest railway station from Hemkund Sahib. You can either board a bus or hire a taxi from these destinations to reach Hemkund. Railway is considered as the best way to reach Hemkund Sahib.
Hemkund Sahib is very well connected by road networks till Govind Ghat. You can either board a bus to Rishikesh, Srinagar, and Haridwar or can also prefer self-drive in order to reach Govind Ghat. NH9, NH44, and SH2 will lead you to Hemkund Sahib if you're coming from Delhi, Chandigarh, and Himachal Pradesh.
Route: Haridwar – Rishikesh – Rudraprayag – Joshimath – Govindghat – Trekking (19 km) – Hemkund Sahib
Moreover, if you're travelling from Kumaon region of Uttarakhand like Nainital, Almora, and Champawat then drive through NH7, NH309, Nh109, and NH9 to reach the place.
Route: Champawat – Nainital/Almora – Dwarahat – Karnaprayag – Joshimath – Govindghat – Trekking (19 km) – Hemkund Sahib
Where to Stay
For the information, there is no accommodation option available at Hemkund Sahib. Moreover, tourists are also not allowed to stay at gurdwara because of uncertain weather and lack of infrastructure. One has to trek down to Ghangaria in order to have a stay. At Ghangaria, there is a gurdwara and few hotels with basic amenities where you can choose to have a stay.
Nearby Tourist Attractions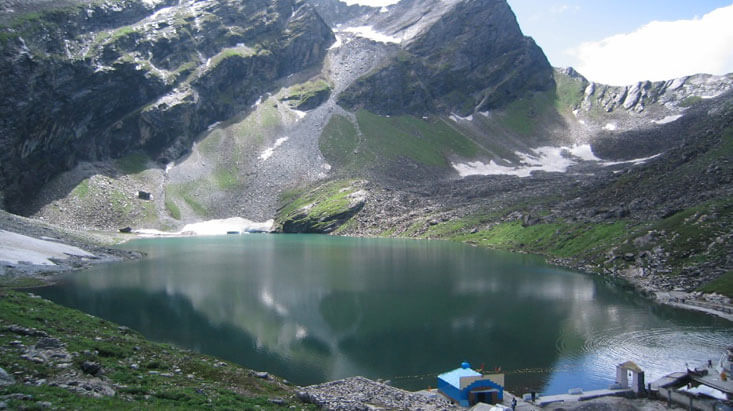 Photo: https://bit.ly/2GWxh8S
While making a pilgrimage tour to Hemkund Sahib, make sure you plan an unforgettable holiday by not restraining your excursion to gurdwara darshan. Having said that, you can also explore the nearby attractions of Hemkund Sahib gurdwara which are, Hemkund Lake, Valley of Flowers, Govindghat, and Ghangaria. In order to make your Hemkund Sahib holidays amazing, just keep in mind that your tour is accompanied by a well-designed itinerary and in the same way takes a great care of your lodging and transportation.
We hope this Hemkund Sahib travel guide must have given you a clear insight of the place.
Published:

28 May, 2018