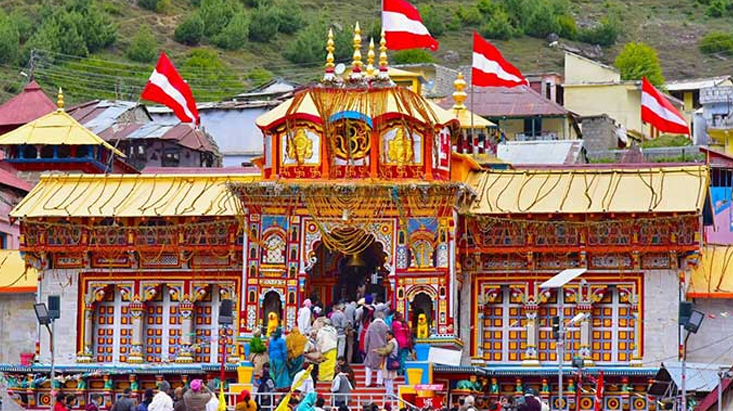 admin
Published:

07 Mar, 2022
Travel Guide: Best Places to Visit in and around Badrinath Dham
Badrinath Dham in the Chamoli District of Uttarakhand is a perfect place where divinity and serenity is at its highest Peak. It is one of the most sacred Hindu pilgrimage destinations as well as one of the Char Dhams of India. Badrinath Dham is between Nar and Narayan Mountain ranges. The blissful banks of river Alaknanda offer a sweet nectar of tranquility to the mind of the devotees. You will also behold huge Neelkanth mountain. As per the legends it is said that lord Vishnu had come to Badrinath to meditate after sage Narada asked him to meditate to get rid of worldly pleasures. Another story suggests that Lord Shiva was unseated by Lord Vishnu which is the reason why he shifted to Kedarnath. Beauty of nature, snow-capped mountains, spiritual vibes, tranquility will make you feel you are directly in God's paradise.
Badrinath Temple Dham Quick Travel Information
| | |
| --- | --- |
| Badrinath Dham Opening Date | 8th May 2022 |
| Badrinath Dham Elevation | 3300 meters |
| Badrinath Dham Presiding Deity | Lord Vishnu |
| Badrinath Dham Location | Chamoli District, Uttarakhand |
| Best Time to Visit Badrinath Dham | April To June and September- October |
| Nearest Airport | Jolly Grant Airport, Dehradun |
| Nearest Railway Station | Rishikesh |
| Badrinath Dham Tourist Places | Vasudhara Falls, Satopanth Lake, Pandukeshwar, Joshimath, Auli, Adi Badri, Hemkund Sahib, Tapt Kund, Narad Kund and Mata Murti Mandir etc. |
Traveling to this holy place is an ideal option for the pilgrims who want to rest in the middle of calm and peaceful surroundings. Apart from the main Badrinath temple, pilgrims on Badrinath Yatra can even travel to some other interesting places located nearby Badrinath in order to have a mesmerizing experience.
Top Places & Attractions to Visit in and around Shri Badrinath Dham
Shrine of Badrinath
Vasudhara Falls
Satopanth Lake
Tapt-Kund
Narad Kund
Charan Paduka
Mata-Murti-Mandir
Ganesh Cave
Brahma Kapal
Sheshnetra
Pandukeshwar
Joshimath
Auli
Valley of Flowers National Park
Hemkund Sahib
Chenab Valley
Tapovan Hot Water Spring
Adi Badri
Shrine of Badrinath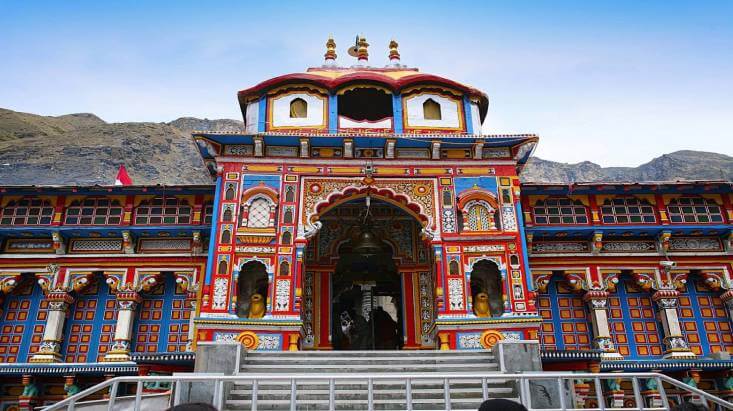 The temple name Badrinath is derived from Badri, which means the place where berries grow in abundance. With various holy legends and myths associated with it, Badrinath Dham holds prevalence in the sacred travel list of the Hindu pilgrims.
Badrinath Temple is dedicated to Lord Vishnu and it is surrounded by lofty Himalayan mountains such as Neelkanth Peaks, Nar and Narayan Mountain ranges. According to a popular belief the temple is said to have been built by Adi Shankaracharya in the 9th century BC but the present structure was built by the kings of Garhwal. Lord Badrinath is also known as Badri Vishal with two arms lifted up holding Shankha and Chakra and the other two arms resting on Yoga Mudra position in his lap. The idol of Lord Badrinath is made up of black stone and he is seen sitting in meditation. Inside the temple there are Idols of Lord Vishnu's Vehicle Garuda, Swami Desikan, Adi Shankaracharya and Sri Ramanujam.
Vasudhara Falls

A short and simple trek of around 4 km from Mana Village will take the travelers to the Vasudhara Falls. Set at a height of 12,000 feet above sea level, it is 400 feet high and appears as if milk is falling from the mountain when seen from a distance. It is said that the water drops do not fall on the offenders. You will witness absolutely stunning mountain Peaks Chaukhamba, Neelkantha and Balakun Peak etc. It is one of the best places to visit in Badrinath. May to June is the best time to visit here.
Satopanth Lake

Satopanth is the place that leads the way to the Swargarohini peak from where according to the Mahabharata, Yudhishthira and the dog were sent to heaven. The shape of the lake is triangular and it is said that three major Hindu gods (Shiva, Vishnu and Brahma) reside at the three corners of the lake. The lake got its name from three Hindu Gods – Lord Shiva, Lord Vishnu and Lord Brahma.  Also, the lake is believed to be the point where Bheema was denied entry to heaven. With clean and pure water, Satopanth Lake offers breathtaking views to the travelers. There are no rest houses and villages on the way to Satopanth, therefore, travelers can rest in temporary tents and caves. It is one of the top tourist attractions to visit in Badrinath.
Tapt-Kund
Just below the Badrinath temple lies the Tapt Kund hot sulfur spring that has a high medicinal value. It lies between Badrinath Temple and Alaknanda river. It is also considered as the resting place of Agni Dev. It is a freshwater pool with a bathing area of 16.1/2 feet by 14.1/4 feet. Even though the normal temperature of the spring is 55°c, the temperature of water keeps increasing gradually during the day. A holy dip in Tapt Kund is a puja ritual before entering the shrine and is regarded as a good medical cure for skin diseases. Before doing Badrinath Temple darshan, you must visit Tapt Kund for divine blessings.
Narad Kund
Narad Kund is situated near Tapt Kund. It is believed that the Badrinath idol was obtained from this kund by Adi Shankaracharya.  As per the legends it is said that Narad muni wrote his book Narad Bhakti Sutra here. Narad Kund hot water spring is positioned under the Garur Shila and holds a medicinal value. Devotees take a dip in this kund before entering the Badrinath temple for Darshan of Lord Badrinath. It is indeed the best place to visit in Badrinath.
Charan Paduka
Don't miss this magnificent tourist attraction in Badrinath. It is a place where Lord Vishnu's beautiful foot impressions were imprinted on a rock. It is only 3km from Badrinath at an elevation of 3380ft. As per the legends Lord Vishnu set his first footsteps here from Vaikuntha which is the celestial abode of the Lord.
Mata-Murti-Mandir
Located 3 km from Badrinath on the right bank of the Alaknanda River, Mata Murti Mandir is an ancient temple devoted to Shri Badrinath's mother. It is one of the top tourist attractions in Badrinath. The legend related to this temple is that Mata Murti worshiped Lord Vishnu and requested him to be born as her son in his next birth. Agreeing to this, Lord Vishu came from her womb as twins, Nar and Narayan, in this world to kill the devil.
Ganesh Cave
Ganesh Cave is another best place to visit in Badrinath. It is only 4kms from the main shrine. It is a naturally formed cave. As per the legends it is said that Lord Ganesha wrote Mahabharata at this cave dictated by Sage Vyasa. From the cave you will get gorgeous vistas of Himalayan ranges and the lush greenery all around makes this place beautiful for nature photography.
Brahma Kapal
Brahmakapal is one of the most popular religious destinations to visit in Badrinath. It is only 0.5km from Badrinath Temple. Devotees from all over India come to pay homage to their ancestors. It is said that Lord Brahma resides here and if someone pays homage to their ancestors at this place, he or she will be free from all the karmic backlogs of life and get salvation.
Sheshnetra
Sheshnetra is an enchanting tourist attraction in Badrinath which you must not miss. It is a place where Lord Vishnu took refuge on a snake known as Anantha Shesha. Lord Vishnu reclines on the eye of Ananta Shesha which is depicted in a large stone marked with one eye of this snake. It is believed that Sheshnetra protects the holy shrine of Badrinath.
Pandukeshwar
In route to the abode of Lord Badrinath, Pandukeshwar is believed to be established by the father of Pandavas, King Pandu. It is said that King Pandu meditated here to get rid of the sin of killing a sage who was making love in the form of deer in a jungle. When he was dying, he cursed King Pandu that he will never be able to make love with anyone and if he does, he will die instantly. The place has two temples that are centuries old. One is dedicated to Lord Yoga Badri Narayan and the other one is dedicated to Lord Vasudev. During winters, the temple of Lord Vasudev operates as a home for Lord Badri Narayan and all the daily prayers and holy rituals are performed in Lord Vasudev's temple. It is indeed a must visit place near Badrinath.
Joshimath
It is one of the 'Maths' established by Guru Adi Shankaracharya and functions as the abode of Shri Badrinath during winters. Well-connected with Auli by cable car, the highest cable car of Asia, Joshimath is located at an altitude of 1,890 mts above the sea level and 46 kms from Badrinath.
The tourists can also visit Narsingh and Kalpavriksha temple while traveling to Joshimath. One will also get the opportunity to witness the sacred wish fulfilling tree Kalpavriksha which is said to be more than 1000 years old. Beautiful flora and exotic fauna, Himalayan Mountain ranges, valley of flowers, scenic Hemkund Sahib are some gorgeous vistas when you are traveling to Joshimath. It is one of the best places to visit near Badrinath.
Auli

Located at a height of 3050 mts above sea level and 60 kms from Badrinath, Auli is a famous Paragliding and skiing spot in Uttarakhand state of India. It is a gorgeous tourist attraction to visit near Badrinath. It offers amazing views of the captivating snow-covered Himalayan Mountain range. The place is well connected with Joshimath through Asia's longest cable car. Further, it is also accessible via motorable roads. It is also one of the best destinations for snowboarding in India.
Valley of Flowers National Park

Nestled in the western Himalayas, Valley of Flowers National Park covers an area of around 87.50 sq. kms. Located 16 km from Govindghat, the valley is covered with layers of white snow during winters and blooming flowers from June to October. It was announced as a national park in the year 1982 and listed among the world heritage sites. The valley is a paradise for nature lovers, botanists and adventure enthusiasts. The park is also an UNESCO World Heritage Site and it forms one of the two core zones (the other is Nanda Devi National Park). It is one of the top tourist attractions to visit near Badrinath.
Hemkund Sahib

Hemkund Sahib is the worship place of Guru Govind Singhji, the tenth Guru of the Sikhs, who meditated at this place for years. Situated at an altitude of 4,329 mts above sea level in the middle of many snow-covered peaks, collectively known as Hemkund Parvat, it is a star-shaped Gurudwara set close to the lake. The place is visited by thousands of devotees every year. Also, there is a temple of Lord Rama's brother, Lakshman located here. If you are planning Badrinath Yatra then you must visit Hemkund Sahib to get double divine blessings.
Chenab Valley
Situated 28 kms from Joshimath, Chenab Valley is an unexplored valley filled with flowers that grabs the attention and interest of the nature lovers on the way to Badrinath darshan yatra. The valley is acknowledged for offering breathtaking views of the extensive meadows covered with a wide variety of flowers. Tourists can witness a great variety of flowers including primulas, marigolds, Brahmakapal, orchids, daisies, poppies and anemones. The valley is also blessed with an extensive range of plants with medicinal value like Sal, Rhododendron and Teak.
Tapovan Hot Water Spring
Tapovan Hot Water sulfur spring is just 10 kms away from Joshimath. The strong smell of sulfur is present all around the area. The natural overflow from the hot water spring gets collected in a small man-made Kund where travelers take a dip due to the high medicinal significance of the water of the Kund. Indeed, one must visit this tourist attraction for relaxation near Badrinath.
Adi Badri

Located at a distance of 17 kms from Karnaprayag, Adi Badri is easy to reach by motorable road. It is a part of the famous Panch Badri of Uttarakhand. The main temple situated here is dedicated to Lord Narayan. Established by Adi Guru Shankaracharya, the temple has a black stone cave statue of Lord Vishnu. It is a part of the group of 16 temples belonging to the Gupta period. It is said that Lord Vishnu resided here in Satya Treta, Dwapar yug before shifting to Badrinath in Kali Yug. It is one of the most interesting places to visit near Badrinath.
Best Time to Visit Badrinath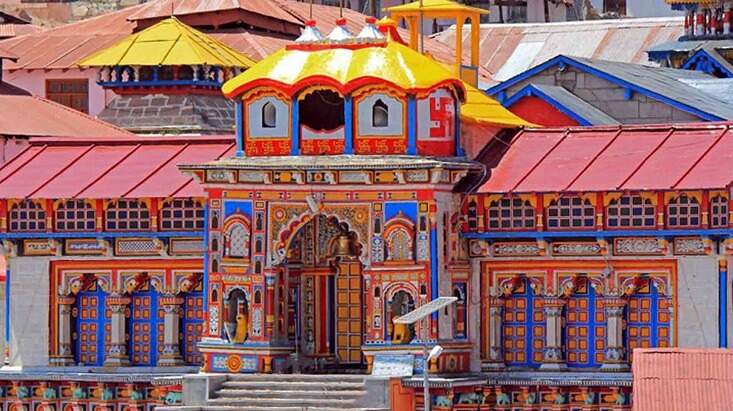 Badrinath is nestled between Nar and Narayan Mountain ranges and apart from the spiritual ambiance it will blow your mind with its picturesque landscapes. The best time to plan the Badrinath Pilgrimage tour is in the summer season (April- June). Monsoon brings heavy rainfall and the roads are not safe and in winter the entire landscape is covered in snow which makes the shrine of Badrinath inaccessible to the devotees. The opening date of the portal of the shrine of Badrinath Temple is 8th May 2022.
How to Reach Badrinath?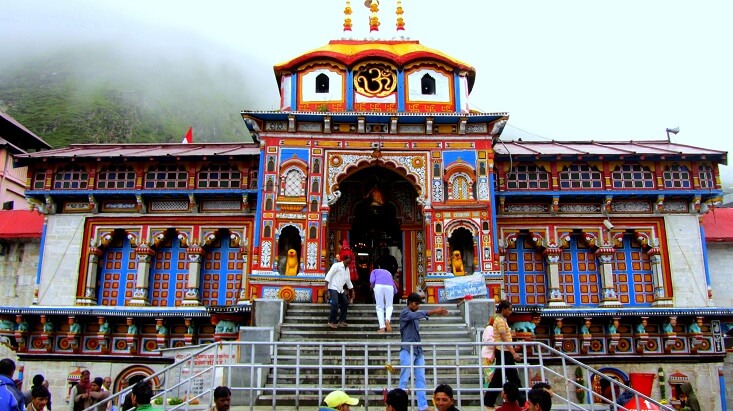 By Air – Jolly Grant airport in Dehradun is the nearest airport to reach Badrinath. Taxis and cabs are easily available from the airport to reach Badrinath.
By Train- Rishikesh is the nearest Railhead to reach Badrinath. From the railway station you will get cabs, buses and taxis to reach Badrinath.
By Road – Buses are available from Delhi, Haridwar, Rishikesh to reach Badrinath and all the major cities of North India are well connected to Badrinath. You can also follow this route
Badrinath Temple Route- Haridwar – Rishikesh – Devprayag – Srinagar – Rudraprayag – Gauchar – Nandprayag – Gopeshwar – Pipalkoti – Joshimath – Hanuman Chatti – Badrinath.
Top Places to Stay in and around Badrinath Dham
Badrinath offers stunning as well as budget friendly accommodation options to stay for the tourists and pilgrims. Be it a luxury hotel, budget hotel, nice home stays and 3-star hotels you will get accommodation according to your preference. Some of the best places to stay in and around Badrinath are –
Uday Palace
Not on Map
GMVN Auli
Yatra Homestay
Camp Magical Retreat
Narayan palace Hotel
New Hotel Snow Crest
Hotel Dhanesh
Kuber Hotel
Hotel Wooden Umbrella
Hotel Mount View Annexy
Hotel Grand Kailash
Hotel Bhagat
Travel Tips for Badrinath Pilgrimage Tour
Check the weather conditions before planning Badrinath Darshan Yatra
Dress decently as Badrinath is a religious tourist place.
Avoid alcohol, smoking and drinking and respect the decorum of a spiritual place.
Follow all the covid guidelines and photometric registration is compulsory for the tourist.
Keep warm clothes as the weather is completely unpredictable.
Top things to Do in Badrinath
Photography- Badrinath is a stunning religious destination that not only offers spiritual bliss but also offers picturesque vistas of alluring landscapes. Photography is one of the best things to do here.
Trekking – Badrinath has enchanting trekking trails. You will behold alluring mountain peaks while trekking such as Nar and Narayan ranges, Neelkanth Peak, Narayana Parvat. So, Trekking here is worth your time.
Holy Dip– Numerous sacred Kunds and hot water springs makes Badrinath one of the best destinations to visit for relaxation of your mind, body and soul. The kunds are said to have medicinal properties which can cure diseases according to popular beliefs.
Village Tours- There are many small scenic villages around Badrinath to witness. Their simple lifestyle will definitely captivate your senses.
These above-mentioned are some picturesque and eye-catching places located near the Badrinath temple that draw the attention and interest of a large number of travelers from around the world every year. If you are planning a pilgrimage Tour to Badrinath then it is absolutely the right time to dive deep into the spiritual vibes of Badrinath.
Book Your Chardham Yatra Packages 2022 at Best Price
| | | |
| --- | --- | --- |
| Package Name | Duration | Price |
| Kedarnath Tour Package | 5 Nights 6 Days | INR 12900/ |
| Kedarnath Badrinath Tour Package | 7 Nights 8 Days | INR 16900/ |
| Chardham Yatra Package | 11 Nights 12 Days | INR 23900/ |
| Badrinath Yatra Package | 5 Nights 6 Days | INR 12900/ |
| Yamunotri Gangotri Package | 4 Nights 5 Days | INR 10900/ |
| Chardham with VOF | 13 Nights 14 Days | INR 33900/ |
Frequently Asked Questions About Badrinath Dham
When is the portal of Badrinath Dham opening in 2022?
The opening date of the portal of Badrinath Dham is 8th May 2022.
What are the best tourist attractions to visit in Badrinath?
Badrinath Temple
Tapt Kund
Ganesh Cave
Sheshnetra
Charan Paduka
Narad Kund
Mata Murti Mandir
Satopanth Lake
Brahma Kapal
Neelkanth Peak
What is the best time to visit Badrinath Dham?
May to June is the best time to visit Badrinath Dham.
How many days are enough to explore Badrinath?
2 to 3 days are enough to explore the holy Dham of Badrinath.
Are ATM facilities available in Badrinath?
Yes, ATM facilities are available in Badrinath. Most of them are located in the main market.
You May Also Like to Read: