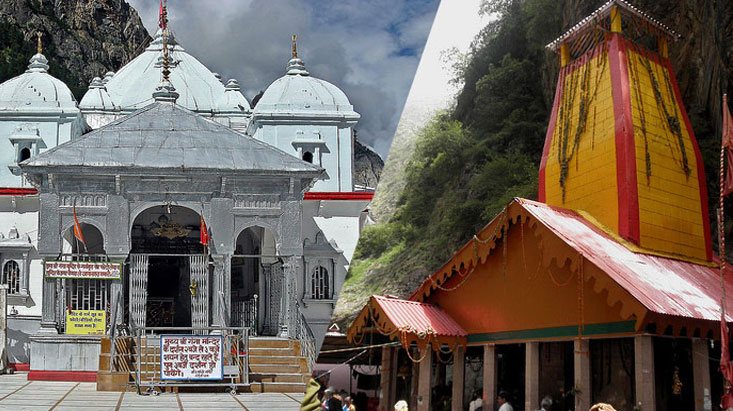 admin
Updated on: December 11, 2018
Pilgrims Swarm Yamunotri and Gangotri Shrines as Chardham Yatra 2018 Begins
With the celebration of the auspicious Hindu and Jain festival of Akshay Tritiya on Wednesday, 18 April, the spiritually absorbing Char Dham Yatra 2018 begins with vigour in Uttarakhand. The spiritual yatra that annually takes place to the Char Dham temples, Yamunotri, Gangotri, Badrinath, and Kedarnath has commenced to Yamunotri and Gangotri for now. That being said, it was around 11:30 AM that the procession of Goddess Yamuna reached Yamunotri from Kharsali Village, the winter abode of the Goddess followed by the opening of doors at 12:15 PM. Likewise, the palanquin of Goddess Ganga reached Gangotri at 10:00 AM followed by a number of rituals and traditions after which the doors were finally opened for public at 1:15 PM, 18 April. Both the shrines were showered with the love of innumerable devotees who swayed to the prayers sung in the praise of the divine deities.
The other two temples of the Chardham circuit, Kedarnath and Badrinath are yet to be open for pilgrims and the dates for the same are 29 April and 30 April respectively. These revered temples of the Garhwal Himalayas are devoted to one special deity each like Yamunotri to Goddess Yamuna; Gangotri to Goddess Ganga; Badrinath to Lord Vishnu and Kedarnath to Lord Shiva. It is said and believed by that this spiritual yatra is the ultimate source to attain salvation from one's sins and the cycle of life.
Now that the Char Dham Yatra is in full swing, know all that's there about the registration process, travel tips and must visit travel places in Uttarakhand.
How to register for the revered Char Dham Yatra 2018?
Online procedure of registering for Char Dham Yatra 2018: To begin with, you have to fill up the Chardham Registration Form here. After filling which you will have to log in and check if there is a verification link in the inbox for proceeding further. On activation of the link, you would have to log in again to get access to the Book darshans window.
Once you are done filling the information and choosing the destinations and dates you will be visiting on, you will be directed to the confirmation window. Next window after it would be of making the payment which is a nominal amount of Rs. 50 + additional charges if any. Once the registration process is successfully completed, an online registration slip will be sent to you that you can show to any of the 14 registration centres and gain your Yatra card/Registration card.
Offline procedure of registering for Char Dham Yatra 2018: For those who want to register offline for the Char Dham Yatra can do so by visiting any of the 14 registration centres. More than 50 counters have been set up by the Uttarakhand Government to help pilgrims with any query regarding the registration process.
Book your Chardham tour with trusted tour operators for hassle less journey
For those who don't want to get caught up with the complications of planning can trust us and our Char Dham tour packages. As not only our packages include best of all the amenities and facilities for ultimate comfort but also takes care of the registration process required to gain access of the Yatra Card.
Safety tips that should not go off your mind
• Take yatra packages and guided tours from reliable tour operators only
• It's better to plan this trip in a group
• Physical fitness is a must and people falling in the bracket 7-65 years should only take on these religious holidays
• Ankle high boot or canvas shoes are recommended for trekking
• Carry clothing that is perfect for extreme opposites of climate change
• Raincoat, umbrella, walking stick and a good cell operated torch along with extra batteries is a must
• Don't forget to pick dry fruits and packaged food
• To avoid mishaps give alcohol consumption a miss for this spiritual journey
• Extra batteries and powerbank is a must for your phone on this yatra
• Carry lightweight luggage to make your travelling easy
What your personal first aid kit should contain
• Antiseptic cream
• Band Aids, crepe bandage, gauze pads, moleskin
• Antibiotics, cough tablets, painkillers
• Skin antibiotic cream
• Glucose tablets or powder
• Mosquito repellent
Other Best Places to Visit enroute Chardham
While visiting Yamunotri: Barkot, Hanuman Chatti, Surya Kund, Saptarishi Kund, Divya Shila
While visiting Gangotri: Vishwanath Temple, Gomukh Glacier, Bhairon Ghati, Gangnani, Harsil, Bhagirath Shila.
While visiting Kedarnath: Rudraprayag, Kalimath, Sonprayag, Guptkashi, Ukhimath,Chopta, Tungnath and Triyuginarayan.
While visiting Badrinath: Mandal Valley, Hanuman temple, Joshimath, Narshingha Temple, Tat Kund, Brahma Kapal, Vyasa Gufa and Ganesh Gufa, Narad Kund, Yogdhyan Badri at Pandukeshar, Bheem Pul.
Some other travel tips on the go:
helicopter service for chardham is also available for elders and people who want to complete the yatra in short time.
• Always ask shopkeepers for the way
• Consume boiled water and food on the tour
• Hire a registered porter to carry your luggage
• Carry personal toiletries
• Go for waterproof and lockable backpack
• Start doing basic exercises from at least one month before the yatra
[ For Char Dham Yatra 2019 with Yoga-Mediation and River Rafting Tour Call at +91- 8744012051/9212553107 ]
Published:

19 Apr, 2018