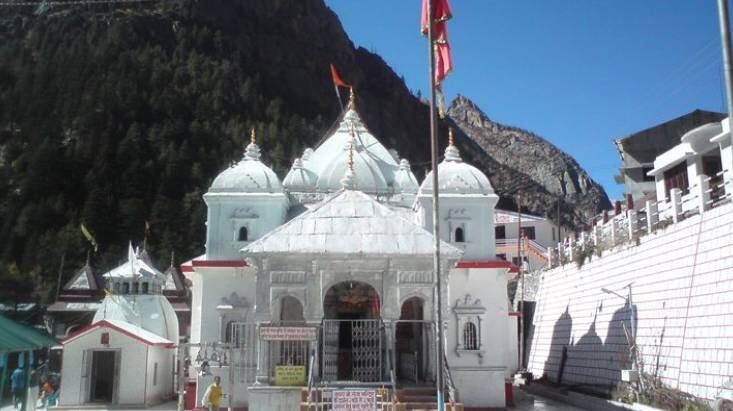 admin
Published:

01 Mar, 2022
Top Tourist Attractions in and around the Sacred Gangotri Dham
One of the most fascinating facts about Hindu mythology is that the ancient Hindus were always considered a river, a form of female divinity. In Vedas the rhythm of life is described by the river.  It is a source of prosperity. Keeping this thought intact Indians worship rivers as mother goddesses. River Ganga in Hindu mythology is considered as the most sacred river which starts its journey from Gomukh in Gangotri and then flows through the plains passing the holy cities of Haridwar, Rishikesh, Varanasi, Kashi and Bay of Bengal. The Gangotri Dham in Uttarkashi in Uttarakhand is the origin point of this sacred river. At an elevation of 3048 meters above the sea level. It is positioned on the bank of the sacred river Bhagirathi and is one of the holy Char Dhams of Uttarakhand state. Devotees from all over the world come to take divine blessings of Goddess Ganga at Gangotri Dham temple which is the main attraction here. This temple is a 20ft high structure made of white granite. Gangotri offers picturesque magnificence of rocky terrains, rapid flowing water of the river Bhagirathi and snow-clad peaks.
Gangotri Yamunotri Chardham Yatra Packages 2022
| | | |
| --- | --- | --- |
| Tour Package | Duration | Price |
| Yamunotri Gangotri Tour | 4 Nights 5 Days | INR 10900 |
| Chardham Yatra Package | 11 Nights 12 Days | INR 23900 |
| Badrinath Kedarnath Tour | 7 Nights 8 Days | INR 16900 |
| Badrinath Tour | 5 Nights 6 Days | INR 12900 |
| Kedarnath Yatra Package | 5 Nights 6 Days | INR 12900 |
History of Gangotri Dham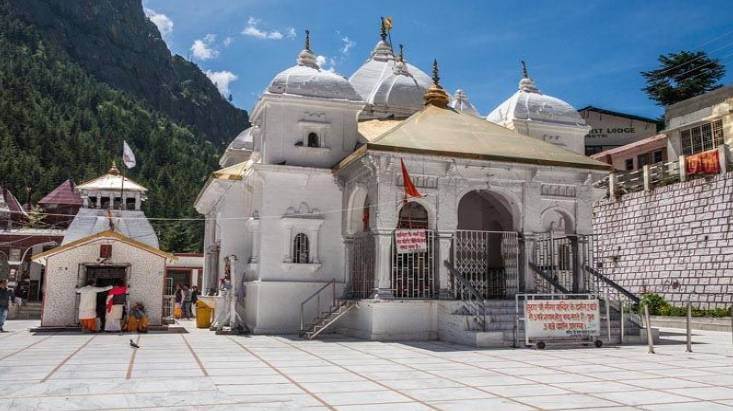 According to Hindu mythology, the "daughter of paradise" Goddess Ganga, transformed herself in the form of river Ganges in order to release the ancestors of King Bhagirath from all their sins. It is said that King Bhagirath meditated for a long time to bring Ganga on earth. When river Ganga was coming to earth, to reduce its impact, Lord Shiva received its water into his tresses. After this, Bhagirath meditated to please Lord Shiva, and thus, the sacred river came on earth. This river is also named as Bhagirathi.
The Gangotri Dham temple is a very important Hindu pilgrimage site. The temple was built in the 18th century by a Gurkha commander. It is located near a mythical stone known as Bhagirathi Shila. As per the legends, goddess Ganga first time touched the earth at this spot.
The most sacred tour of Char Dham starts from Yamunotri and then proceeds to Gangotri Dham. While doing the Gangotri Yamunotri Yatra, tourists can visit many of the attractions that can make their travel unforgettable. These attractions near the Gangotri Shrine are the perfect blend of spirituality and nature's bounty.
Gangotri Quick Travel Information
| | |
| --- | --- |
| Gangotri Dham Location | Uttarkashi in Uttarakhand |
| Gangotri Temple Presiding Deity | Goddess Ganga |
| Best Time to Visit Gangotri | May to November |
| Gangotri Temple Opening Date 2022 | 3rd May |
| Gangotri Dham Elevation | 3415 meters |
| Gangotri Dham Tourist Places | Tapovan, Nandanvan, Gangotri National Park, Gaumukh, Harsil, Bhagirathi Shila, Pandava Cave, Submerged Shivling etc. |
| Gangotri Nearest Railway Station | Rishikesh/Haridwar/Dehradun |
| Gangotri Nearest Airport | Jolly Grant Airport |
Also Check Out: Gangotri Yamunotri Do Dham Yatra Package
Best Places to Visit in Gangotri Dham in Uttarkashi District
Gangotri Temple
Kashi Vishwanath Temple
Shakti Temple
Bharon Ghati
Submerged Shivling
Pandav Gufa
Bhagirath Shila
Gangotri Temple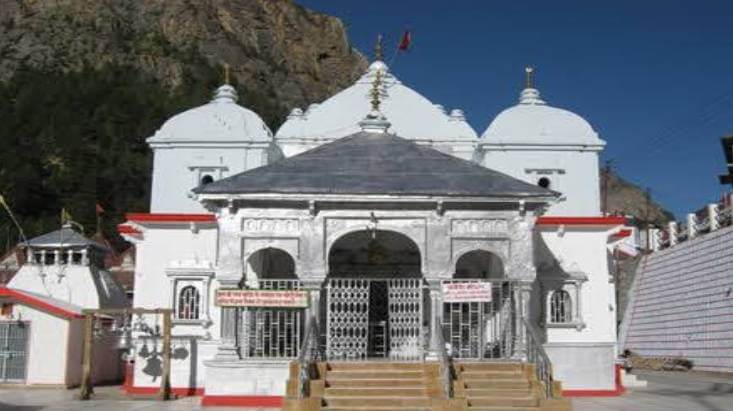 The holy Gangotri Temple, dedicated to Goddess Ganga, is perched along rightwards of Bhagirathi. The rock on which King Bhagirath did his meditation, is also positioned near the temple. Millions of pilgrims visit this holy shrine every year. The temple is a 20ft high structure made of white granite. It was built by a Gurkha commander in the 18th century at an elevation of 3100m above the sea level. The temple remains open from the month of May and closes on the day of Diwali.
Kashi Vishwanath Temple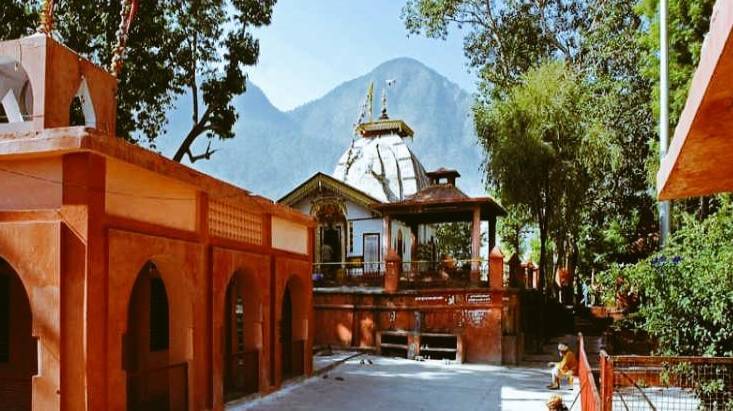 Kashi Vishwanath Temple is one of the most renowned temples dedicated to Lord Shiva situated on the banks of river Bhagirathi. It is said that the temple was built by Sage Parsuram and later renovated by Maharani Khaneti, wife of Sudarshan Shah in 1857. Built in a traditional Himalayan temple architecture style, it is surrounded by magnificent lofty peaks.   The Shiva Lingam here is 56 cm in height and has its face tilted towards south. This holy shrine is a must visit place during the trip to Uttarkashi.
Shakti Temple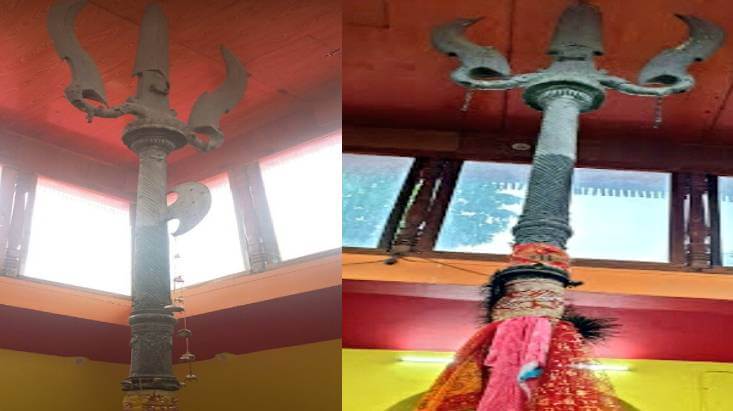 Shakti temple is situated just opposite the Kashi Vishwanath Temple. The center of attraction in this temple is the big Trishul positioned inside. The most amazing fact about this temple is that you cannot move the trident with the force of your entire body. The trident is said to be more than 1500 years old and it is one of the oldest relics of Uttarakhand. This massive Trishul is 6-meter-high and is 90 cm at the base. There are different stories about the Trishul among the people. It is widely believed that the lower part of this Trishul is made up of copper while the upper part is of iron. According to the legends, Goddess Durga aimed this Trishul to slaughter the devils. It is a must visit place near Gangotri Dham Temple.
Bharon Ghati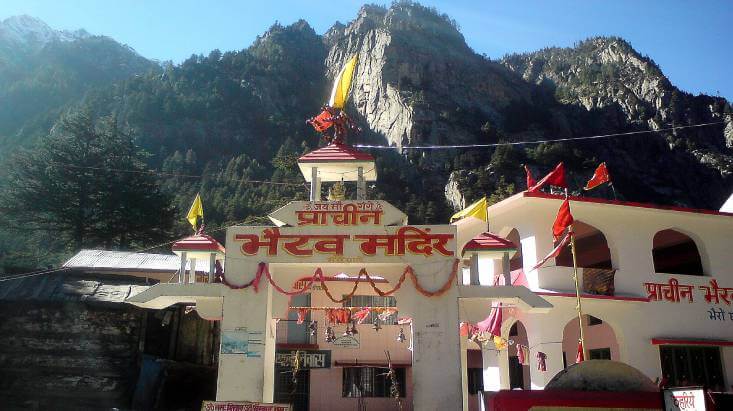 The captivating region of Bhairon Ghati lies near the convergence of Bhagirathi River and Jat Ganga. It is situated at a distance of 10 kilometers from Gangotri. Bhairon Nath Temple, cosseted by verdant woods, can be reached through the road going from Lanka to Bhairon Ghati. On the way, the tourist has to cross through the Jahnavi River. The Ghati lies at a very beautiful spot where you will behold mesmerizing vistas of Shivalik mountains merging with scenic plains. It is said that Lord Bhairon is the protector of this Ghati. Devotees from all across India come to seek his divine blessings.
Submerged Shivling
One of the most interesting and popular places to visit near Gangotri Temple is the submerged Shivling. It is a natural rock shivling which remains submerged under the water only to be seen in winters when the water level recedes. As per the legends it is a place where Lord Shiva sat to receive goddess Ganga in his locks. The views of this submerged Shivling will be the most enchanting sight of divinity for the devotees.
Pandav Gufa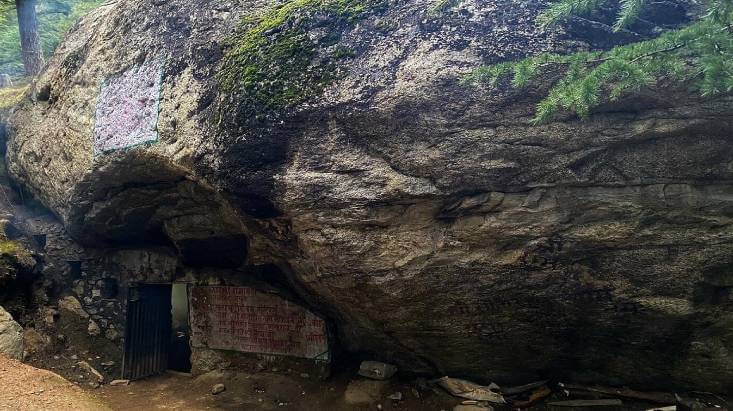 Pandava Shila is an ancient tourist attraction that can be reached after 1.5 kilometers of a trek from the Gangotri. The scenic site of Pandav Shila is said to be the region where the Pandavas, on their way to Kailash Dham, did the meditation. The vistas around Pandav Gufa are very captivating. You will witness loft Himalayan Peaks, lush green hilly terrains and scenic forests which are worth capturing on your lens. It is one of the best places to visit near Gangotri Dham Temple.
Bhagirath Shila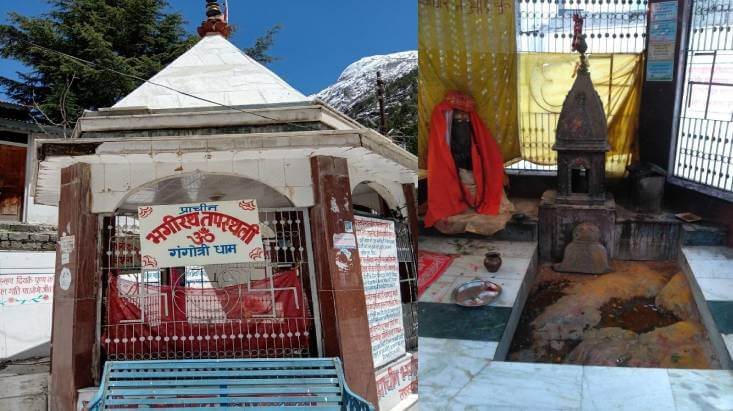 Bhagirath Shila is the rock on which King Bhagirath meditated to bring Goddess Ganga on earth. This rock (Shila) is positioned near the sacred Gangotri Temple.
Best Places to Visit around Gangotri Dham Temple
Gomukh
Harsil
Tapovan and Nandanvan
Gangnani
Kedartal
Nelong Valley and Gangotri National Park
Gomukh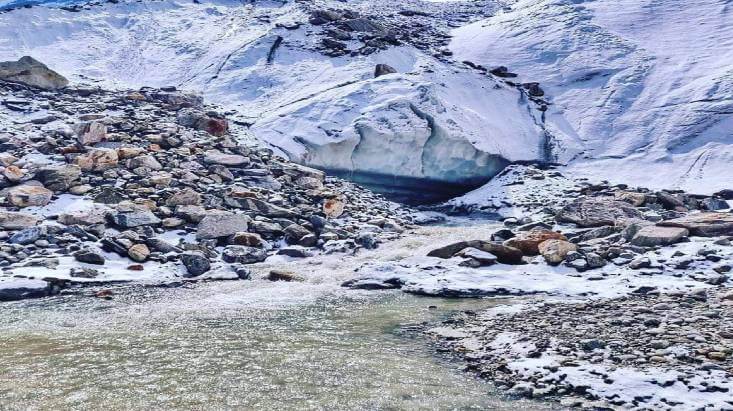 Gomukh in Uttarkashi is one of the most popular tourist places to visit near Gangotri Dham Temple. It resembles the mouth of a cow; hence this place is named Gomukh.  This mesmerizing place is nestled near the Shivling Peak. Not only is it an important religious tourist place but also for trekkers and nature lovers. The most classic and popular treks you can try is the Gaumukh-Tapovan-Nandanvan circuit. This beautiful trek will take you through Gangotri glacier which is the origin point of the sacred Ganga River. You will also behold loft peaks of shivling, Kedar Dome and Bhagirathi group of Peaks. Gomukh is counted among the most sacred places for the Hindus and is only 18 kms away from holy Gangotri Temple.
Harsil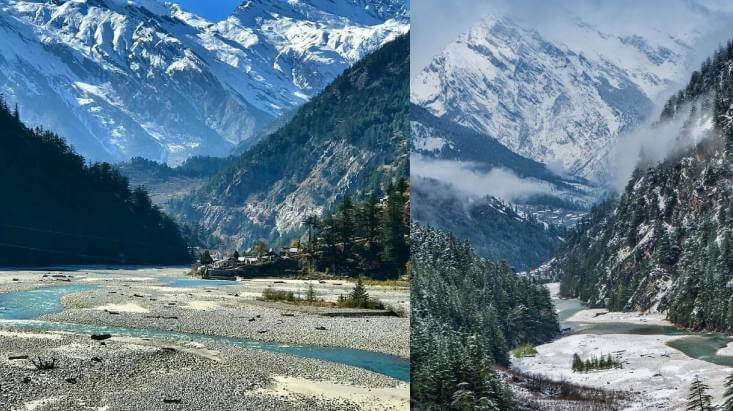 Most of the tourists undertaking Gangotri Yatra, prefer to stay in Harsil only. It is 25 kms from Gangotri. It is believed that this place got its name when river Jalandhari and river Bhagirathi once had an argument about their significance. Both were arguing to prove that one is more significant than the other. Afterwards, Lord Vishnu, also known as Lord Hari, was asked to arbitrate the argument. To absorb the anger of the two, Lord Vishnu turned himself into a massive Shila (stone). Even today, after crossing Harsil or Hari-Shila, the waters of these two rivers become less rapid. The beautiful region of Harsil is well known for its Rajma and Apple. The shooting of a famous Bollywood film 'Ram Teri Ganga Maili' was done in Harsil. The renowned waterfall (Jharna) scene of the heroine Mandakini was shot under the waterfall situated in Harsil. This waterfall now bears the name of this actress.
Tapovan and Nandanvan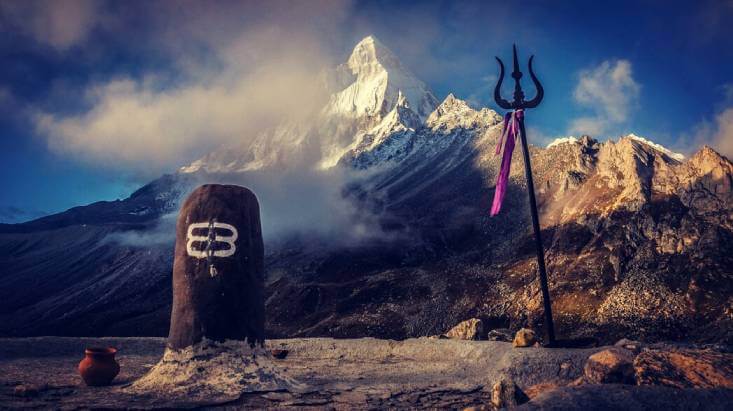 Situated at an altitude of 14, 640 ft above the sea level Tapovan is one of the most popular places to visit near Gangotri. It is 20 km from the main shrine. You will be amazed to see its beauty. It is a forest of penance which comprises beautiful rocky terrains, small serene streams and lofty mountains. Adventure lovers from all across the globe indulge in Gangotri Tapovan trek. It is one of the most scenic treks of Uttarakhand. After reaching Gaumukh Glacier (the terminus points of river Ganges), a tourist can proceed to the scenic places of Tapovan and if they wish to explore further Nandanvan is also one of the best places to be in. Awe inspiring vistas and other significant peaks of Garhwal Himalayas are clearly visible from here.
Gangnani
Gangnani is very popular for its thermal water springs and it's one of the best places to visit near Gangotri for relaxation. It is 52km away from Gangotri Temple shrine. Devotees before heading towards the pious dham of Gangotri take a holy dip in the thermal springs of Gangnani. There is a temple of sage Parasara in Gangnani who is considered as the father of vedas. The compelling panorama of snowcapped Himalayan peaks adds to the charm of this beautiful place. It is a perfect spot for nature lovers, devotees and those searching for the serenity of the mind.
Kedartal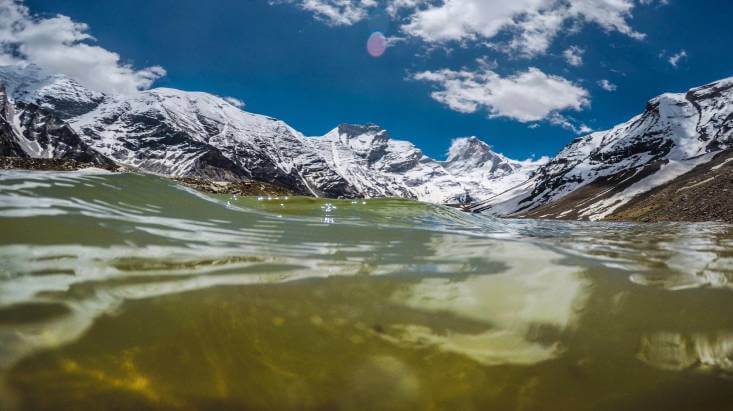 Kedartal is just an 18km trek from Gangotri situated at an elevation of 4912 meters above the sea level. It is one of the most popular trekking destinations to visit near Gangotri Dham for adventure lovers. It is 17km from the main shrine of Gangotri. Despite it being the most difficult and challenging trek, the beauty of the lush green valleys, lofty Himalayan peaks, small gorgeous streams offer perennial joy to the tourists that he or she forgets all the challenges of the trek. Its beauty is irresistible. You will also witness amazing wildlife here. Animals such as Goral, Himalayan Black Bear, Bharal and various bird species can be spotted here.
Nelong Valley and Gangotri National Park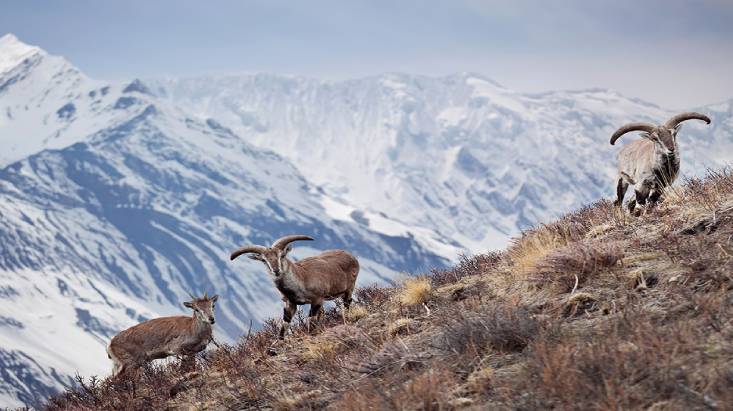 9 km away from Gangotri Dham is a wonderful wildlife destination called Nelong Valley. Apart from the temple tours, if you are looking for something unique and exciting then you must visit Nelong Valley near Gangotri for an adventurous wildlife safari. It resembles the weather of Ladakh, Spiti and Lahaul. The deserted mountain area of Nelong valley is a home to various wildlife species. This valley falls under Gangotri National Park. You will spot musk deer, snow leopard, bharal, Himalayan Blue sheep etc. It is one of the best places to visit near the sacred Gangotri Temple.
Best Time to Visit Gangotri Temple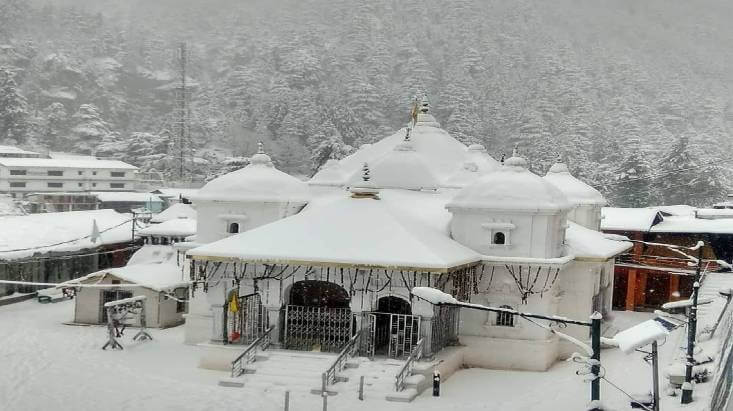 Gangotri Temple in Uttarkashi remains open from May to November. So, the best time to indulge in Gangotri Pilgrimage Tour is May – June and September to October. It remains closed during monsoon due to danger of landslides and in winter due to heavy snowfall, it remains inaccessible to the tourists and devotees.
The opening date of the portal of Gangotri Dham temple is 3rd May 2022. If you are planning to undertake Char Dham Yatra then plan a wonderful pilgrimage tour before winter arrives with heavy snowfall.
How to Reach Gangotri Temple?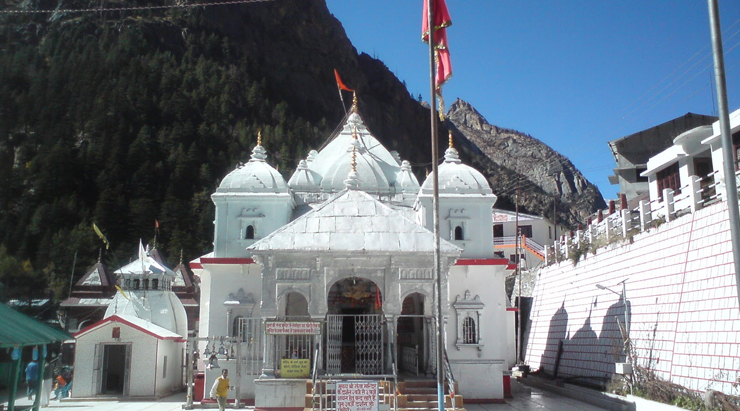 By Air: The airport nearest to this shrine is Jolly Grant, Dehradun (295 kms). After reaching Jolly Grant, a tourist can use a taxi or some other means of road transport to reach here.
By Rail: The nearest railhead to this sacred place is Rishikesh (280 kms).
By Road: A suitable choice to reach Gangotri is the roadway. The holy shrine is well linked with the main parts of India.
For a sacrosanct, tranquil and immaculate experience of Char Dham Yatra, a tourist should not deprive himself of the above-mentioned tourist attractions around Gangotri. For the pilgrims and sightseers, these tourist charms are no less than the Garden of Eden!
Traveling Tips for Gangotri Pilgrimage Tour
While doing the Gangotri Pilgrimage Tour, you need to dress decently as it is a religious place. Respect the customs, traditions and religious sentiments of people.
Always check the weather conditions before doing Gangotri Char Dham Yatra.
Avoid alcohol, smoking etc. keep intact the sanctity of the place.
Book your hotels in advance. It is the most visited pilgrimage site. So, hotel rooms might be fully booked, it is better to book your accommodation in advance.
Where to Stay in Gangotri?
You will get decent as well as luxury accommodation options to stay in Gangotri. Depending on your budget and comfort there are a wide variety of hotels, resorts and guest houses to stay in Gangotri. Some of the most popular stay options in Gangotri are:
Hotel Mandakini
Hotel Bhagirathi Sadan
Ganga Niketan Hotel
GMVN Travelers lodge
GMVN Gangotri tourist
Hotel Prakriti Retreat
Hotel Manisha
Hotel Shantikunj
Hotel Gangaputra
Hotel the Great Ganga
Top Things to Do in Gangotri
Trekking – Trekking is one of the best things to do when you are thinking about the Gangotri Pilgrimage Tour. There are numerous scenic hiking trails for adventure lovers such as Kalindi Khal Trek, Gaumukh Trek, Tapovan Trek etc. nothing is more delightful and thrilling than trekking around Gangotri.
Camping – You can enjoy camping, fishing and nature sightseeing at Dodi Tal. It is one of the most popular places for camping around Gangotri Dham.
Temple Tours– Uttarkashi and the places around have numerous surreal and serene temples and kunds to soothe your mind, body and soul. Make sure you enjoy the best of religious tourism in and around Gangotri Dham.
Wildlife – If you are planning to visit Gangotri then apart from religious sightseeing, exploring the exotic Wildlife of Himalayas is one of the top highlights of Gangotri Pilgrimage Tourism. Visit Nelong Valley and Gangotri National Park for an exciting wildlife safari.
Fishing – Ever watched Himalayan trouts? No? then visit Maneri, one of the most popular tourist destinations and an amazing fishing spot near Gangotri. You will witness the beauty of nature while enjoying fishing.
Latest Updated Gangotri Temple Tour Travel Guide Blog- Best Places to Visit in and around Gangotri Dham
Frequently Asked Questions About Gangotri Dham
What is the distance of Gangotri from Delhi?
Distance of Delhi to Gangotri is – 493km
What is the closest airport and railway station to reach Gangotri?
Closest Airport – Jolly Grant Airport Dehradun
Closest Railway Stations – Rishikesh, Haridwar & Dehradun
What are the popular places to visit in and around Gangotri?
Kedartal
Pandava Cave
Gangotri Glacier
Harsil
Nandanvan
Gaumukh
Vishwanath Temple
Haridwar
Rishikesh
Gangnani
Gangotri National Park
What is the opening date of the portal of Gangotri Dham temple?
The portals of the Gangotri Dham Temple will open on 3rd May 2022.
What are the Darshan timings of Gangotri Dham Temple?
Temple Morning Timings – 6:15 am to 2:00 pm
Temple Evening Timings – 3:00 pm to 9:30 pm
You May Also Like to Read: