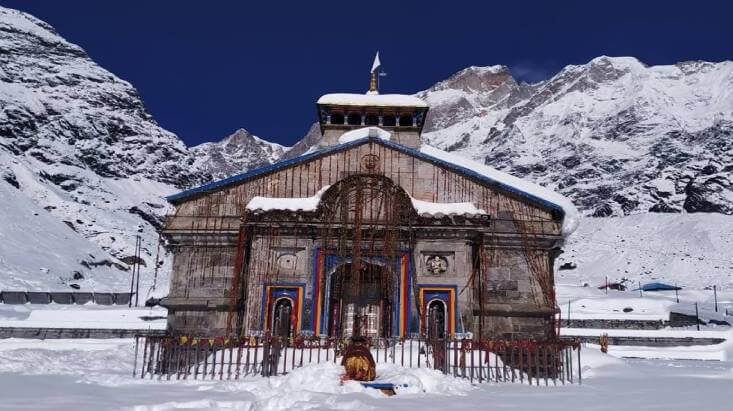 admin
Published:

03 Mar, 2022
Kedarnath Travel Guide – Best Places to See in and around Kedarnath Valley
The awe-inspiring valley of Kedarnath is one of the most prominent Hindu sites nestled in the Rudraprayag district of Uttarakhand at a height of 3584 m above sea level. The most prominent attraction here is the majestic Kedarnath Temple which is the most popular and important Hindu pilgrimage site. The religious environment of the place certainly captivates the attention of the visitors. This sacred valley is visited by plenty of devotees, especially during the summer season to worship one of the twelve Jyotirlingas of Lord Shiva. Besides being a place of religious importance, it is also a paradise for nature and wildlife lovers. The source of the pious Mandakini River, lofty Garhwal Himalayas, Chorabari glacier, scenic villages and picturesque landscapes adorns the pious land of Kedarnath Valley. You will behold stunning snow-clad Himalayan Mountains, crystal-clear rivers, lush-green forest cover, magnificent valleys and wildlife along with many splendid tourist destinations.
Brief Introduction of Shri Kedarnath Temple Shrine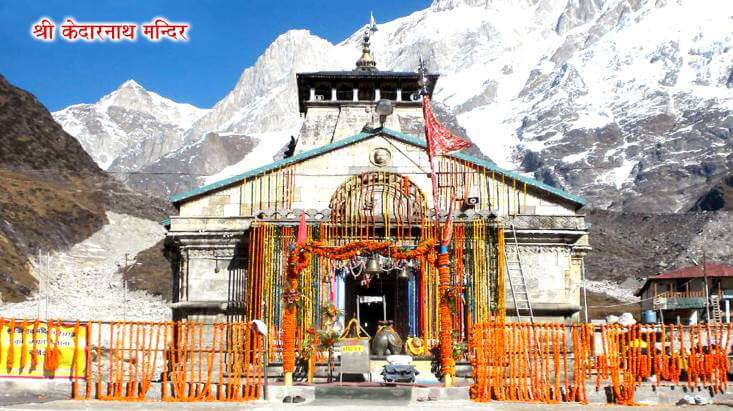 Kedarnath Temple houses one of the 12 Jyotirlingas of lord Shiva. The temple of Kedarnath was built by sage Adi Shankaracharya in the 8th century BC. The 1000 years old Kedarnath temple looks magnificent as it is surrounded by lofty Himalayan mountains. The sanctum sanctorum of the temple has a conical rock formation which is worshiped as Lord Shiva's Sadashiv form.  You will also witness pali inscriptions on the steps of the temple which leads you to the main shrine. The inner walls of the temple depict various stories and scenes from scriptures and Hindu mythology.
History of Kedarnath Temple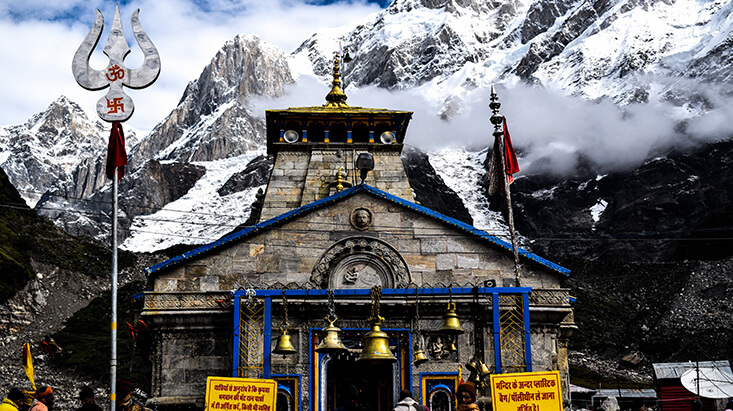 As per the legends the temple of Kedarnath was built by Pandavas of Mahabharata. In the war of Mahabharata Pandavas killed their own relatives due to which they were feeling guilty. They wanted to get rid of the sin of killing their own relatives. In order to do that they wanted to please Lord Shiva with their penance. But nothing is easy. Lord Shiva was not in a mood to forgive them so easily.  They tried to search Lord Shiva everywhere but failed to find him. Lord Shiva incarnated as a form of bull to hide from them. Only Bhima recognized the bull as Lord Shiva and tried to catch him by hitting the hind part of the bull with his mace. The injured bull was immersed in the earth and his body parts appeared in different places. The hind part of the bull appeared at Kedarnath and a jyotirlinga or a light flickered from it. Since then the shrine has been worshiped as a self-manifested form of Lord Shiva. The other four body parts of Lord Shiva appeared in different places. His belly button fell at Madmaheshwar, his arms fell at Tungnath, his face fell at Rudranath, his Jata hair fell at Kalpeshwar. These five body parts at different places Madmaheshwar, Kedarnath, Tungnath, Rudranath, Kalpeshwar are collectively known as Panch Kedar. Devotees who are planning for Kedarnath darshan yatra must also visit these 4 shrines to get the complete blessings of Panch Kedar.
Kedarnath Pilgrimage Tour Quick Information
| | |
| --- | --- |
| Kedarnath Temple Location | Rudraprayag District |
| Kedarnath Elevation | 3584 meters |
| Kedarnath Temple Opening Date | 6th May 2022 |
| Best Time to Visit Kedarnath | May to November |
| Nearest Airport to Kedarnath | Jolly Grant Airport Dehradun |
| Nearest Railway Station to Kedarnath | Rishikesh |
| Kedarnath Valley Tourist Attractions | Kedarnath Temple, Gandhi Sarovar, Phata, Vasuki Tal, Sonprayag, Agastya Muni, Chopta, Deoria Tal, Tungnath, Ukhimath, Kalimath, Guptkashi, etc. |
Best Tourist Places & Attractions to See in Kedarnath
Kedarnath Temple
Bhairavnath Temple
Shankaracharya Samadhi
The Kedar Massif
Chorabari Tal (Gandhi Sarovar)
Vasuki Tal
Gaurikund
Kedarnath Wildlife Sanctuary
Sonprayag
Triyuginarayan Temple
Rudra Cave
Phata
Book Your Chardham Yatra Packages 2022 at Best Price
| | | |
| --- | --- | --- |
| Package Name | Duration | Price |
| Kedarnath Tour Package | 5 Nights 6 Days | INR 12900/ |
| Kedarnath Badrinath Tour Package | 7 Nights 8 Days | INR 16900/ |
| Chardham Yatra Package | 11 Nights 12 Days | INR 23900/ |
| Badrinath Yatra Package | 5 Nights 6 Days | INR 12900/ |
| Yamunotri Gangotri Package | 4 Nights 5 Days | INR 10900/ |
| Chardham with VOF | 13 Nights 14 Days | INR 33900/ |
Kedarnath Temple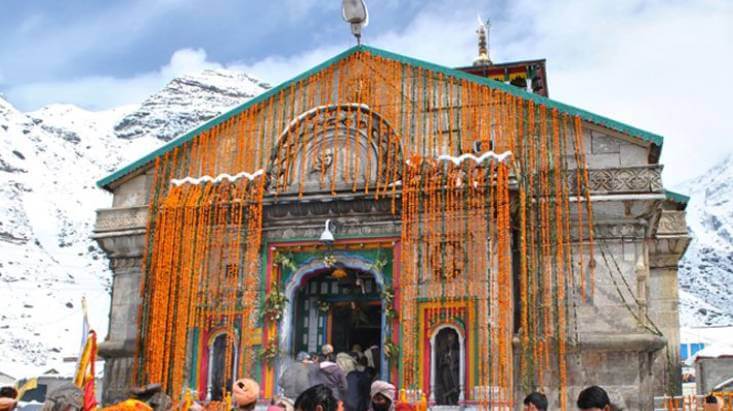 Kedarnath Temple, situated between the Kedarnath Mountain Ranges, is an important religious pilgrimage destination, where the Jyotirlinga of Lord Shiva is placed. The temple was founded in the 8th century by Adi Shankaracharya. Tourists can see the idols of various Hindu Gods and Goddesses inside the temple. The figure of Nandi Bull, considered the 'Mount' (Vahana) of Lord Shiva is located outside the temple as a guard. There is also a Mandap in the premises of the temple where certain religious ceremonies are organized. The Kedarnath temple is opened for tourists on Akshaya Tritiya and closed on Bhai Duj because the shrine becomes unreachable during the winter season, due to very heavy snowfall. According to legends, after the end of the Kurukshetra war, the Pandavas came here to seek redemption for their sins.
Bhairavnath Temple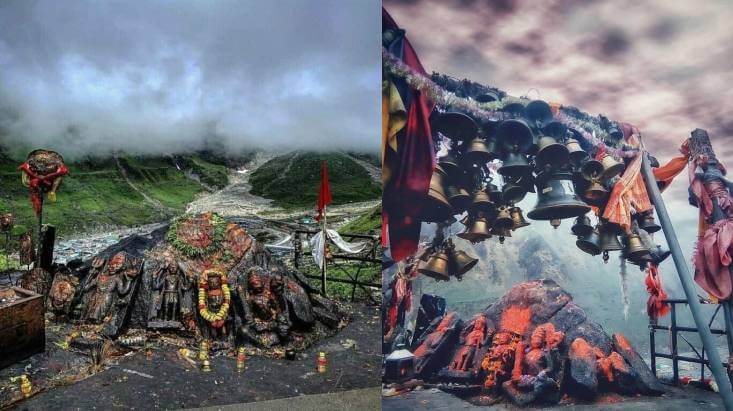 It is the temple of Lord Bhairav who is believed to shield the Kedarnath Dham during the winter season. People from various corners of the world throng this place and pay homage to the Lord. Bhairavnath is also known by different other names such as the Kaal Bhairav and Kshetrapal. The main weapon of the Lord is Trishula and his vahana is a dog. It is one of the top religious tourist destinations in Kedarnath.
Shankaracharya Samadhi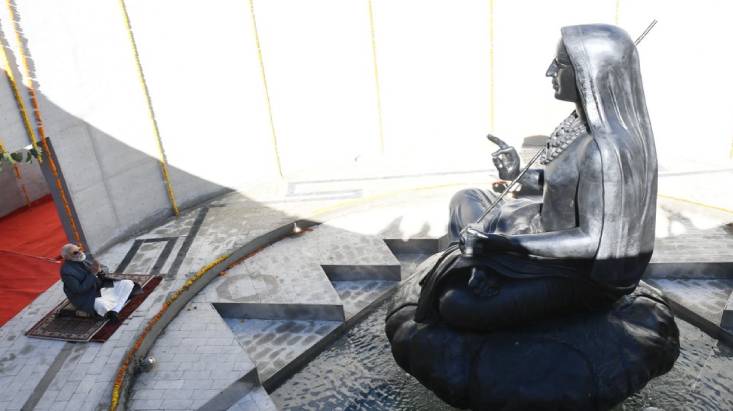 The Samadhi of Adi Guru Shankaracharya is one of the popular destinations to visit in Kedarnath. Legends have it that he took Samadhi here at the very young age of 32 after establishing the divine Char Dham – Badrinath, Kedarnath, Yamunotri and Gangotri. The resting place of Shankaracharya provides a blissful and secluded location for the visitors where they can get a complete peace of mind and shrug off all their worries. The devotees can also find the hot water spring that is believed to be created by the Saint himself to minimize the stress of his followers suffering from the harsh climatic conditions.
The Kedar Massif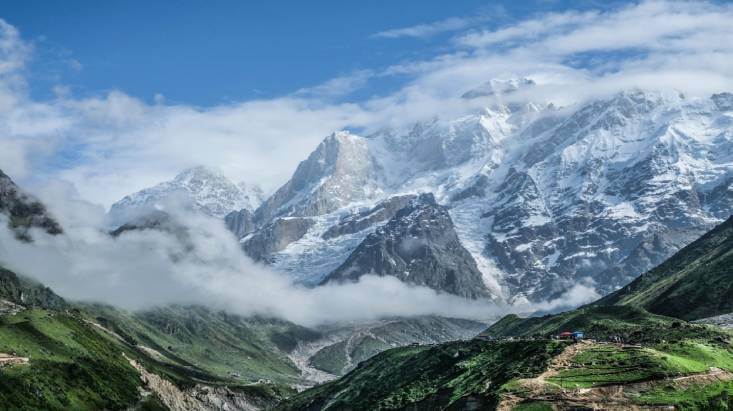 It is a beautiful Massif (group of mountains) formed by three peaks – Kedarnath, Kedar Dome and Bharatekuntha. The Kedarnath Mountain is nestled at an elevation of 6830 m and is a very challenging hike. It is important to note that the oxygen level is very low here and the visitors can take the route from Kedarnath Temple to Bharatekuntha to avoid breathing-related problems. It is one of the best tourist attractions to visit in Kedarnath.
Chorabari Tal (Gandhi Sarovar)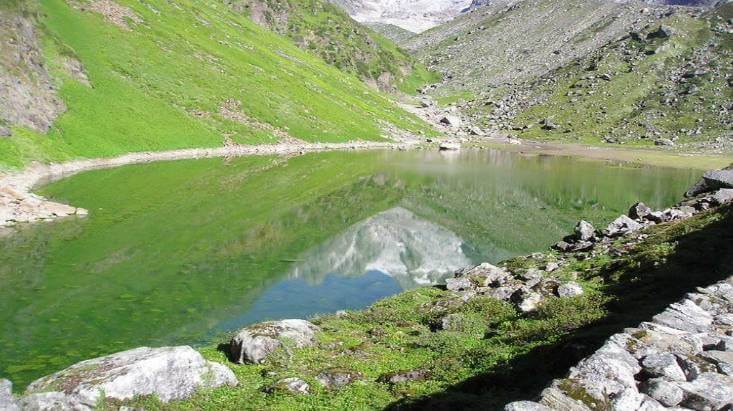 It is a magnificent lake that is situated about 1 Km from the holy Kedarnath Temple. The ice floating over the river makes for a wonderful sight and certainly entices the tourists. Chorabari Tal is also known by the name Gandhi Sarovar because some ashes of Mahatma Gandhi were immersed in the lake. It is also believed that Yudhishthira, the eldest of the Pandava brothers, went to heaven from this place. The lake is enveloped by the thick forests of rhododendron trees. It is indeed a must visit tourist attraction in Kedarnath.
Vasuki Tal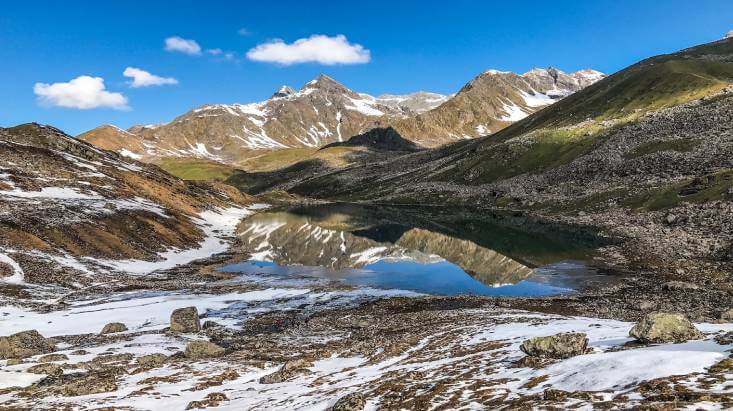 Located at an elevation of 14,200 ft, the splendid Vasuki Tal is a pristine lake enveloped by the beautiful snow-capped Himalayan Mountain ranges. In order to visit the lake, the tourists are required to cross the Chaturangi and Vasuki Glaciers. It is important to note that the glaciers are replete with lots of fissures and to cross them safely, the tourists must take a guide along. The best time to plan a visit to this place is between the months of June and October as the climate remains pleasant during these months.
Gaurikund
Gaurikund, nestled at an altitude of 1982 m is an ancient temple, which is addressed to Goddess Parvati. It is believed that she worshiped here to please Lord Shiva. There is also a hot water spring known as Gaurikund that is not only of great medicinal value but also helps in purifying the sins of devotees who visit it. The temple contains the metallic statues of Goddess Parvati and Lord Shiva. It is one of the best places to visit in Kedarnath.
Kedarnath Wildlife Sanctuary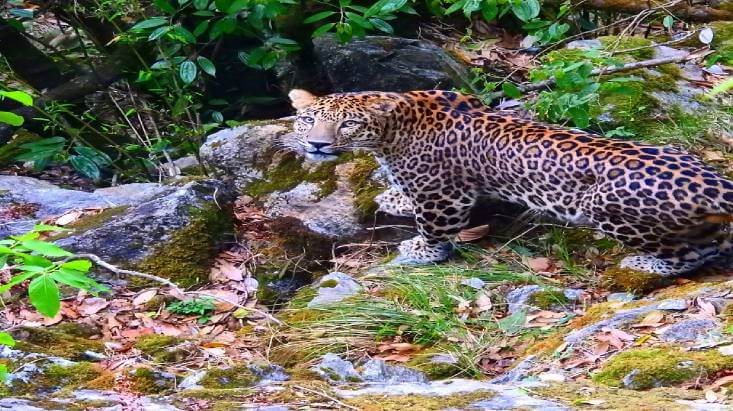 The Kedarnath Wildlife Sanctuary is situated on the periphery of Alaknanda River. It was built in 1972 and contains various kinds of exotic flora and fauna. Pine, alpine and oak trees form the flora of the region. The various animals found in the sanctuary are snow leopards, jackals, black bears, Sambhar and so on. The sanctuary also safeguards the Kedarnath musk deer that is on the verge of extinction. The place is also a paradise for the bird watchers as they can get a wonderful opportunity to see different kinds of colorful birds such as the flycatchers, Himalayan Monal pheasant, grey-cheeked warbler and koklass pheasant.
Sonprayag
Sonprayag is a beautiful, small village that is situated at an altitude of 1829 m. It is also a place where the two holy rivers, Sone-Ganga and Mandakini, meet. It is believed that a dip in these rivers will bring good fortune and blessings of the almighty. Visitors must visit this place during their Kedarnath Yatra and have a memorable experience. The snow-clad mountains and captivating appeal of the place entice plenty of visitors each year. Embellished by the splendid environment and gushing waters, the place offers an absolute calmness to the devotees.
Triyuginarayan Temple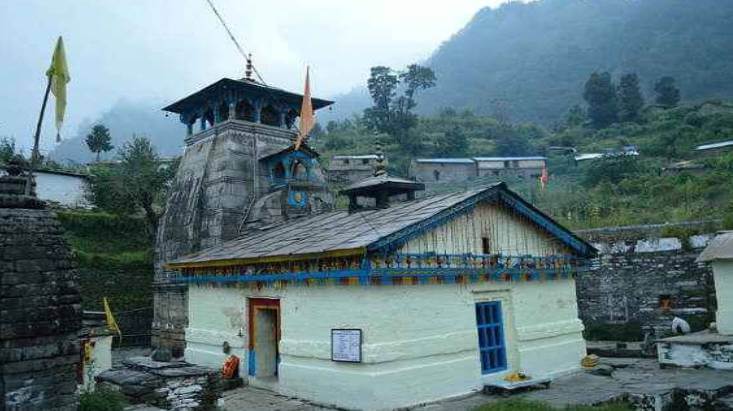 Situated in Triyuginarayan village in Rudraprayag district, Uttarakhand, the temple is addressed to Lord Vishnu. The temple was constructed by the Pandavas in Dwapar Yug. The village, which is enveloped by dense forests, is believed to be the place where the marriage between Lord Shiva and Goddess Parvati took place. A perennial flame (havan kund) that is still burning in front of the temple is believed to have witnessed the sacred matrimony.
Rudra Cave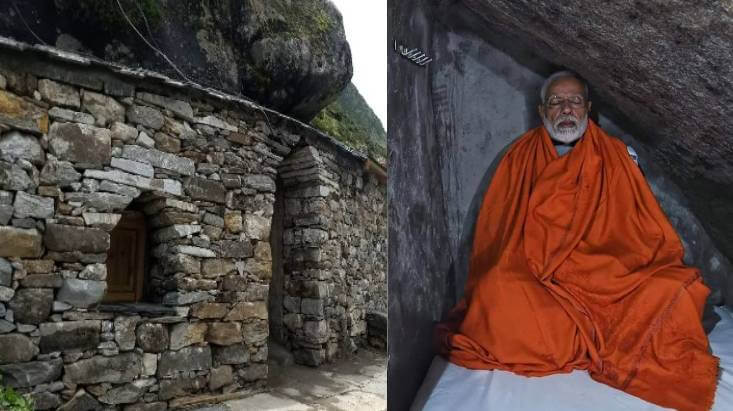 Only one and half km left from the Shrine of Kedarnath, Rudra Cave complex is one of the must visit attractions for meditation. Constructed by the Nehru mountaineering Institute, it is also an integral part of Garhwal Mandal Vikas Nigam's guest house chain. It is a wonderful place to practice meditation for spiritual growth. The serenity and peaceful ambiance of this cave inculcates peace and harmony to the mind, body and soul. The cave is constructed in Garhwali style architecture and is 5 meters long and three meters wide. It has all the basic amenities like electricity, comfort bed, toilet, CCTV camera and telephone service for a comfortable stay and indulging in the art of meditation peacefully.
Phata
Located in Rudraprayag district, Phata is a small scenic village and one of the most popular attractions to visit in Kedarnath. Devotees stop here to reach Kedarnath shrine, it is a wonderful stopover with serene vibes and calm ambiance. Phata is also very popular for its helicopter services. Those who prefer to reach Kedarnath by Helicopter can avail the helicopter services from Phata. With a helicopter it will take only 8 minutes to reach Kedarnath.
Other Top Tourist Places to Explore around Kedarnath Dham
Madmaheshwar Temple
Tungnath Temple
Rudranath Temple
Kalpeshwar Temple
Guptkashi
Kalimath
Ukhimath
Deoria Tal
Chopta
Augustmuni
Madmaheshwar Temple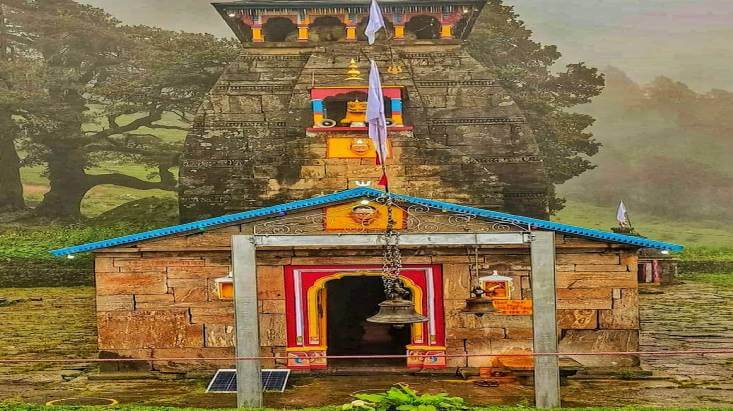 Visiting Kedarnath will be incomplete if you won't visit Madmaheshwar Temple. It is one of the Panch Kedars. The holy town of Madmaheshwar is named after the magnificent Madmaheshwar Temple. It is said that Lord Shiva's belly button fell here. Bhima the second Pandava brother is said to have built this temple in order to worship lord Shiva. There are other smaller shrines dedicated to Goddess Parvati, Ardhnarishwar and Saraswati etc. The picturesque landscapes and natural beauty of the places also delights one's soul. Trekking is one of the best things to do here.
Tungnath Temple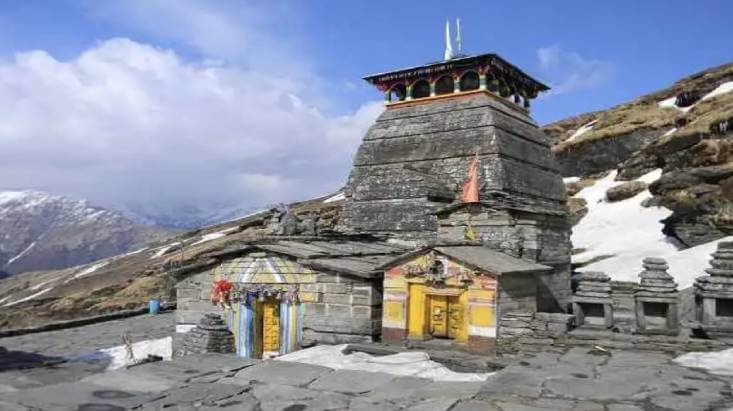 Tungnath Temple is also another major temple in the circuit of Panch Kedar which you must visit in your Kedarnath Yatra. The most amazing fact about this temple is that it is the highest temple of Lord Shiva in the world. The nagara style architecture is quite a site of behold. Inside the temple's Garbh Griha only 10 people can be accommodated.  It is believed that when Lord Shiva disguised as a bull to hide from Pandavas, his arms fell at this spot. The black stone inside the temple represents the arm of Lord Shiva. It is one of the best places to visit near Kedarnath Dham.
Rudranath Temple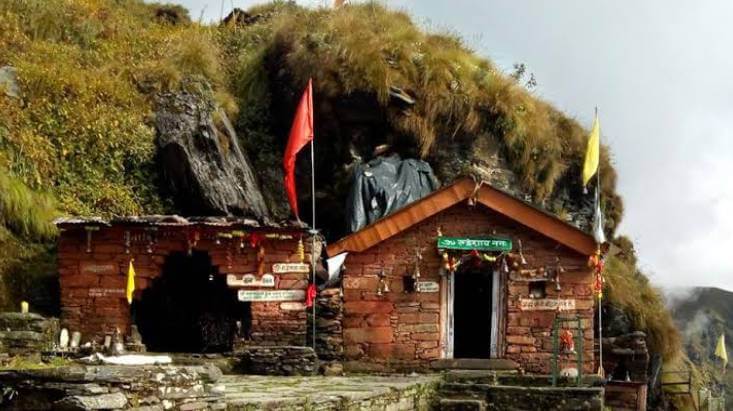 On your journey to Kedarnath, Rudranath Temple's darshan must receive priority as it is also an integral part of Panch Kedar Circuit. The temple is dedicated to lord shiva and is said to be installed by the Pandavas of Mahabharata. It is a place where the head of Lord Shiva fell. Devotees from all across India visit here to take divine blessings from Lord Shiva. Apart from the temple shrine there are many sacred kunds like Surya Kund, Tara Kund, Chandra Kund, Nanda Ghunti etc.
Kalpeshwar Temple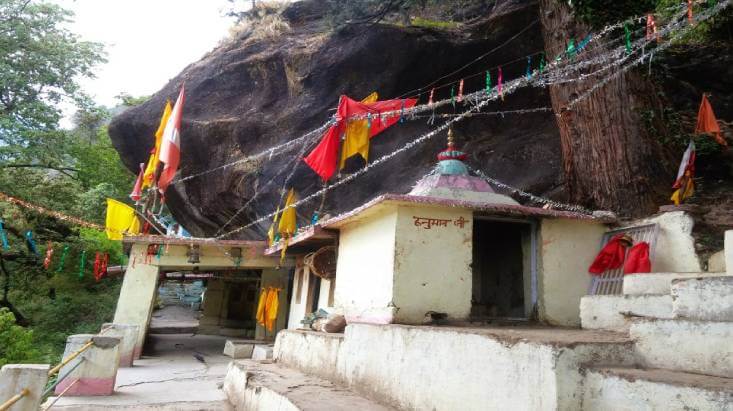 Situated in Chamoli district, the magnificent Kalpeshwar Temple is a sacred spot where the hair or mated lock of Lord Shiva fell. This temple is one of the major temples of Panch Kedar Circuit without which your spiritual journey to Kedarnath darshan yatra is incomplete. It is very popular for its enchanting trekking route to Joshimath. The most interesting thing inside the temple apart from the shrine is Kalpeshwar Tree which can fulfill any wish of a person according to the legends. It is indeed one of the top places to visit near Kedarnath Dham.
Guptkashi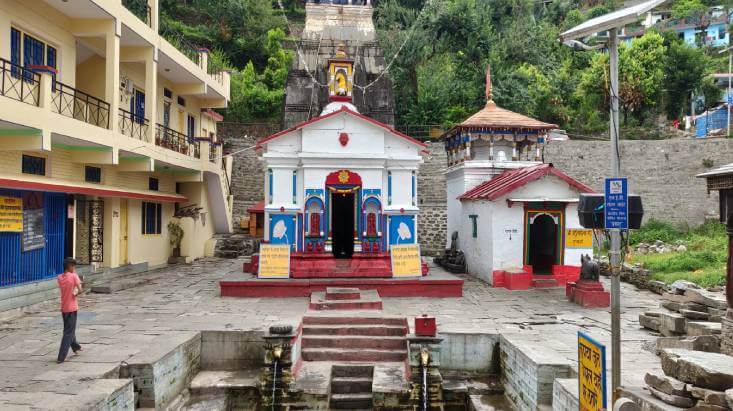 It is one of the must visit places near Kedarnath Dham. The place is a perfect destination for the devotees to take some rest during their Kedarnath Temple Yatra. Guptkashi is well known for the Ardhnarishwar and Kashi Vishwanath temples. The temples reflect the great architectural style of the ancient times. According to the legends, Lord Shiva hid here for a brief period of time to avoid a meeting with the Pandavas.
Kalimath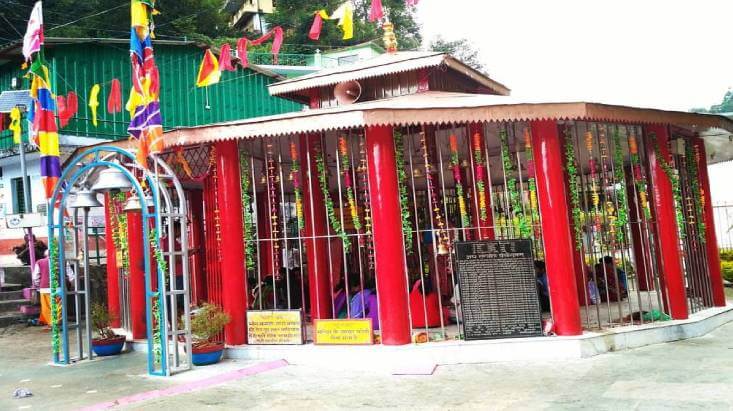 Kalimath is a holy place dedicated to Goddess Kali. The place is located at an elevation of around 1800 m close to Ukhimath. There are around 108 Shakti Peethas in India and Kalimath village is one of them. According to legends, it is the place where the Goddess killed the demon Raktavija. Many devotees visit the Goddess Kali temple here, especially during the Navratri.
Ukhimath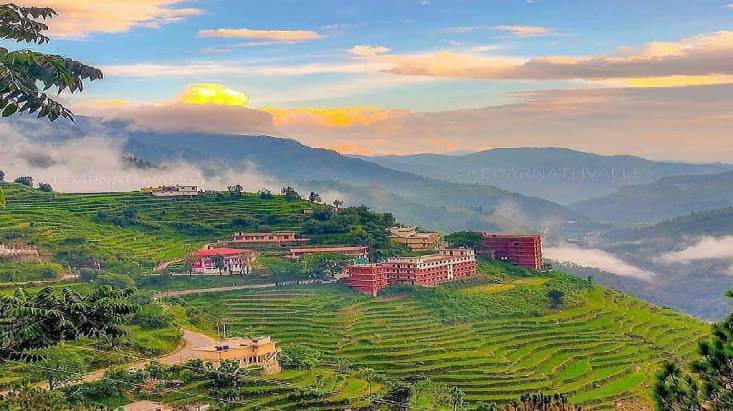 It is the winter abode of Lord Kedarnath, situated at an elevation of 1317 m above sea level in Rudraprayag district, Uttarakhand. Devotees pay homage to the Lord in Ukhimath during the winter season, when the main Kedarnath Temple is closed. The majestic snow-capped Himalayan peaks certainly hypnotize the visitors. The temple can be visited round the year.
Deoria Tal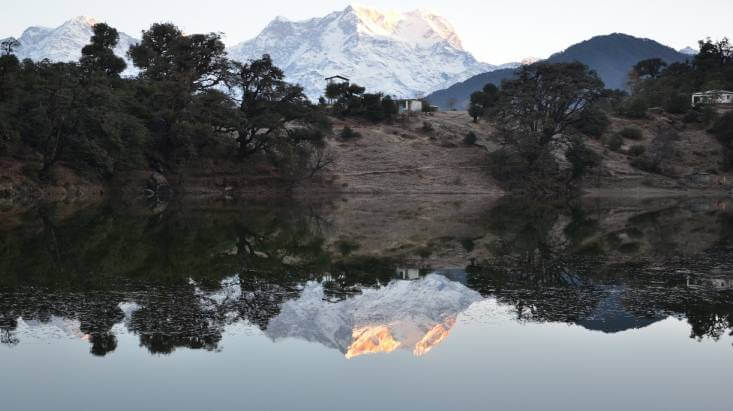 It is a pristine natural lake situated in the state of Uttarakhand in India. The lake is surrounded by dense green surroundings and snow-covered peaks. The reflection of the magnificent Chaukhamba peak in the lake certainly amazes the tourists. It is also a great destination for fishing and bird watching. The place can be quite easily reached through buses and jeeps. The best time to visit Deoria Tal is from July to September and from December to February.
Chopta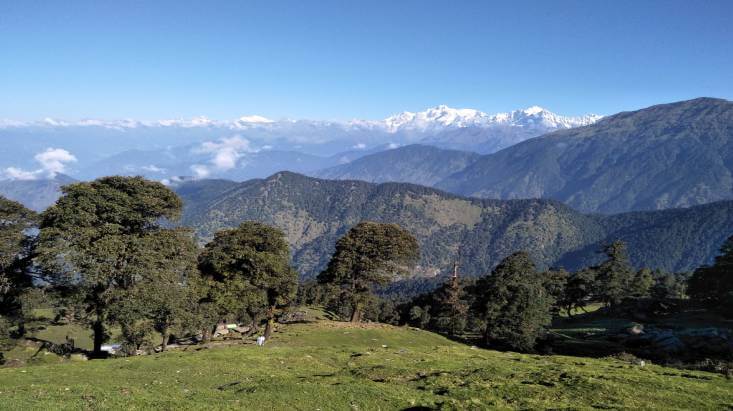 Chopta, popularly known as the 'Mini Switzerland' is nestled in at an altitude of 2900 m above sea level in Rudraprayag district of Uttarakhand. It is essentially a picturesque valley that entices tourists from various parts of the world. The stunning views of the Himalayan ranges, such as Trishul, Nanda Devi and Chaukhamba from Chopta certainly remain glued to the heart. The whole area is rich in diverse flora and fauna. The valley is surrounded by different kinds of trees like pine, rhododendron and deodar. The tourists can visit this place in winters from December to February and enjoy trekking in snow.
Augustmuni
Augustmuni is a renowned temple of Sage Agastya that is located around 70 kms from Kedarnath on the banks of the River Mandakini. The sage meditated in this place for one year. Tourists can see the stunning carvings of the Hindu Gods and Goddess on the walls of the temple. Devotees throng this temple in large numbers during the festival of Baisakhi. The tourists can also enjoy fishing in the Mandakini River and have an unforgettable experience.
Top Things to Do in and around Kedarnath Dham
Camping – In Kedarnath, Camping enables you to see the real natural beauty of nature amidst the Himalayan lofty peaks of Garhwal. What a wonderful sight it would be if you are with your loved ones, enjoying a bonfire night under the star laden sky.
Trekking – Apart from religious destinations, Trekking is one of the top things to do in Kedarnath. In fact, if you want to reach some of the religious destinations in Kedarnath you must indulge in trekking as it is inevitable. There are many scenic hiking trails such as Tungnath Trek, Chorabari Trek, Vasuki Trek, Mayali Pass Trek and Bhairon Mandir trek etc.
Sightseeing – Surroundings near Kedarnath will blow your heart away. Apart from religious destinations you can enjoy the beauty of stunning hill stations in Uttarakhand with your family Mussoorie, Auli, Rishikesh, Chopta, and Chamoli etc.
Best Time to Visit Kedarnath Dham
The best time to visit Kedarnath Shrine is from the month of May to November. During winters the shrine of Kedarnath is inaccessible to the devotees due to heavy snowfall and extreme weather conditions. In monsoons, the road conditions are not very good and there are chances of landslides. So Summer is the best time to plan a Kedarnath Pilgrimage Tour.  In winters the idol of Kedarnath is shifted to Ukhimath and in May the idol is shifted again to its real place Kedarnath.
How to Reach Kedarnath?
By Air – Kedarnath Temple is one of the most prominent shrines in Kedarnath Valley. To reach here by air, Dehradun's Jolly Grant Airport is the nearest airport. You will get a taxi or cab to reach Gaurikund which is the last road to reach Kedarnath. After that you have to trek 18km to reach Kedarnath. You can also take the benefits of Helicopter services from Dehradun.
By Train – Rishikesh is the nearest railhead to reach Kedarnath. You will get buses and taxis to reach Gaurikund for Kedarnath.
By Road- National Highway 109 connects Rudraprayag and Kedarnath. Gaurikund is well connected to the cities of Rishikesh, Chamoli, Haridwar, Uttarkashi, Srinagar, Tehri etc by buses. You can easily get taxis and buses from these cities to reach Kedarnath.
Kedarnath Yatra Helicopter Service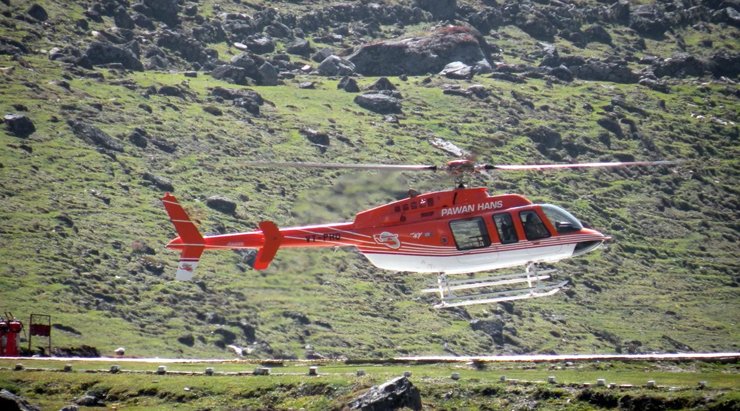 The journey of Kedarnath is very challenging and difficult. Not all the devotees are physically very fit for trekking. So, for the ease of such devotees, Uttarakhand Civil Aviation Development Authority arranges helicopter services by giving tenders to the aviation companies for   helicopter services for Kedarnath Char Dham Yatra. Helicopter services are available from Phata, Guptkashi, Sirsi Helipads where you can book your tickets for helicopter services.
Travel Tips for Kedarnath Yatra
Always check the weather conditions before planning your Kedarnath Pilgrimage Tour. You must carry warm clothes as the weather conditions are quite unpredictable.
Kedarnath is a prominent religious tourist place in Uttarakhand. So, the rush of the devotees is inevitable. You need to book your accommodation in advance to free yourself from last minute hassle. Hotels might get booked in advance so be prepared with proper arrangements.
Dress decently in religious places and respect the religious sentiments and culture of people.
Photography is not allowed inside the Temple.
Avoid alcohol, smoking and drinking as this is the most sacred religious place in India.
Best Places to stay in and around Kedarnath Valley
Kedar Valley offers best accommodation options to the pilgrims and tourists with a warm hospitality. The cost will not be heavy on your pocket and you will get all the basic amenities and facilities to stay here comfortably. From budget hotels, luxury hotels, resorts, tents to good guesthouses you will get the accommodation of your choice without any hassle. Some of the best places to stay in and around Kedarnath Valley are –
Kedar River Retreat
Shivalik Valley Resorts
Ghughuti Resort
Hotel Shri Hari
Yatra Hill Resort
Char Dham Camp
Kedar Camp Resort
Hotel Tridev
Hotel Himalayan
Hotel Madhuban
Alpine Camp
New Shivalok
Hotel Dev Darshan
The Kedarnath excursion is of great religious importance as many devotees undertake a sacred Kedarnath trip to attain complete peace of mind, body and soul. If you are planning Kedarnath Char Dham Yatra tour then you must also visit all these attractions to enjoy the best of Uttarakhand religious tourism.
Frequently Asked Questions About 4 Dham Yatra
Why is Kedarnath Yatra Famous?
Kedarnath Yatra is the most sacred pilgrimage tour of India as it is a home to one of the 12th self-manifested Jyotirlingas of Lord Shiva. It is an abode of Moksha (Salvation). Devotees once in a lifetime visit here for spiritual wisdom.
What is the nearest Railhead and Airport to reach Kedarnath?
Nearest Railhead – Rishikesh
Nearest Airport – Jolly Grant Airport, Dehradun
How to reach Kedarnath from Delhi?
There is no direct route from Delhi to reach Kedarnath. Haridwar and Rishikesh are the main starting points to reach Kedarnath. You can follow this route- Delhi to Haridwar or Rishikesh and then get a taxi or cab to reach Gaurikund. Once you reach Gaurikund, trekking of 18 km is needed to reach Kedarnath valley. You can also opt for helicopter service if you want to avoid trekking.
What are the top tourist attractions to visit in and around Kedarnath?
Kedarnath Temple
Bhairavnath Temple
Vasuki Tal
Sonprayag
Shankaracharya Samadhi
Chandrashila
Gaurikund
Triyuginarayan Temple
Guptakashi
Chorabari Tal
Tungnath Temple
Rudranath Temple
Madhyamaheshwar Temple
Kalpeshwar Temple
Mayali Pass Trek
Ukhimath
Augustmuni
Deoria Taal
What is the opening date of Kedarnath Dham Temple?
The portals of Kedarnath Temple will open on 6th May 2022 at 6:25am.
You May Also Like to Read: