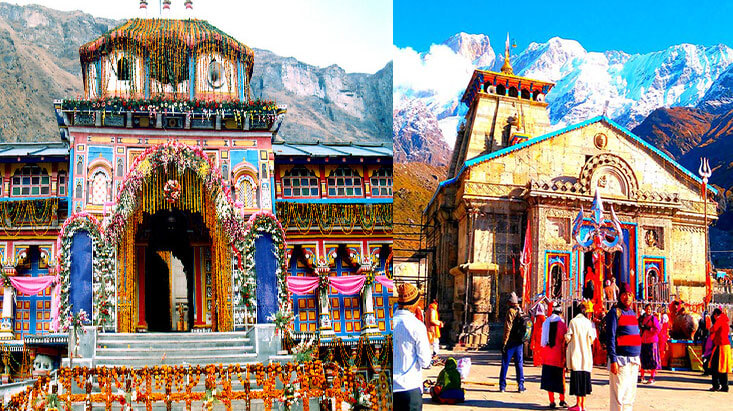 admin
Published:

15 Jan, 2020
Top 12 Travel Tips for a Safe and Spiritually Enlightening Yatra of Shri Kedarnath & Badrinath Dham
Nestled high amidst the majestic snow-clad mountains of the Garhwal Himalayas in Uttarakhand, the holy abodes of Kedarnath and Badrinath are one of the most popular and significant pilgrimage sites for Hindu devotees and pilgrims. Kedarnath and Badrinath, along with Yamunotri and Gangotri, together constitute the revered Char Dham yatra.
The four holy sites of Gangotri, Yamunotri, Kedarnath and Badrinath are home to temples of the four most highly worshipped deities of Hinduism, namely- Goddess Ganga, Goddess Yamuna, Lord Shiva and Lord Vishnu. It is believed in the Hindu faith that going on a pilgrimage of any of the Chota Char Dharm sites is the ultimate test of one's devotion, and the darshan of any one of the four holy abodes (dhams) or ideally all of the four dhams grant one the divine blessings of the Almighty.
Badrinath is home to the sacred and enthralling Temple of Lord Vishnu, also popularly known as the temple of Shri Badrinath. According to the ancient texts and scriptures of Hinduism, the holy temple of Shri Badrinath is considered as the most paradisiacal spot in all of heaven and earth. On the other hand, Kedarnath is revered by the Hindu devotees and pilgrims as the holiest of the Char Dham, as it is believed to be the home of Lord Shiva, and the most important of the 12 Jyotirlingas (lingas/shrines of Lord Shiva). It also boasts the largest Lord Shiva temple situated in the Himalayas.
The Do Dham Yatra (pilgrimage of two dhams) of Kedarnath and Badrinath pose the toughest challenges owing to their extremely high Himalayan altitudes and difficult terrains. Therefore, in order to make this strenuous journey a little simpler for you, we bring you this detailed blog in which we share the 10 best travel tips that you must keep in mind before visiting Kedarnath and Badrinath.
Learn about the Best Time to Visit
Situated at high altitudes in the Himalayas, the holy destinations of Kedarnath and Badrinath receive cold weather throughout the year. While the winters are extremely cold and harsh, and are characterized by sub-zero temperatures, the monsoon months, from July to August, see heavy downpours that make the roads highly prone to roadblocks. The opening timings of both the Badrinath and Kedarnath Temples are usually the same, that is, in the first week of May. However, their closing timings are different.
While the Badrinath Temple usually closes 10 days after Dussehra, the temple of Shri Kedarnath closes the day after Diwali each year.
With the temperature hovering around 17°C, the summer season (May-June) is the ideal time to visit Kedarnath and Badrinath as this time coincides with the opening of the temples (in May). However, one can also undertake the pilgrimage of Kedarnath and Badrinath in the months of September and October, just before the onset of winter.
Familiarize Yourself with the Best Routes and Modes of Traveling
While the Jolly Grant Airport in Dehradun and Haridwar railway station is the nearest airport and railway station respectively to both Kedarnath and Badrinath, the road routes leading to these places are quite different.
Situated in the Chamoli district in Uttarakhand, Badrinath enjoys good road connectivity with the major destinations of Uttarakhand like Dehradun, Haridwar, Rishikesh, Pauri and Rudraprayag, among others. Kedarnath, on the other hand, enjoys limited connectivity with the major roadway networks of Uttarakhand due to its difficult and inhospitable terrain.
The route to Kedarnath begins at Rishikesh and heads in the same direction as the road towards Badrinath till it branches away at Rudraprayag. From there, it continues until Gaurikund (235 kms away from Rishikesh), which is the last motorable road point before Kedarnath. Frequent buses and jeeps are available from Rishikesh to take you to Gaurikund. It takes around 12 hours to complete this journey. After reaching Gaurikund, you'll have to undertake a 14 km trek through meadows and breathtaking Himalayan landscapes to reach Kedarnath, the holiest and most sacred site of Hindus.
You are always advised to take the help of local guides when in doubt, as this will help them to avoid dangerous short-cuts and stray on treacherous paths leading to dead-ends.
Avail the Services of Helicopter rides/Mules/Palanquins for a Comfortable Journey
The most comfortable way to reach Kedarnath is by Helicopter. One can easily book and avail the services of Helicopter rides from the numerous helipads situated at Guptkashi, Sirsi and Phata. You can easily book Helicopter rides online through the websites of different aviation companies like Aryan, Pawan Hans and Arrow AirCraft.
One can also hire mules and palkis (palanquins) from Gaurikund, which is the last motorable road point before Kedarnath, to reach Kedarnath.
Enlist the Help of a Tour Operator/Travel Agency
The pilgrimage of Kedarnath and Badrinath is adorned with narrow and dangerous Himalayan roads, inhospitable environment, rough geography and unpredictable weather and therefore, the best way to ensure that your Darshan of Shri Kedarnath and Shri Badrinath remains safe, hassle-free and spiritually enlightening is by planning your trip through a reputed and trustworthy Tour Operator or a Travel Agency. From scheduling your trip and planning a holistic travel itinerary to booking comfortable accommodation places, the tour operator will manage all the nitty-gritty details of the trip leaving you with an undisturbed and enriching spiritual experience.
Carry Adequate Number of Woolen Clothes
Kedarnath and Badrinath experience cold and chilly climate throughout the year. Therefore, you should carry an adequate number of warm woolen clothes with them, including sweaters, jackets, thermals, windcheaters, winter caps, proper winter footwear and gloves.
Hypothermia is a real possibility in such harsh winter conditions, and therefore, it is advisable for all pilgrims traveling to Kedarnath and Badrinath to dress themselves in warm layers and in appropriate winter clothes in order to protect themselves from the biting cold. You are also advised to carry blankets, umbrellas, raincoats and torches with them, as the weather is quite unpredictable in these high Himalayan mountains.
Equip Yourselves with Necessary Drugs and Medications
On your journey to Kedarnath, situated at 3,584 meters, and Badrinath, situated at 3,133 meters, you will be gaining altitude rapidly as you move towards the higher ranges of the Himalayas. You will also be traveling on narrow and zig-zag mountainous roads that can make you feel dizzy and light-headed. In such high altitudes, the probability of getting affected with AMS (Acute Mountain Sickness) also increases manifold. The most common symptoms of AMS are headache, dizziness, stomach cramps, shortness of breath and weakness. Therefore, you should carry proper and adequate medicines of AMS and other health conditions (as hospitals and medical facilities are very few and far in between) with them at all times. Your medical kit should also include painkillers, antibiotics, cough lozenges, antiseptic creams and gels, Iodine and medicines for cold and fever. It is recommended to keep their medicines along with a first-aid kit within their reach at all times.
Carry Packaged Drinking Water and Dry Foods
The journey to Kedarnath and Badrinath is long and physically exhausting. It is advisable to never skip any meals or stay hungry for a long period of time, as this may aggravate the symptoms of AMS and cause you to feel unwell. One can always buy food from the numerous food stalls and eateries dotted over the route leading to the pilgrimage sites. It is always good to carry small packets of dry foods, peanuts, dates, chocolates and energy bars. Ready to make packets of noodles and rice are also useful commodities which you can carry with yourselves on such long journeys.
You are also advised to bring their own bottles of drinking water with them, as you may experience difficulties in procuring the same in these remote Himalayan highlands. You must keep in mind that all the Himalayan Char Dham destinations are holy sites and so, alcohol is strictly prohibited in these places. The Uttarakhand Police imposes heavy fines and penalties on persons found to be carrying alcohol to these sacred places.
Carry Power Banks, Dairies and Extra Batteries for Cameras
It can be difficult to get proper mobile phone network at all times during your Yatra of Kedarnath and Badrinath, owing to the dearth of mobile sim towers in such difficult topography. You may also experience frequent power cuts or long durations without electricity. Therefore, they are advised to carry power banks as well as extra batteries.
You can also carry a personal diary or a logbook in which you can note down the contact numbers of your tour guide, nearest police station, friends and family and medical facilities to be used in case of emergencies.
Prepare Yourself Physically and Mentally before Embarking on the Pilgrimage
The journey to Kedarnath and Badrinath is both physically and mentally challenging one. It is recommended that devotees start preparing at least one month before the journey. Light Jogging, brisk walking and breathing exercises should be done by everybody. You are also advised to do Yoga and meditation, as these will calm their minds as well as improve their concentration power.
You are also required to present a medical fitness certificate while going on the Kedarnath pilgrimage. It can be obtained from Gupkashi or Sonprayag.
Always Carry Enough Cash
Most of the hotels, restaurants, cafes and eateries falling on the roads to Kedarnath and Badrinath don't accept cards, money transfers through e-mobile wallets or any other form of digital transaction. Therefore, you must always carry enough cash with you during this journey.
Number of Days needed to Complete Kedarnath and Badrinath Yatra
You need a minimum of 7-8 days for Kedarnath & Badrinath Yatra from Delhi, and 5-6 days from Haridwar.
Always Book Your Hotels Stays in Advance
The Char Dham Yatra is attended by a large number of devotees. Therefore, it is better to book your hotel stays well in advance to avoid last minute hassle and inconvenience. We can assist you with booking your hotel bookings during Char Dham Yatra.
These are the Top 12 Travel Tips for a safe and exciting Kedarnath and Badrinath Yatra. Follow these, and enjoy your Yatra to the fullest.